Over the years, University of Arizona Global Campus students and alum have proven through countless tales of challenge, perseverance, and success that they are determined to reach their goals. And if there is one word that best describes these actions, it's "tenacious."
It is within this spirit that we announced the new hashtag #TencityMade on our social channels, including Facebook and Instagram — so you can share why you keep pushing forward to conquer your goals.
In response, we received a number of amazing stories of resolve, not just when it comes to what you have or are seeking to achieve academically but also with regard to life in general. As promised, for your entries, some of you even received fresh University of Arizona Global Campus #TenacityMade swag.
Below we highlight #TenacityMade superstars who shared some of the most inspired posts from the past month. Check back each month for another roundup of inspirational tales of triumph from you and your peers. 
What Makes You #TenacityMade?
Late-night study sessions. Health issues. Assignment deadlines. Family obligations. Work. Major life changes. Despite these obstacles, you remained relentless. Here's how you and your peers showed your tenacity this month:
"After being in an abusive relationship and realizing I deserved better, I achieved my MBA in 2018 and am working on my DBA #tenacitymade" – Ashley G.
"Tenacity not only describes my drive and motivation for success in my education, but it has been the strength and guidance in my life. ... Regardless of how dire the circumstance, I will continue endeavoring and use various methods to keep striving because I am diligent about reaching my life goals." – Taisha T.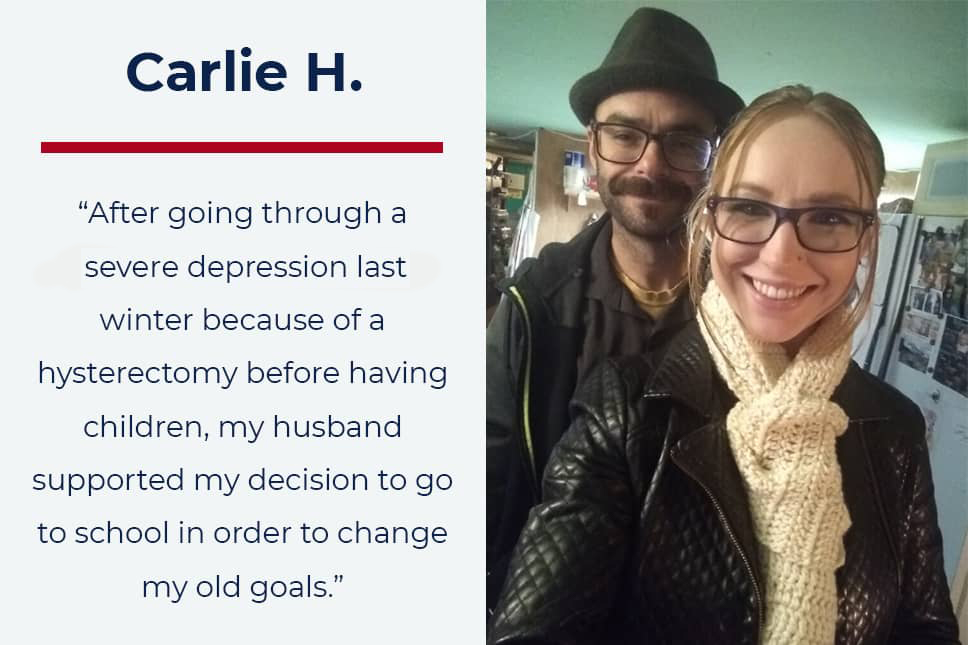 "After going through a severe depression last winter because of a hysterectomy before having children, my husband supported my decision to go to school in order to change my old goals of having a family and making new goals to travel and experience life outside of what I know. Without him, I wouldn't be where I am today." – Carlie H.
"ME!! My drive to achieve my higher education goals is myself. I promised myself over 25 years ago I wanted to graduate college, but I never did in my younger years. I got married, had 2 amazing boys, and have been a mom, plus full-time worker.  Was a military wife for 15 years then life threw a curve ball at me, and we divorced. He left me when I had no job, a house payment to make, and 2 kids to care for. I cried a lot for a while, but picked myself up, got 2 jobs, supported my boys, got back on our feet. I am now with an amazing guy and have 2 bonus boys as well. I recently lost my position as an AGM at a hotel due to downsizing, and it has killed me to not be there, but here I am, 41 years old and pursuing my dream to get my bachelor's and reached my goal I set so long ago. I want to prove to myself I can do it. And this is something NO ONE can take from me ever! I am #Tenacitymade! I have my amazing family supporting me all the way!" – Katie S.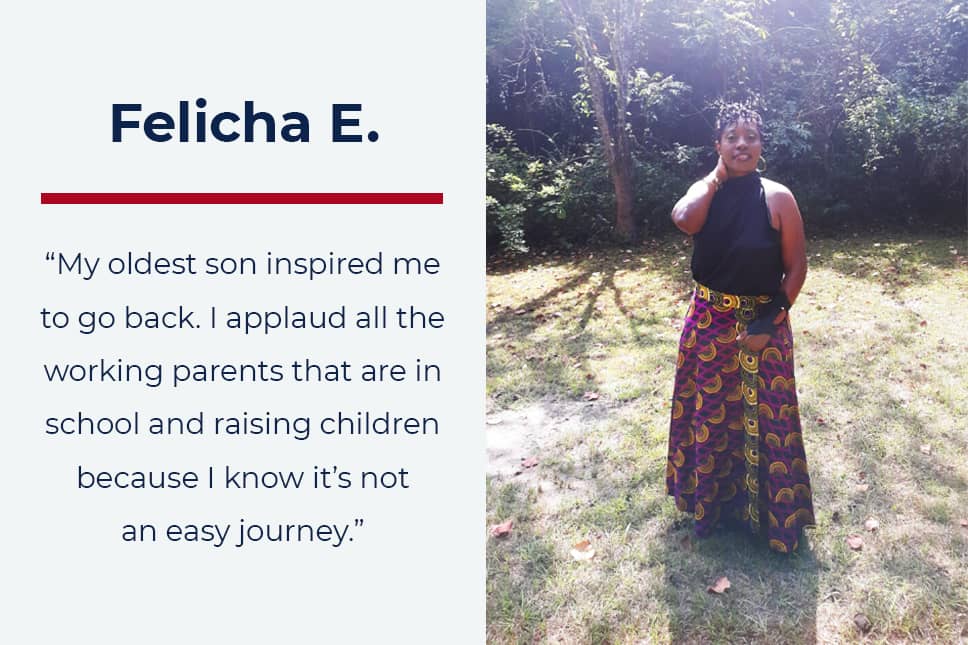 "After becoming disabled 4 years ago from a major stroke, I was unable to continue my work as a department manager at Walmart after I had worked there for 18 years. I decided to finish my degree in criminal justice. My oldest son inspired me to go back. I applaud all the working parents that are in school and raising children because I know it's not a easy journey. Just reading these comments is an inspiration to me also." - Felicha E.
"I want to have a better job than I have and be able to support myself and a family. When I was younger, I was told I wouldn't get anywhere in life. I want to prove them wrong and get my bachelor's degree in psychology. I want to do my best and get my work done and pass my classes. I want to prove that I am capable of doing anything if I put my mind to it." – Stevhen R.
"#tenacitymade is finding the drive and ambition and will power that made you begin school to begin with. My last class I suffered serious burn out. The truth is, I don't have a lot of support from my family. My dad passed away; my mother is estranged due to being abusive. My extended family has passed away. It's just me and the friends I've made that I call my 'family.' I'm half way through my degree, and every single assignment took a lot out of me. Tenacity for me was pulling myself up by the bootstraps and getting it done anyway. Practicing selfcare. I want to earn every single credit and walk across the stage with pride. Tenacity to me means knowing your limits and persevering even when things get tough. I may not have a mom or dad in the audience, but I will be a mom one day and want them to be proud of me." – Allie J.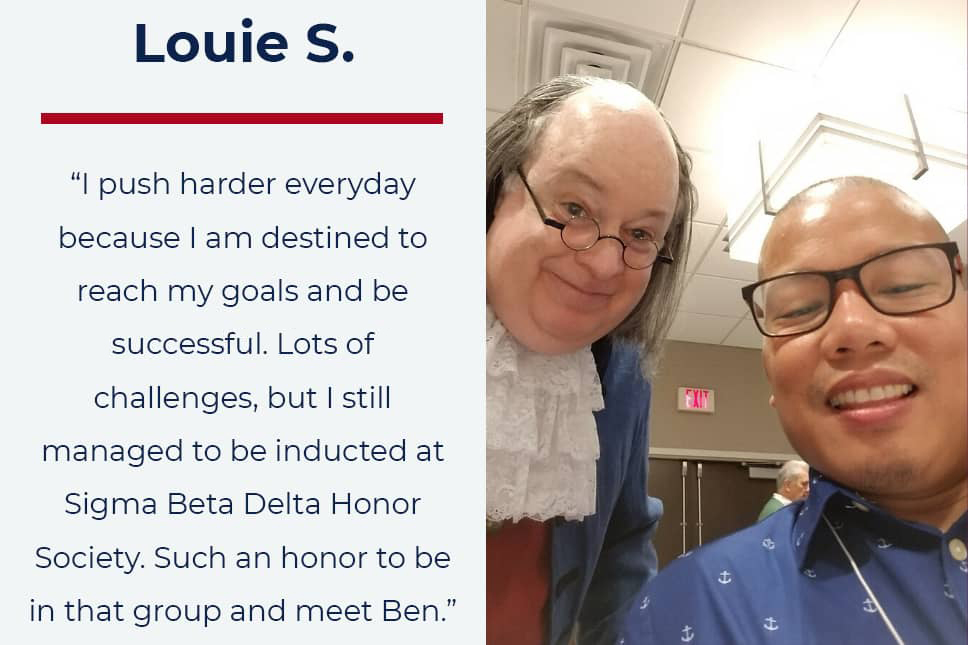 "I push harder and harder everyday because I am destined to reach my goals and be successful. Lots of challenges, but I still managed to be inducted at Sigma Beta Delta Honor Society. Such an honor to be in that group and meet Ben." – Louie S.
"Being able to push through despite the long work hours. Being able to stay focused and completing homework assignments despite being in the hospital awaiting surgery. Being able to juggle school, work, church, and family life. Knowing when to make time for a personal life and when to focus and do schoolwork. Many obstacles were thrown at me during my road to my MBA, but at the end, I was able to push through to make it to the end of that road." – Genesiz P.
 "Growing up with limited opportunities, Ashford* gave me the option to continue my education and push further even at a later age in life. I went from working in warehouses to currently being a Sr. Accounting Supervisor and just had a recruiter reach out to me with an opportunity at a corporate controller role. Thank you, Ashford, for giving people the ability to push themselves and show their capabilities." – Joseph G.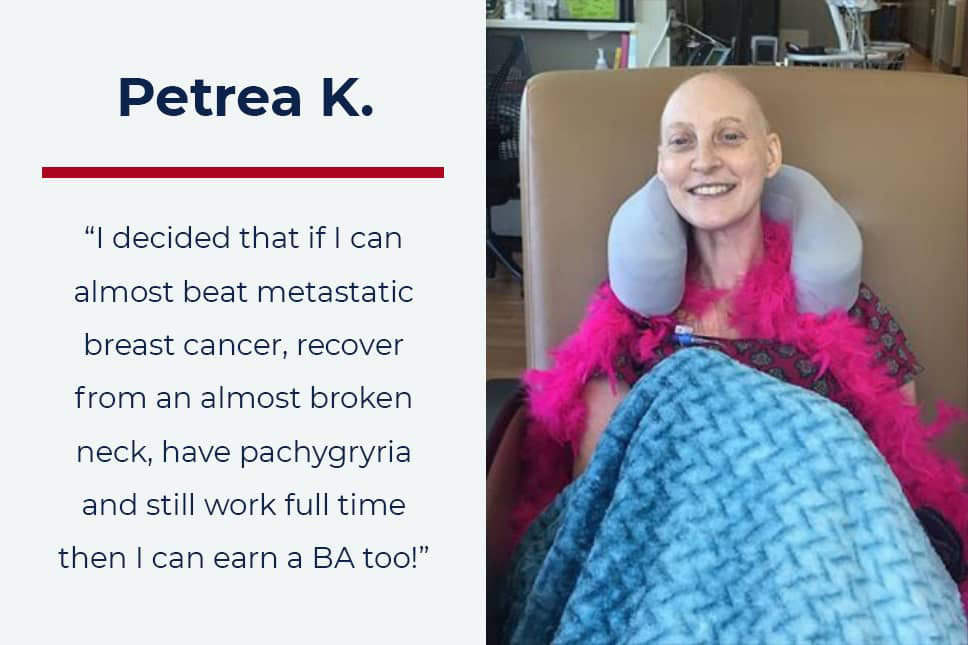 "I decided if I can almost beat metastatic breast cancer, recover from an almost broken neck, have pachygyria, and still work full time, then I can earn a BA too!" – Petrea K.
"My little girl drives me to achieve a lifestyle that makes me happy, healthy, and financially stable – providing unconditional love and support for her as she aspires for the same. We lost my mom to brain cancer last month – all my grandparents, oddly, in the past four years. I've run out of mental space for hate and naysayers. I just get it done. I'm driving towards a life that brings the best from me so that I can offer the best to not only myself but to those that have helped me through my academic journey. Graduated high school with a 2.1gpa. They'd be very surprised to see this MA honor student. Walking the stage in May!" – Paul H.
"I dropped out of college/university several times in the last 7 years. It has never felt right to not obtain my degree, and here I am at Ashford pushing through while working to finally accomplish that life goal of being the first to have a degree in my family." – Jesus C.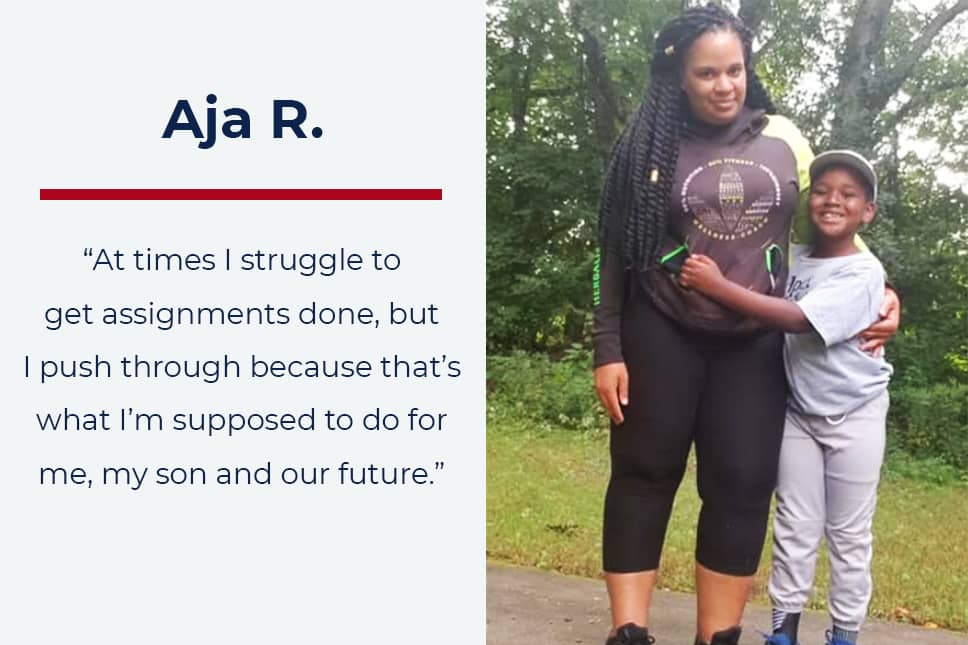 "I'm a single mother that works a full-time, 3rd-shift (overnight) position while doing what I need to do for school. I'm often tired and feel defeated, but I know I have to push through especially to show my son that anything is possible with hard work and discipline. At times I struggle to get assignments done, but I push through because that's what I'm supposed to do for me, my son, and our future." – Aja R.
"My motivation is being an example for my grandchildren! I want them to know, don't let anything stand in their way when they want to reach their goals!" - Belinda F.
"#TenacityMade to me means enduring being fired from my job, my health declining, my father dying, losing relationships with family members, and battling mental health issues because I have a duty to myself, my wife, my future children, and my community to be the best educator I can be." – Craig J.
"I am determined to make a difference to the world, mainly humanitarian issues." – Tim B.
"#TenacityMade me stronger in every aspect of my life. It meant being able to achieve my goals and build a brighter future for myself and my family. Tenacity means that although I had a full-time job, helping my parents with a business and our household, dealing with anxiety and at times lack of sleep, and car issues, these adversities never stopped me from reaching my ultimate goal. My goal was not only to receive my degree but to be a strong woman that my sisters could look up to and know that they could be and do anything with perseverance and the drive to keep moving toward a better future." – Desiree L.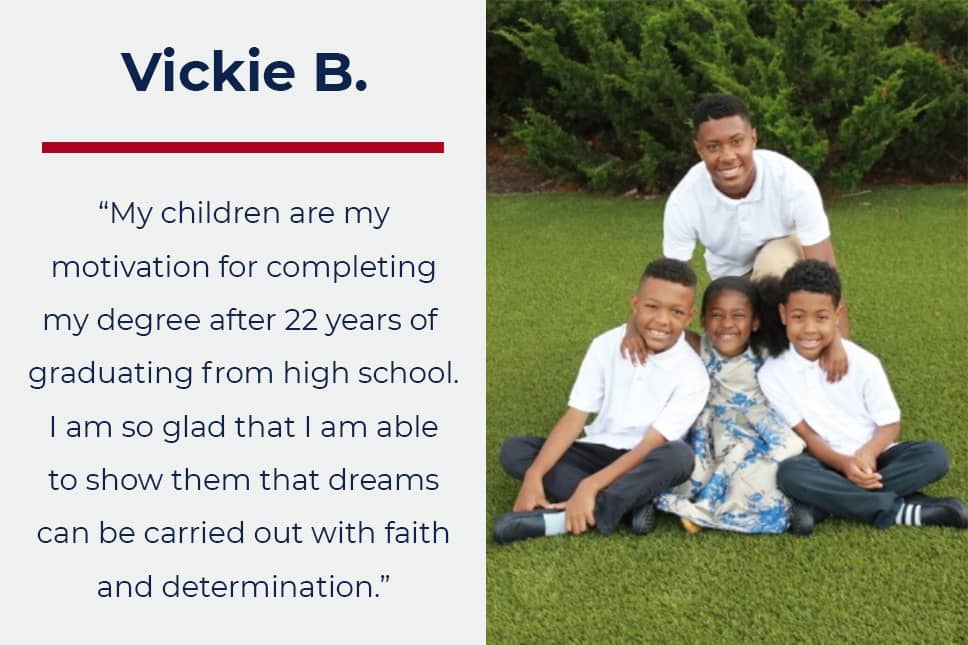 "My children are my motivation for completing my degree after 22 years of graduating from high school. They are witnessing the sacrifices made to finalize papers and discussions while working full time and attending all school and sporting events with minimal rest in the process. My oldest has reminded me that I am the best mother and individual. He is happy to see my dedication and progress as I achieve my goal. I am so glad that I am able to show them that dreams can be carried out with faith and determination. #TenacityMade" – Vickie B.
"I will be a first-generation college graduate for my family. I am also the one they least expected to go to college. Achieving my personal academic goals and utilizing my successes to create generational change for my kids and the generations to come is what makes me #TenacityMade." – Stacy S.
Keep the Conversation Going
Be sure to join the conversation, and tell us why you are #TenacityMade. Each week, head over to Facebook, Instagram, Twitter, or YouTube, and post a picture or video along with a sentence about what motivates you to stick with your plan, and tell us how you represent #TenacityMade.
* Ashford University is now the University of Arizona Global Campus