Welcome back for another edition of  our #TenacityMade Superstars, where we highlight some of the most inspired student and alumni posts from the past month. 
This time around, we've even got a motivational video that really brings the idea of tenacity to life.
If you're feeling a little taxed from the holidays and the workload is beginning to bear down, here's your chance to take a few minutes to recalibrate. Before you throw up your hands in defeat over your next project or toss in the towel on your next test, check out these motivational tales of perseverance and success. These stories are sure to help you get back on track and keep your eye on the prize.
Without further ado, let's hear how you and your peers showed your tenacity this month.
1. Daze V.: "Working a full-time job, being in the U.S. Navy Reserve, a military spouse, and having a family to take care of on your own when your spouse is away can be a bit overwhelming. With Ashford's* flexibility, I am able to still go to school and manage to make it all work. Aspiring to get my degree so our kids can have an example to live by. This is the reason why I keep pushing to achieve my goals."  
2. Henry C.: "I've been crawling through this journey for over seven years! I remember submitting assignments in Afghanistan while mortar rounds were landing close by. Recently, my daughter was born with complications due to a birth defect and spent over a month in the NICU. I was reading and posting assignments from my daughter's bedside. I looked at her and my little family and I knew that if my daughter could push through and survive, I can make it through school. After a long journey, I'm only a few classes away from graduation. I couldn't have done this without the wonderful leaders in my life that pushed me to excel and my family who believes in me. I'm grateful for Ashford's flexibility, which has made this journey possible."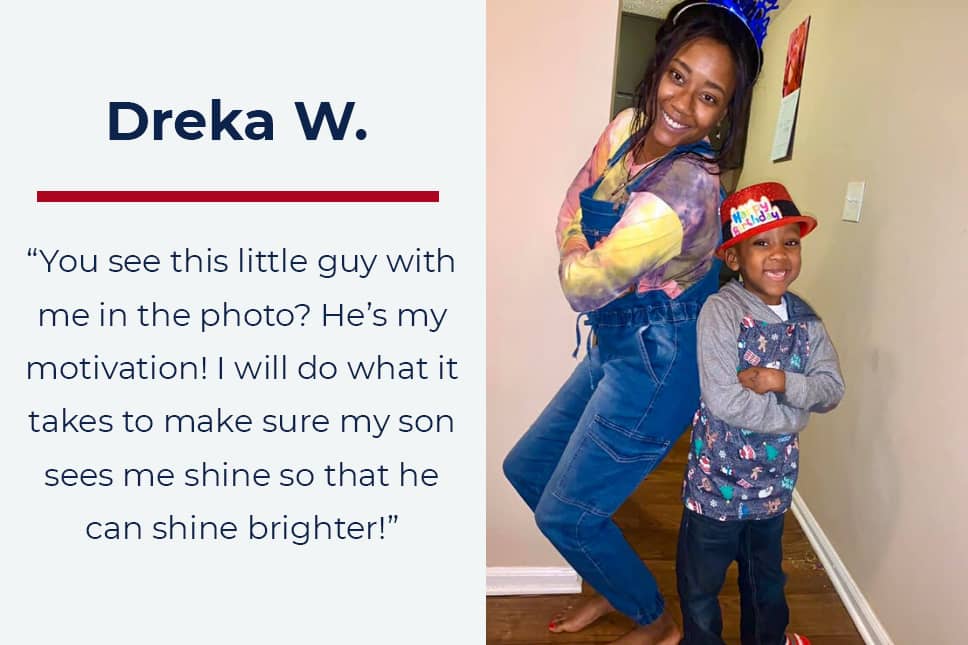 3. Dreka W.: "You see this little guy with me in the photo? He's my motivation! I will do what it takes to make sure my son sees me shine so that he can shine brighter. My son has had a very rough couple of years with neglect from family members and it has caused him to lash out in ways that affect his behavior. He's not the best kid in the world, but he's so smart and amazing! We want to do everything we can to protect our children even if it hurts us sometimes. I decided to go back to school to get my degree in psychology so that I can understand behavior in children, adolescents, and young adults so that I can be there to help other parents or family members who feel like they've done it all and can't continue anymore. I want all children and family to never be afraid to show emotions and to show each other how much they love each other. Even if it's with a simple hug. From financially struggling from a job closure, unwanted emotional and verbal abuse, and discouragement from the crazy world surrounding us. Even after starting school, I was ecstatic, but the stressors were still there. I almost unenrolled. I felt closed-in. But then, I managed to keep my son in mind. He is the main reason for me enrolling in school. He is the reason I will not stop! He is the reason I will be courageous. He is the reason I will smile and push through it all. Why? Because when I'm not around in this world anymore, I want my son to be able to say, 'If my mommy got through it, I definitely can get through it too!' I'm the kind of person that wants to see everyone make it! Even if it's only a simple plan!"          
                    
4. Heather B.: "Life is a challenge, but when you work hard you can do anything you put your mind to. As a mother of four small children, I wanted to prove to them no matter how long you are out of school, going back is the best way to go. I wanted to start back years ago and then my mother-in-law had gotten sick and was diagnosed with cancer. So I put everything I had to the side and helped her. A year later, she thought she was free, then three months after that, she found out it had spread all through her body. Me and my fiancé stopped everything and helped her. After losing her to cancer and then trying to work to get my family back to "normal," I finally had the mindset of doing it for her and as well as my babies. Ashford University is such a wonderful school, and I'm so thankful that I picked this school. So class of 2023, I'll have my BA in human behavioral science."        
5. Robbie C.: "I have pushed myself to keep going and never quit through the hardest times of my life. Even after losing everything so quickly in a house fire I have never let myself give up. I managed to stay strong, even at my weakest moments. I work hard every day to achieve my goals and make myself better and I try to inspire others to do the same. For that, I am #TenacityMade."
6. Valeria G: "I'm currently attending Ashford University for early childhood education. I will walk the stage in May, hopefully. The biggest obstacle for that is that I live in Ohio and graduation is in San Diego. I want to walk because of all the obstacles I have encountered and how long and dedicated I have stayed to going to school and not just giving up the idea completely. I would say an obstacle in my life every day is just the simple fact that I have two young children, a 2-year-old and a 5-year-old. And all those military wives out there, I'm rooting for you. I am married to a military member who takes us to wherever he goes, so that is another big obstacle. Working every day, 40 hours a week, trying to stay healthy, so going to the gym in the morning before work and coming home after. But honestly, the biggest obstacle I have is myself. I am the one who decides if I have enough time in the day to do homework, if I am awake enough and can sit at the computer and type a paper or write my paper two days early so then I have time and feel motivated and I can do it because going to school means I can provide for my family better someday, and that is what I stay with, and if I were to subside from that mindset then the obstacle that I have within myself, I wouldn't be able to finish school. Everybody incurs obstacles daily and it's our self that decides if we can jump over them or if they are worth jumping over, and I think that anybody that sets their mind to going to school, I think that you can do it, and I am rooting for you because I know how hard it is to have a family and go to school when you have no time left in your life. I think that we can do it."
7. Lisa H.: "Being a single mom of two girls and working a full-time job is a difficult task. My oldest has ADHD and ODD (Oppositional Defiant Disorder) and I have my sweet but sassy 4-year-old whom is always by my side. I never get a true break. I even work with my children. We went through a move recently and my oldest started middle school. Pushing through for me is talking to God. God is my help and my strength. I always have a small support group: my pastor and his wife. I adopted her as a mom figure. I work my behind off, for quitting is way too easy. I have my two girls to think about. I am almost done with my master's in early childhood education leadership. I am #TenacityMade."        
8. Greg B.: "A full-time student, full-time leader at work, volunteer, husband etc. I found myself back in school at 40+. My husband encouraged me to go back for my MBA. I spent my life caring for everyone else, and now I'm doing something for me. It's a busy schedule, but I love the flexibility. Most importantly, I'm bettering myself. This will elevate my career and make life better! I'm learning so much, especially how much school has changed in the last 20+ yrs!! Ashford got this right!!"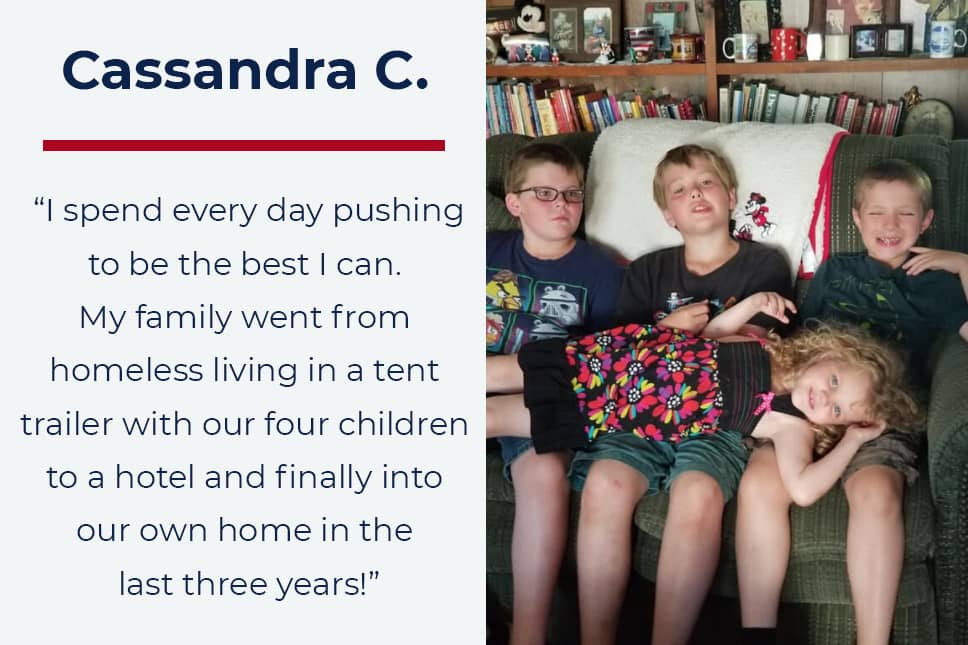 9. Cassandra C.: "I spend every day pushing to be the best that I can. My family went from homeless living in a tent trailer with our four children to a hotel and finally into our own home in the last three years! It hasn't been easy as my oldest son has autism and epilepsy and my days are filled with counseling, occupational therapy, neurologists, psychologists, and support groups and my next two sons have ADHD and sensory processing disorder, so they also require counseling and occupational therapy. My youngest daughter just started kindergarten and when I'm not taking them to appointments, I am helping them with their homework, learning, and shuffling them between sports. Every day, I push as hard as I can to make sure that they never have to go back to where we were, so I have my earbuds in listening to my books during their practices or through my stereo while I am driving. I want to prove to them that obstacles are only as big as you let them be. I push every day to try my hardest and be my best self. That is how I maintain my 4.0 GPA and prove to myself and my family that I can and I will!"
10. Macy G.: "Every single day brings a new challenge. Every step I take in life is toward my future success. I have been through so much and still keep a smile on my face and push through the days for my son, myself, and the life I want to have for both of us. My life has had obstacles since I was little. I will list the biggest and most traumatic challenges that I am extremely proud to say I pulled through in my life. My mother passed when I was four and it just got more challenging as I grew up. I learned how to be a woman on my own. I was in a car wreck at age 16 and the doctors said I'd never walk again. I was determined to walk and after two years of rehabilitation and learning to walk again, I finally did it. I graduated high school and went off to my first year of college at Cleveland State University. I made it through a year and found out I was pregnant. Some may say young pregnancy is a shame, but I am living proof that my son has made me into a more dedicated and hard-working woman. I took a year off school until I had my son, then I went back to a community college and after three years received my accounting associate degree. Following this, my fiancé/son's father passed away. That broke me, more than almost anything I've been through (and I have been through a lot). I didn't know if I was going to pull out of it, but I kept pushing through and about a year and a half later I made it out of that obstacle. I decided to take my career a step further and start Ashford University. It was the best step I took toward a better future. I will be finished with my bachelor of arts in accounting in the beginning of 2021. Words cannot even express how truly hard I have worked to become the woman I am today. I work a full-time job, go to school full-time, take care of a 7-year old boy full-time and still make it through life like a champ. I am relentless in my pursuit for my bachelor's degree. There is nothing that will get in my way. I will forever push through and achieve all my goals one day!! I am a strong woman! I am #TenacityMade!"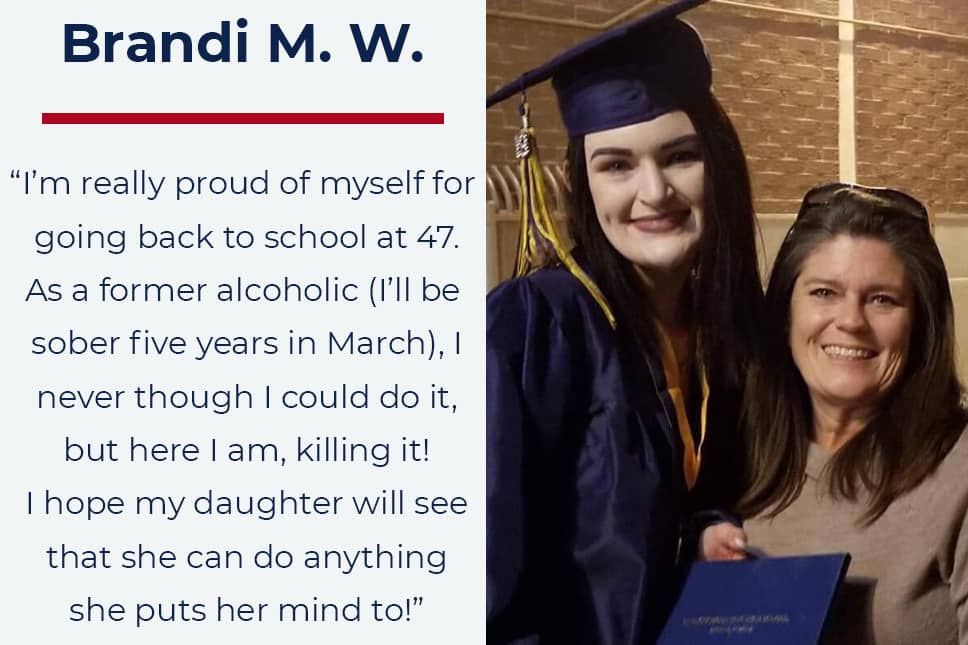 11. Brandi M. W.: "This isn't easy by any means, but it's so worth it! I, too, work full-time as a teacher for Head Start. I work with children that have experienced trauma, and I'm pursuing my bachelor's degree in early childhood education. My hope is to one day become an advocate for these children as they need every voice they can get fighting for them. I'm really proud of myself for going back to school at 47. As a former alcoholic (I'll be sober five years in March), I never thought I could do it, but here I am, killing it! I hope my daughter will see that she can do anything she puts her mind to!! Thank you!"
                                                                                     
12. Susan Hendrix: "While attending Ashford University, no one knew that I was battling Lupus. And I would be in so much pain from the flares, but I was determined to push through. I had no other choice. I was on a mission to not only fulfilling a promise to my deceased parents of completing my education, but I had to also show my daughter that life may knock you down, but you get back up to fight another day. I've completed my bachelor's and master's in healthcare administration at Ashford, and now I'm taking what I gained here to help others. It's about staying positive and determination mixed with a lot of understanding instructors, and an abundance of faith and strength provided by God."            
                                                                                                              
13. Elder C. Fletcher: "I'm an older woman returning to college. I should have earned my degree in my younger days, but I didn't. Yes, I regret my mother is not here to share this journey with me; she passed six years ago. I have had to repeat two classes which pushed my graduation date back to May of 2021 instead of March 2021. My grades are good. I'm determined to earn my degree with good grades, and I'm not letting my age prevent. Life is filled with twists and turns, but I'm trusting God to continue to lead, guide, and direct me. I already know after receiving my bachelor's degree I'm going to pursue my master's degree. For those who are older (50 and up), pursue your dreams."                
                                                    
Don't forget to share why you keep pushing forward to conquer your goals using #TenacityMade with your posts, images, and videos. Then, check back each month for another roundup of inspirational tales of triumph from you and your peers. 
* Ashford University is now the University of Arizona Global Campus