Editor's Note: This month we continue our series highlighting faculty favorites based on feedback from the University of Arizona Global Campus students and alumni. 
Professor Marc R. Hnytka has been mixing business with sustainability ever since his days as a business administration and marketing major at The Ohio State University.
It was during his undergraduate studies when he also tapped into his passion for the environment. A friend who had been living in the same residence hall on campus invited Hyntka to participate in a recycling competition. 
"My interest in environmental issues grew rapidly and diversely from that initial spark," recalls Hnytka, who currently instructs environmental studies courses.  
With his newfound passion, Hnytka finished his business degree and focused on pursuing environmental topics in his graduate studies, going on to earn his master's degree in agricultural, environmental, and development economics. Now, he incorporates knowledge from both fields into his teachings at Global Campus.
"Environmental topics, sustainability, business, economics, and social issues are all interconnected," says Hnytka. "Solutions must take into consideration all of the stakeholders and influencing factors."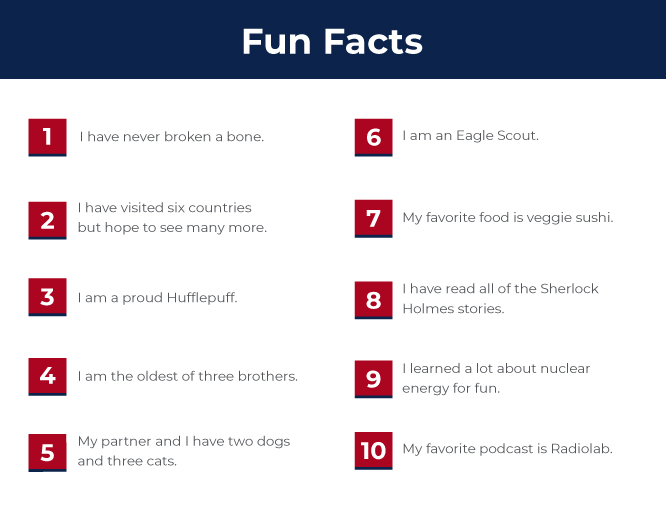 Getting to Know Marc Hnytka
Professor Hnytka took some time to talk about experiences that have connected him to higher education, his passion for teaching, and his commitment to environmental sustainability. He also shares information about his personal life and interests outside of the classroom.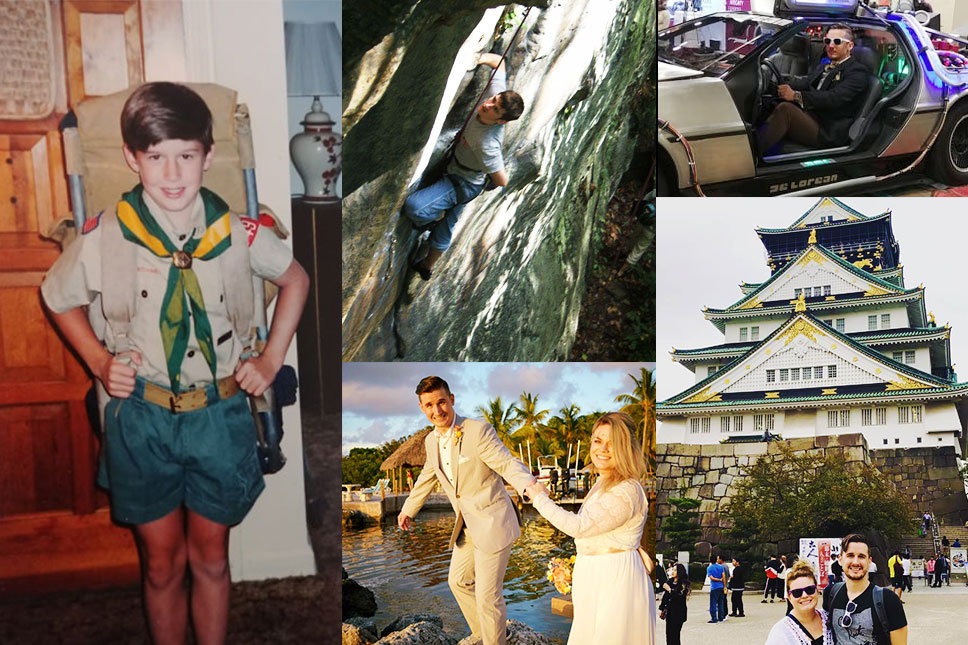 Global Campus: What is one of the biggest learning or growing moments in your career so far? 
Hnytka: Every time I am asked to take on new responsibilities and roles, I find myself growing and learning a lot. I was recently asked to be the head developer on a new course, and it has been challenging but very rewarding as well.
Global Campus: What are some professional goals you hope to achieve in the next five years? 
Hnytka: I plan on working on my Ph.D. dissertation and finishing my Ph.D. in the next few years.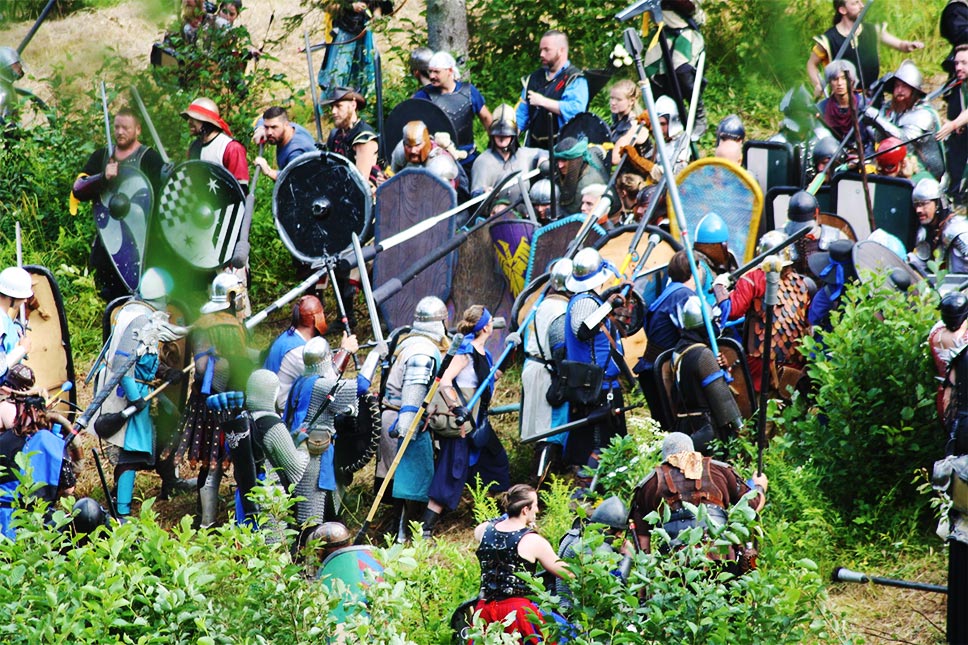 A fan of medieval fantasy literature, movies, and T.V. shows, Marc Hnytka attends a week-long medieval/Renaissance immersive live action role playing and battle event called Bicolline, held every August in Quebec, Canada. Hnytka is shown here (center top with a green scarf around his chain mail coif) during the event in 2018.
Global Campus: Who is your personal hero? 
Hnytka: Undeniably, Elon Musk is a personal hero and a person I would consider to be doing a great deal to advance human sustainability. He is advancing electric transport and alternative energy through his company, Tesla. He is also pushing the frontier of a new era of human space exploration with his pioneering vision of completely reusable spacecraft and launch vehicles at SpaceX.  
Global Campus: What is one of your favorite quotes or a motto to live by? 
Hnytka: "To be is to be perceived, and so to know thyself is only possible through the eyes of the other. The nature of our immortal lives is in the consequences of our words and deeds, that go on and are pushing themselves throughout all time. Our lives are not our own. From womb to tomb, we are bound to others, past and present, and by each crime and every kindness, we birth our future." Sonmi 451, from the novel "Cloud Atlas" by David Mitchell
Global Campus: What is your favorite thing about teaching online? 
Hnytka: I am so happy when students email me and tell me that what they learned in a class had a profound impact on the way they approach the world and their awareness of these important environmental and sustainability topics.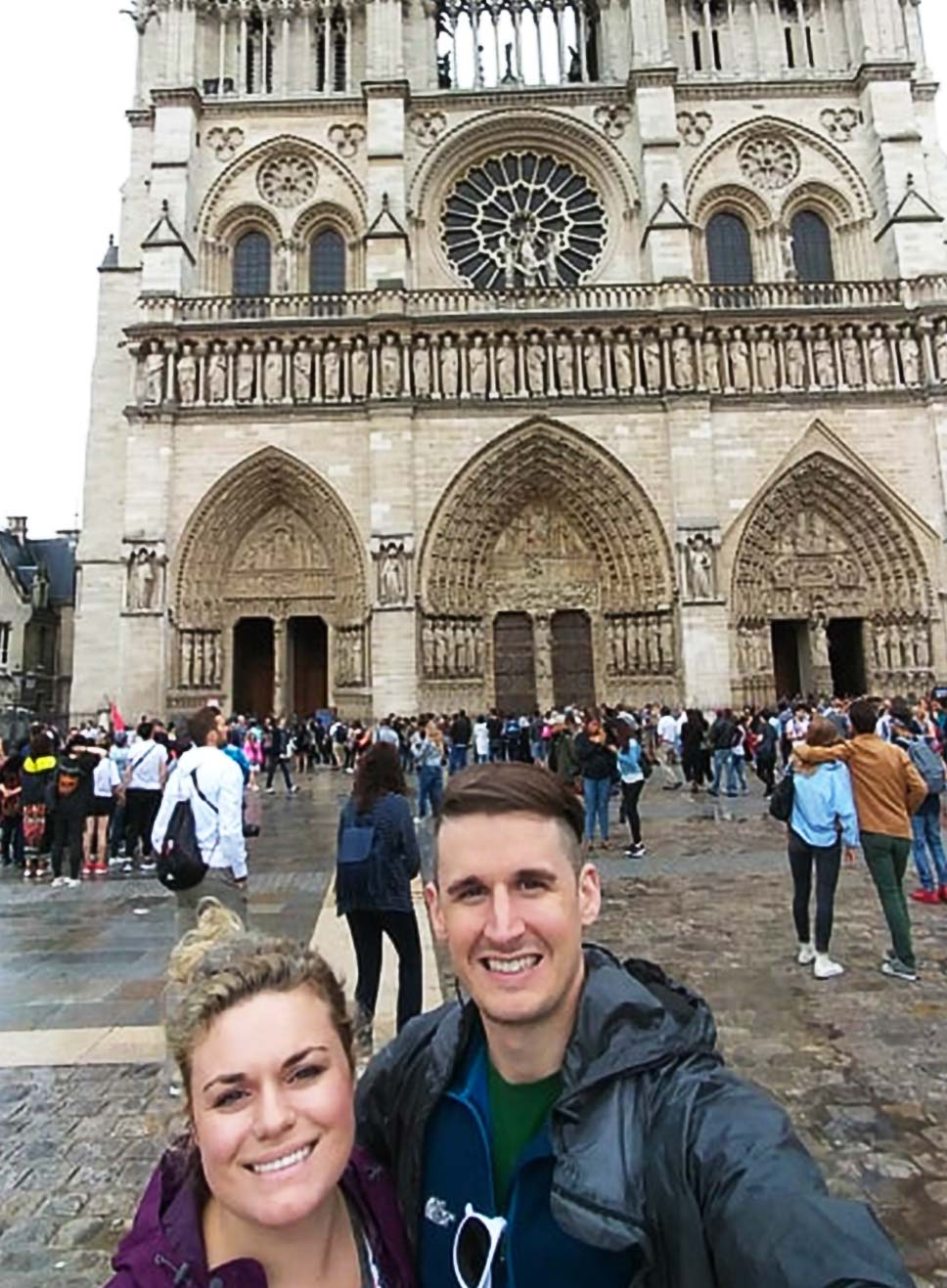 Marc Hnytka and his partner, Sam, at Notre Dame Cathedral in Paris in August, 2017.
Global Campus: How do you effectively develop meaningful relationships with students in the virtual classroom? 
Hnytka: I have been incorporating more video in which I talk directly to the class. I also learn more about students by asking questions about what they are interested in and what they care about. Personalized feedback and just reaching out to say 'hello' and see how things are going also helps a lot.
Global Campus: What are some strategies or projects you've employed to engage your students around the topic of environmental issues and sustainability?
Hnytka: Conducting a personal environmental footprint assessment is a great way to connect your own choices and habits to the broader environmental issues.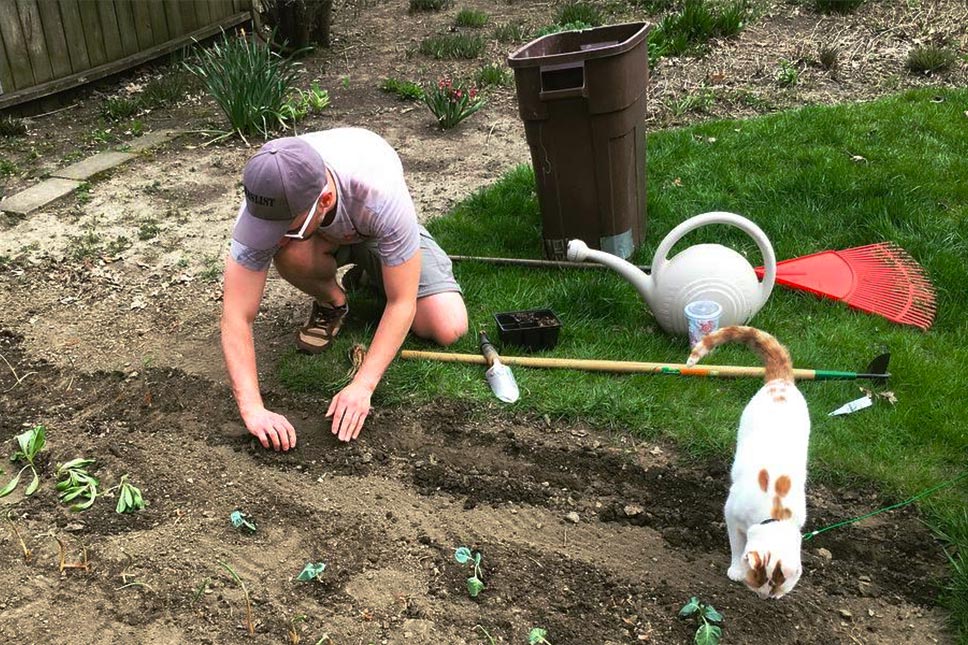 Marc Hnytka planting in his garden with some help from his pet Brutus the cat.
Global Campus: What are a couple of your favorite time-management strategies?
Hnytka: I try to take a page from Elon Musk who blocks out his time into as small as five-minute increments. This does not always pan out, so I also make a prioritized list of tasks that need to be completed along with any deadlines.
Global Campus: How do you like to spend your free time?
Hnytka: I love spending time with my partner, Sam. We love taking our dogs for walks, hiking, backpacking, expanding our backyard garden, and traveling when we are able. I also love rock climbing.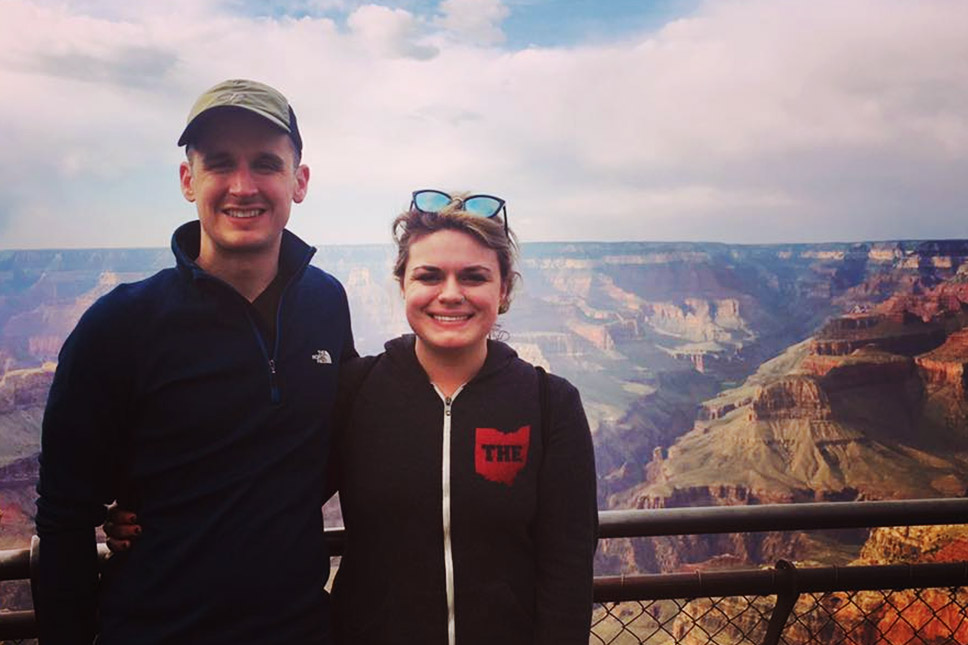 A lover of the outdoors and traveling, Marc Hnytka and his partner, Sam, make visits to spots like The Grand Canyon, a trip they made together in 2017. 
Global Campus: What are some personal goals you hope to achieve in the next five years? 
Hnytka: I want to sew more, spend more time outdoors, and read more books.
Global Campus: What are some of your favorite books, TV shows, or films?
Hnytka: "The Hobbit" changed my life. I also love the "Lord of the Rings" (books and movies), the "Harry Potter" series (books and movies), "Wheel of Time" series, "A Brief History of Time" by Stephen Hawking, the poems and letters of Rainer Maria Rilke, "Cloud Atlas" (book and movie), "Game of Thrones," National Geographic's "Mars" series, "The Marvelous Mrs. Maisel," "The Man in the High Castle," and "What We Do in the Shadows" (movie and series).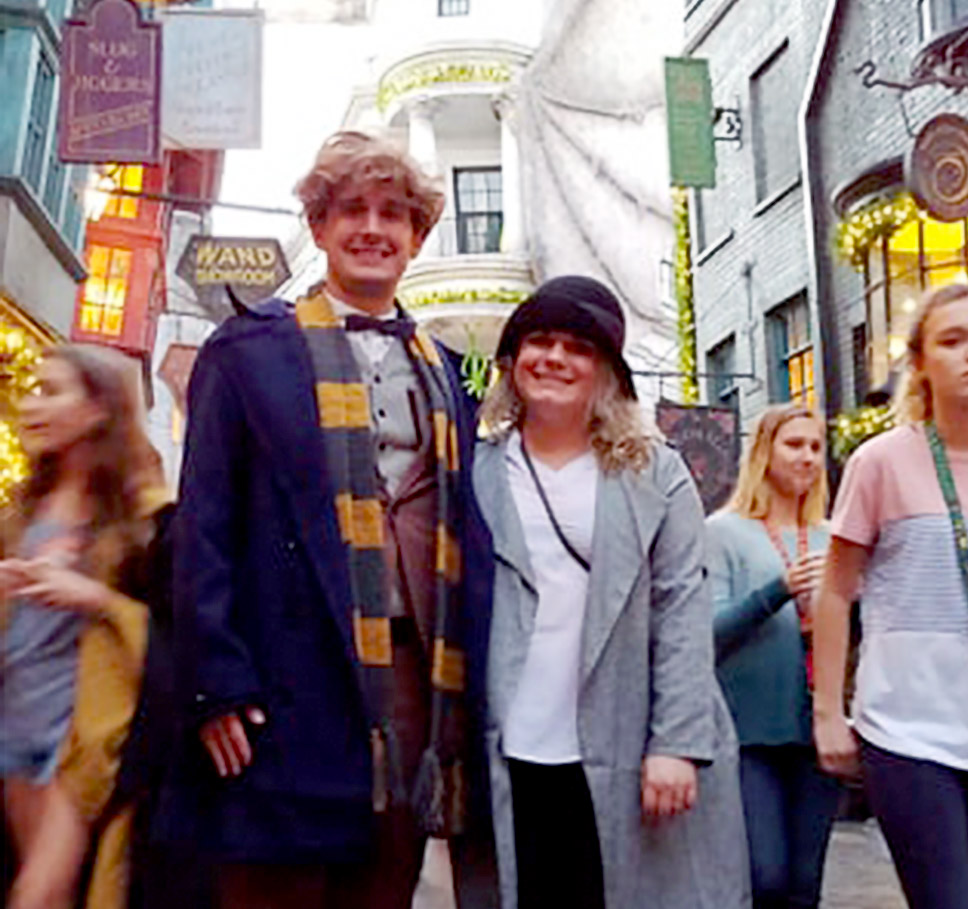 Marc Hnytka and his partner, Sam, love the Harry Potter books and movies, and incorporated the theme into their 2018 wedding. Here they are seen at The Wizarding World of Harry Potter.
Global Campus: Is there anything else you'd like readers to know?
Hnytka: Be kind to one another and our planet.
--
Written by University Staff