The results from Week 2 of UAGC's 2021 Major Matchup are in, and we officially have a Final Four. After another week of voting, we bid farewell to four more majors and the faculty who represented them. Who made it through? Read on to find out. Then vote for the faculty members who make the most convincing argument in the two brackets below.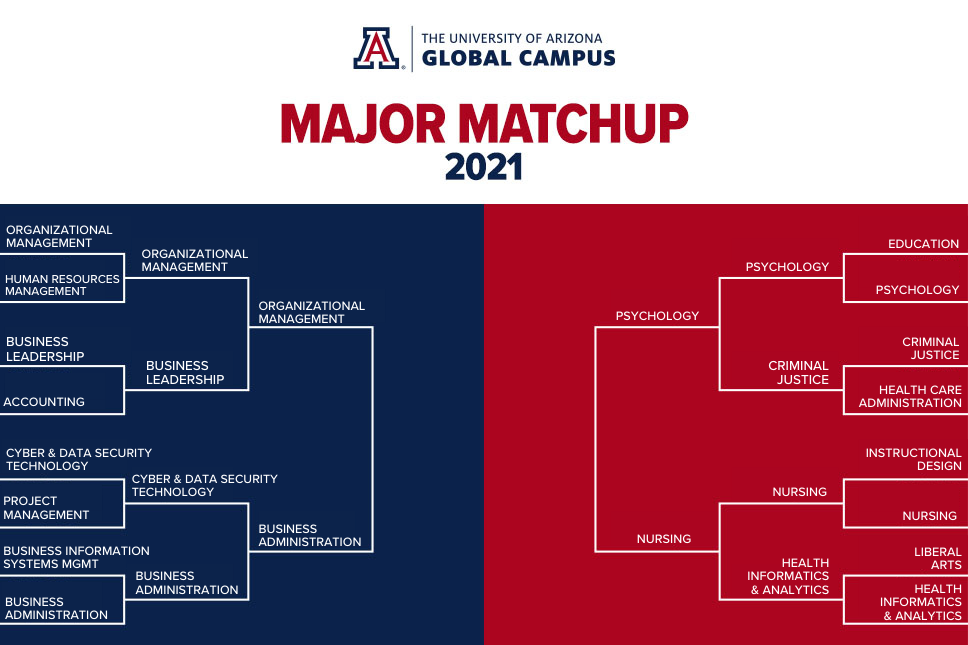 2021 UAGC Major Matchup Contestants: Week 3 - The Final Four
First, we had to say goodbye to the reigning 2020 Major Matchup Champion, Education, along with seven other popular majors. Now, we have added four more to the chopping block this week, as we send home Criminal Justice, Business Leadership, Health Informatics and Analytics, and Cyber & Data Security Technology. 
Now's your chance to help decide who will advance to the final round. 
As a reminder, this year, you are voting for the faculty members who make the best "case" for the major. Some pitches are in video, some are in the form of text, but all include a personalized faculty perspective on what they think makes their major the best.
What's more, for the final bracket round, you will have an opportunity to hear from the faculty representing the last two majors in a Facebook Live event on April 19 at 3 PM, when they will reply to questions from a moderator and viewers. After the event, you will be invited to cast one final vote to help determine the 2021 UAGC Major Matchup champion! 
Check out the remaining four faculty pitches representing programs from the Forbes School of Business and Technology® and the College of Arts and Sciences that have advanced to the Final Four. Then cast your vote in the two brackets to help us take this contest the finals next week. Voting is open until April 15. Who will make it into the finals? You decide! Vote for the faculty member who makes the most convincing argument in the brackets below. Then head to Facebook and RSVP to the Live event!
Game 1: Psychology vs. Nursing
First up is Psychology vs. Nursing*, both programs in the College of Arts and Sciences at UAGC. Representing Psychology is Dr. Michelle Rosser-Majors. Dr. LaTonya Santo makes her case for the Bachelor of Science in Nursing degree for registered nurses. Read and watch the pitches, then cast your vote.
Psychology
Dr. Rosser-Majors: "Psychology is unique and one of the most popular majors because the understanding of human behavior can be applied to practically any career, or to one's personal development, or even to one's life journey. It can even help someone understand why their new mother-in-law must serve every holiday meal at her house. 
 
It also encompasses leadership, motivation, personality, human development, abnormal, learning, and organizational behaviors. In addition, Psychology majors can gain the knowledge to support their children, or grandchildren, with making friends, developing more confidence, or even improving school outcomes. In business, having this knowledge can support them in applying strategies to support employee improvement, increase performance motivation, and lend a perspective to understanding why their boss thinks they must stay until 5:05 every day to be a good employee. What good does that do? Having psychology knowledge can help you understand this not-so-helpful belief/behavior.
 
In the community, psychology knowledge supports us as volunteers at the local homeless shelter, church, or mosque, or when working in an after-school youth program. Psychology provides the knowledge to support any area where human behavior is at play, even in the world of working with animals. In a nutshell, psychology, the understanding of human behavior, helps us to be more self-aware and ready to take on our goals. This is exactly why Psychology should win the 2021 UAGC Major Matchup." 
Nursing
Dr. Santo: "Here are the top five reasons why I believe Nursing is unique and should be crowned the 2021 Major Matchup winner: 
Nurses serve others during the most important moments of their lives (childbirth, illness, surgeries, end-of-life). 
Nurses were voted as the most trusted profession for 19 of the past 20 years. 
Nursing is a recession-proof profession. Nurses with a BSN degree or higher have better job prospects. 
The BSN program at UAGC prepares students to meet the nation's increasing need for BSN-prepared nurses. 
The lives of nurses make the most entertaining TV shows, movies, and books (in my professional opinion!). 
Vote for Nursing in this year's Major Matchup!"
Who said it better? Did Dr. Rosser-Majors win you over with her pitch for Psychology? Or has Dr. Santo convinced you Nursing is the way to go Cast your vote now! 
Week 3 Game 1: Psychology vs. Nursing
Game 2: Organizational Management vs. Business Administration
Next up are two Forbes School of Business and Technology® fan faves: Organizational Management and Business Administration. Dr. William Woods is representing Organizational Management, while Dr. Charlie Minnick weighs in on the value of a Business Administration degree. Who has the most convincing program pitch? Read and watch more about each one, and then cast your vote below. Who makes the best case? Vote and let us know who should move on to the final round!
Organizational Management
Dr. Woods: "Greetings and thank you for considering the Organizational Management major. You will enjoy learning in programs that focus on management, leadership, organizational change, marketing, finance, teamwork, legal environments, human resources, international operations, and ethics. This program is going to help you to build much-needed skills for your career."
Business Administration
Dr. Minnick: "MBA! MBA! MBA! Has a great ring to it as it rolls off your tongue, doesn't it! The Bachelor of Arts and MBA programs at the Forbes School of Business and Technology® give you the opportunity to become an MBA MVP! How cool would it be to be a Forbes School of Business and Technology® MBA MVP? Now that I have your attention, you're probably asking yourself, "Charlie, how do I become an MBA MVP?" First, you can complete the BA in Business Administration degree, or earn any bachelor's degree as an admission requirement for your graduate degree. Then, the MBA program becomes your ticket to enhance your career and move into MVP status.
So, how do we partner with you to become an MBA MVP? Let me share a couple ways. Once you set your sights on business administration, and you know you'll want to move into earning a master's degree, you'll discover that our MBA program features Steve Forbes in our Global Economics and Political Influence course. Talk about having a true MVP in our program. What's more, the courses in both our bachelor's degree and master's degree programs feature interactive business simulations and gamification, and the MBA even has live RSS feeds that incorporate blogs from industry experts. In short, the Forbes School of Business and Technology® business administration programs are your front row tickets to MVP status!"
So, who's it going to be? Which of these business degree gurus has your vote to progress to Round 3? Cast your vote now!
Week 3 Game 2: Organizational Management vs. Business Administration
It's Time to Vote
It's time to vote in Week 3 of the 2021 Major Matchup. Which faculty members presented the best pitches? Who will advance to the final bracket next week? It's all in your hands. Vote wisely!
Don't forget to come back next week to see which faculty members and majors progress to the final round to face off in our Facebook Live Event at 3 PM PT. Be sure to rally your peers to vote for their favorite faculty pitch by posting on social media using the hashtag #VoteMyUAGC.

Happy voting!
--
Certain degree programs may not be available in all states. 
*Applicants to this program must have earned a nursing (hospital) diploma or Associate's degree in Nursing from a regionally accredited or approved nationally accredited college or university including the following coursework or equivalent: Microbiology (with lab). Applicants must possess an active, unrestricted license to practice as a Registered Nurse or its equivalent in at least one U.S. state. All students must maintain this licensure throughout the program of study.