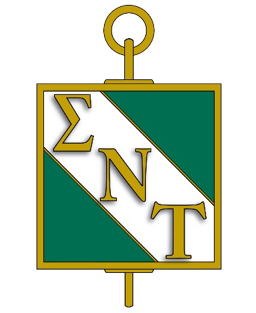 Welcome to the Sigma Nu Tau Honor Society chapter at the University of Arizona Global Campus! The mission of Sigma Nu Tau is to promote, recognize, and reward academic excellence in entrepreneurship and to encourage and recognize the practice of principled entrepreneurship.
"The Only Academic Honor Society Dedicated to Entrepreneurship"
Background
Sigma Nu Tau was established in the spring of 2009 on the campus of the State University of NY at Plattsburgh. The honor society was founded because, after much searching, there was not an honor society to recognize and reward high achieving entrepreneurship majors. Five students and two faculty members were inducted at the first induction ceremony on May 6, 2009.
Meaning
The first letter of the organization, the Greek letter sigma, looks like a stylized letter E. As such, it stands for entrepreneurship and enterprise, key concepts for the individuals who belong to this organization. But sigma is also the Greek symbol for summation, the total or sum of the parts. Entrepreneurs know that they must bring all of their education and experience into play in their quest for success. To be pioneers of innovation, they must incorporate all that they have learned.
The second letter of the organization, the Greek letter nu, represents how the entrepreneur must navigate through uncharted waters and create a new path. Through creativity, innovation, and risk taking as well as through hard work and persistence, the entrepreneur brings new ideas to life and enhances the world in which we live. The path the entrepreneur chooses may not be the easiest, but determination reaps great rewards in the end.
The third letter of the organization, the Greek letter tau, represents the entrepreneur's tenacity to cling to his/her visions, to make decisions and to learn from his or her mistakes. It also represents the entrepreneur's determination to build something from nothing. In ancient times, tau was the symbol of life. The entrepreneur is one who embraces life by dreaming of what could be, by developing a vision, and by bringing new ideas, products, and services to life.
The official colors of Sigma Nu Tau are green and gold, representing fertile ideas, growth and prosperity. The logo is a square with a white diagonal stripe containing the Greek letters, Sigma Nu Tau.
Membership Criteria
Membership in Sigma Nu Tau Honor Society is by invitation only. Eligible University of Arizona Global Campus students may complete an application to join once invited.
To qualify for membership in Sigma Nu Tau, students must meet induction criteria as of the screening period on January 1 or July 1 of the drive year. Membership drives generally run from January 1 to April 1 as well as July 1 to September 15:
For Undergraduate Students:
Enrolled in BA Entrepreneurship program
Minimum of 49 credits completed
Minimum of 3.20 GPA
For Graduate Students:
Enrolled in MBA Entrepreneurship program
Minimum of 21 credits completed
Minimum of 3.50 GPA
Member Privileges
Benefits include:
Life-long membership and recognition for outstanding performance in an extremely challenging fieldA membership certificate along with an honor society lapel pin
Sigma Nu Tau E-Newsletter and complimentary 1-year subscription to Entrepreneur Magazine (when available)
Access to apply for Sigma Nu Tau scholarships
Opportunity to stay connected and up to date on society events, such as Sigma Nu Tau's Business Video Pitch Competition (when available)
Moreover, members who participate in the University of Arizona Global Campus in-person commencement ceremony will be recognized by wearing regalia - Sigma Nu Tau honor cords - provided by the University. Students will need to have been inducted into Sigma Nu Tau at least one week prior to commencement to have the honors regalia provided.
Contact Information
For general inquiries: [email protected]
James Moore, Lead Faculty
Sigma Nu Tau Advisor
Questions? Request More Information