The most important piece of advice that Dr. Tahereh Daneshi gives her students is a simple phrase: Don't be afraid of failing. 
It's just five words, but behind those words is a lifetime of experience, knowledge, perspective, and wisdom from a University of Arizona Global Campus (UAGC) professor who has journeyed from academia to industry and back again. Four decades into her career, there are few experiences that Dr. Daneshi can't relate to.
Arriving in the U.S. as an Iranian immigrant in the late 1970s, Dr. Daneshi earned master's degrees in mathematics and computer science and completed a PhD in mathematics at Texas Christian University. She got her first taste of teaching as a graduate student, and in her first official role, she remembers the reaction from her students. It was the first time she faced the challenge of failure as a woman in a leadership role. It wouldn't slow her down.
"They told the department chair, 'We don't take her seriously, she's so young and small,' but then it took them about 15 minutes to realize, 'She's in charge,'" Dr. Daneshi recalls. "From that point on, it was fantastic. I was the fastest person to get tenured, and I owe that to my students.
"I always have the best students, and I just grow with them, so they are learning something from me, and I am learning from them."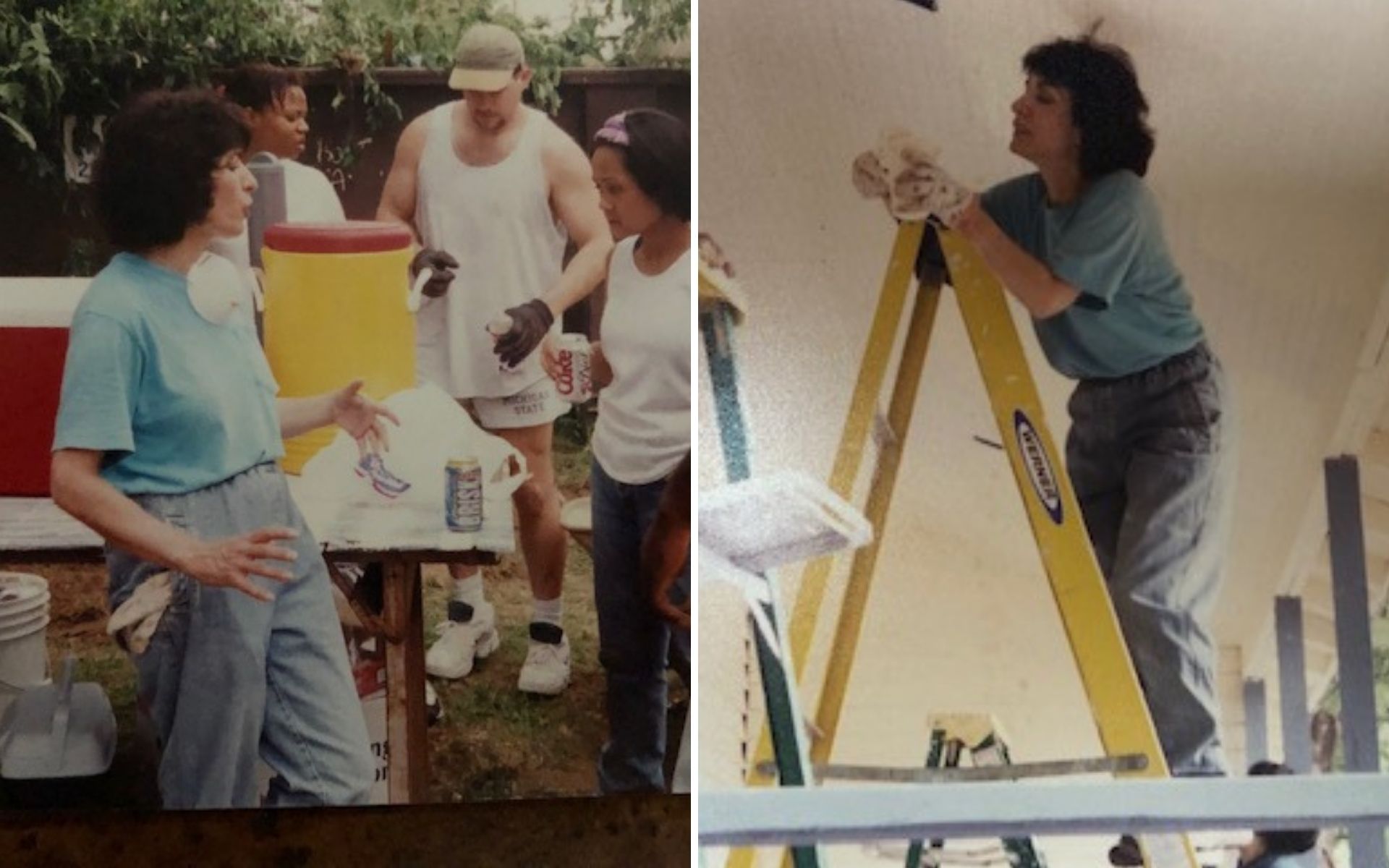 Dr. Tahereh Daneshi is passionate about service and is shown here volunteering for a Habitat for Humanity event while working at FedEx.
At the Forefront of Innovation
With a lifelong interest in STEM (Science, Technology, Engineering, and Math) fields, Dr. Daneshi jumped from teaching into highly technical industry positions that put her at the forefront of innovation. In fact, Dr. Daneshi's fingerprints are on some of the most notable achievements of the past several decades.
At FedEx, she worked on the design team for its famed PowerPad, a device to provide couriers with wireless access to the FedEx network and real-time information when away from their delivery vans. Within a few years, the PowerPad technology replaced FedEx's SuperTracker device around the globe.
From there, she moved on to a role at WorldCom, when the company recruited her in 2000.
"I was then on the design and architecture team for the very first cities – 13 total – with broadband wireless in the United States."
It wasn't long into her tenure that WorldCom filed for bankruptcy, and she found herself facing a career crossroads. 
"At the time, I thought it was a disaster," she recalls. "But looking back, it was the best thing that happened to me, because I moved back to teaching."
Not one to fear failing and never one to stay down after getting knocked down, Dr. Daneshi became a senior professor at Keller Graduate School of Management in Houston, where she won "Professor of the Year" honors and embraced the idea of sharing her immense technical knowledge and expertise with new generations of students. When Keller decided to close its campus in Houston, Dr. Daneshi transitioned to online learning with Ashford University* and now serves as lead faculty member for the UAGC Master of Science in Technology Management program and teaches in the Master of Information Systems Management program.
Teaching at the highest levels, Dr. Daneshi often encounters students who are well into their careers or considering a transition into another line of work. She cannot only relate to their challenges, but she can provide the perspective of a professional who has navigated evolving technologies in industry and the university setting. The most change in the world, she insists, comes from access to computers and technology, and Dr. Daneshi has witnessed the evolution of learning from a time of brick-and-mortar classrooms and libraries to the era of dial-up and now the time of widespread internet access and a refined online student experience. 
Every step of the way, she's tackled the changes and challenges with enthusiasm, which can be infectious in the classroom.
"There is nothing like working with young generations, and young doesn't mean age," she says. "I'm talking about generations that want to move up, and I can help them.
"There's nothing more rewarding than being able to help someone that is willing to move up."
A Role Model for Women in STEM
Dr. Daneshi is fully aware — and has been throughout her career — of the limited opportunities and "glass ceiling" that prevents women from advancing in STEM fields. According to the U.S. Census Bureau, women make up 48% of the U.S. workforce, but just 27% of them work in STEM. As someone with a successful track record outside of the classroom, she can serve as the guiding force for women who will follow in her footsteps. 
"In my career, in some places, I was the only woman, and the challenge is mostly trying to be accepted as an equal," she recalls. "Specifically in design and architecture, which is dominated by men. I pulled it off, but it was not easy.
"In both industry and teaching, the key success factor for me has been not just taking care of my work responsibilities, but going above and beyond what is expected of me," she explains. "You always get more satisfaction and less stress if you complete your work on-time and are a contributor to the success of your organization."
Just as she has encouraged her daughter – a patent attorney and electrical engineer – to succeed, Dr. Daneshi wants to remove the obstacles that prevent her students from achieving their goals. She serves as the lead advisor for Women In Technology International (WITI), and at UAGC she is an advisor to the Women in STEM Club. The latter offers online students an opportunity to interact with and learn from industry and community experts in STEM fields. While the club is for aspiring women leaders, Dr. Daneshi says students must be willing to embrace opportunities to learn from everyone.
"When we are in the club environment, we get to share our experiences," she explains. "I tell them, and this is the absolute truth; you cannot do it alone."
Dr. Daneshi reminds her students that there have always been male management co-workers who can help and that they shouldn't just rely on women. 
"There are men willing to help you when you are in a minority situation, and you cannot do it all without help," she advises.
Aside from accepting help from others, Dr. Daneshi strongly encourages STEM learners to not give up, and she lets them know that there is a good chance she can relate to any struggle they're facing. Having the perspective and counsel of a professional that has gone through a similar experience helps ease students' anxiety and lets them know they're not alone.
"As long as they know that they're in the same boat, like so many others, it's nothing personal, it's the culture, and they're just not used to you," she says. "We accept more women in teaching and medical fields than technology; but it's changing, it's really blossoming," she adds.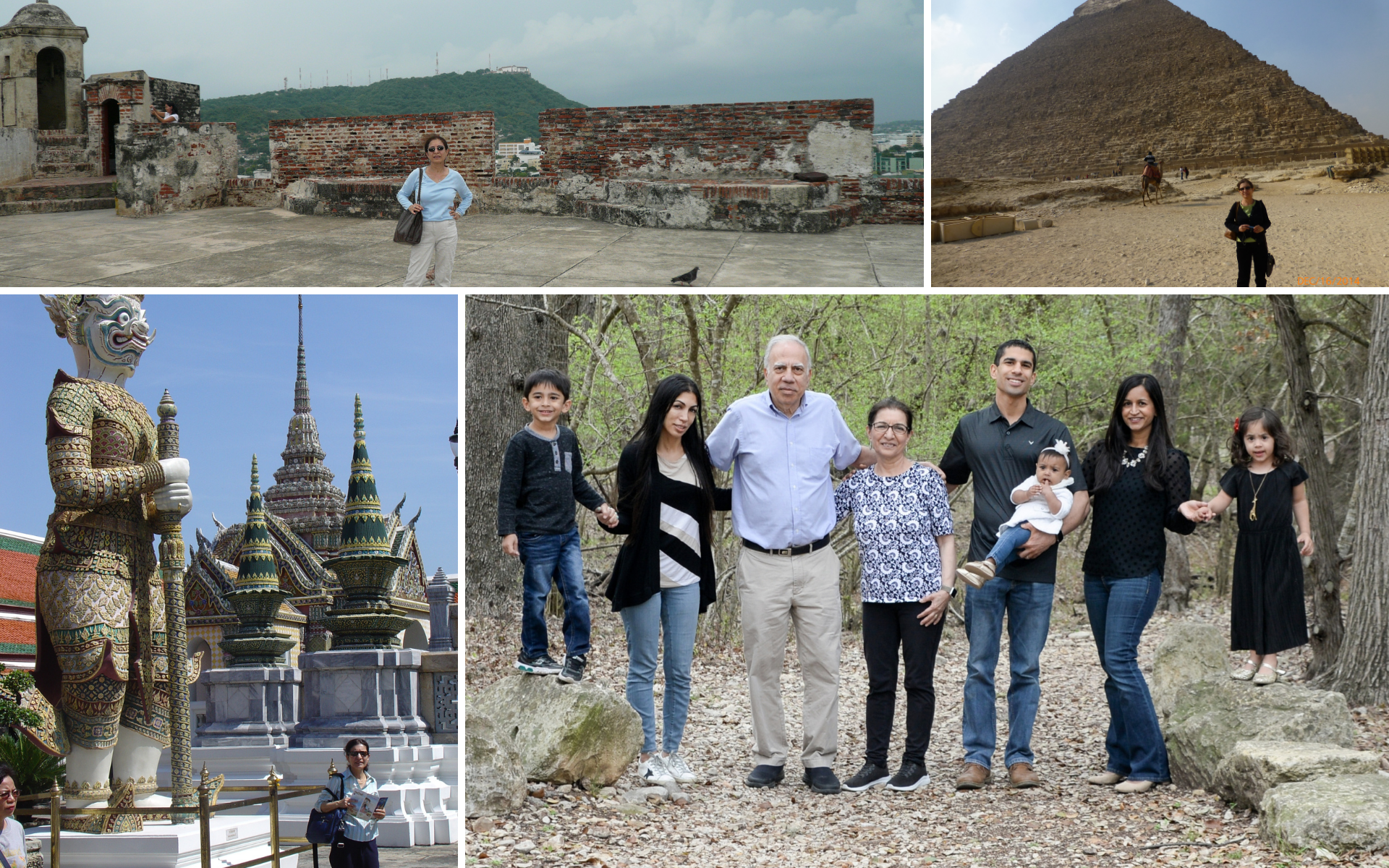 When not spending time with her family, Dr. Tahereh Daneshi enjoys traveling. 
Getting to Know Dr. Daneshi
During a recent conversation with Dr. Daneshi, she discussed her role at UAGC and the inspiration she finds in the classroom. Keep reading for more insights into this favorite faculty member.
UAGC: Who are your role models in the business community?
Dr. Daneshi: Steve Jobs, because he failed a lot and started again. People don't recognize him for his failures, only his successes, and that's what I tell my students. Practically everyone I have worked with has influenced my career, and everyone that has succeeded has had some failures. They fail and they start over again because failure is not always a bad thing.
UAGC: What is the most inspiring thing you've seen from your UAGC students?
Dr. Daneshi: I have had students of all ages – from their 20s to their 60s – and all of them work so hard to achieve their goals. They are willing to go above and beyond the course requirements; they work very hard to create something that stands out. My students are a source of pride, and they rank among some of the best that I have encountered. I keep on getting after the ones that procrastinate, and I drive them crazy with email. When they do not think they can do it, and then they successfully make it to the end of class, it's such a reward for both of us. Especially when I get an email that says, "Thank you for not giving up on me."
UAGC: What do you think is the key to success at an online university?
Dr. Daneshi: There is no free lunch; you have to work at it. But the effort is worth the outcome, and you will be rewarded. You have to have a long-term view to achieve your goals because if you want to succeed in a short time, you'll be disappointed in yourself.
UAGC: Is there something that your students don't know about you but would find interesting?
Dr. Daneshi: I was in graduate school, working full-time, and driving 90 minutes each way to school at night while pregnant, so I can relate to my students. I have experienced these challenges. 
UAGC: In what ways does your family inspire you?
Dr. Daneshi: I have been very fortunate to have the support of my family since childhood. When I got married, my husband – whom I've been married to for more than 41 years – supported me throughout my educational and career journey. He's a member of the National Academy of Inventors and holds 36 patents. He's an inspiration and a mentor for a new generation of scholars. Additionally, my daughter has achieved success in legal and engineering roles, and my son is an M.D. who operates his own private clinic. Every member of my family is a source of inspiration for me. 
UAGC: What is your favorite book?
Dr. Daneshi: The book is called "The No A***ole Rule: Building a Civilized Workplace and Surviving One That Isn't." It was written by a Stanford professor in 2007 and since then, it has been a topic of papers and discussions in conferences. In academia and management, it's absolutely one of the greatest books about the topic. There's no way you'll be at work and not know one of those, so you learn how to deal with them.
UAGC: What is your favorite movie?
Dr. Daneshi: "My Fair Lady" because it relates to my job – somebody that couldn't speak proper English and considered to be from the lowest level of society, overcame the obstacles beyond the expectations. It shows that you can do the impossible and succeed. And my favorite song, "I Could Have Danced All Night." After she succeeds, she's happy with her accomplishments. This is the moment I want to communicate to our students. In the end, you can succeed and have fun celebrating your accomplishments.
UAGC: What were your favorite games growing up?
Dr. Daneshi: I played a lot of chess and backgammon.
UAGC: Where do you go when you need to relieve stress?
Dr. Daneshi: I walk every night, three miles. Even in the Houston rain, I walk, and I carry an umbrella, but don't miss my nightly walks.
UAGC: Where have your travels taken you?
Dr. Daneshi: I have visited more than 20 countries in different continents. I love every place I have visited, and in the U.S., we really should appreciate all our natural resources. I love the natural beauty of the U.S.: Yosemite, Yellowstone, Alaska, I can go and just forget about the world in those places. 
--
*Ashford University is now the University of Arizona Global Campus.