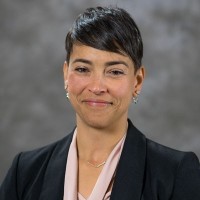 Dr. C.M.T. Campos
Geopolitical Factors: Is Your Organization Prepared to Weather the Geopolitical Storm?​
Cidhinnia M. Torres Campos, PhD, is Higher Ed Insight's Managing Director. Cidhinnia has worked extensively with a wide variety of public, non-profit, and education organizations on issues related to positive youth development, academic success, and access. She has broad and comprehensive expertise in the evaluation of clinically-based, faith-based, and community-based programming. She has also worked extensively in agency and regional accreditation in higher education, learning outcomes assessment of academic and co-curricular programming, institutional research/effectiveness, strategic planning, and project management. She has presented and provided training across the country on theories and principles of community and educational research and assessment, strategic program development, and evaluation strategies and implementation, and she has presented and published globally in a variety of academic and applied forums.
Cidhinnia has teaching experience in a variety of areas, including psychology, research methods, statistics, management principles, higher education administration, and project management. She completed her undergraduate degree in Psychology at the University of Puerto Rico, Mayagüez Campus, and holds master's and doctorate degrees in Ecological/Community Psychology from Michigan State University. She was a Postdoctoral Research Fellow on a NIMH-funded research grant under Dr. Jean Phinney at California State University, Los Angeles. She is a Certified Associate in Project Management (CAPM)® from the Project Management Institute. She also completed the Education Policy Fellowship through the Institute for Educational Leadership. Awards received include the Change Award for Innovation and Leadership, Phenomenal and Remarkable Women Award, Women in Philanthropy Award for Volunteerism, and the Leading Women Award.