You might not know it, but you may have come across Vincent Vargas on your TV screen as Gilberto "Gilly" Lopez on the FX series "Mayans M.C."
Known as "Rocco" by many, this TV actor and our June 2021 Student of the Month honoree wears many hats. He is also a father, author, and as an advocate for veterans, he is on a mission to change the conversation about veteran mental health and the often challenging transition from military to civilian life.
When he enrolled at Ashford University*, Vincent was no stranger to pursuing higher education. As a young man, he started college on a baseball scholarship. 
"I've had dyslexia my whole life, but never really learned how to manage that until after the military," he explains. "So, education was always a challenge."
After losing his scholarship, he decided he needed to do something to create a better future for his daughter. Joining the military gave him that opportunity.
"I was enlisted in the U.S. Army and went on to serve three combat deployments with 2nd Battalion of the elite 75th Ranger Regiment," he says. "After four years of active-duty service, I joined the U.S. Army Reserves and continued my service."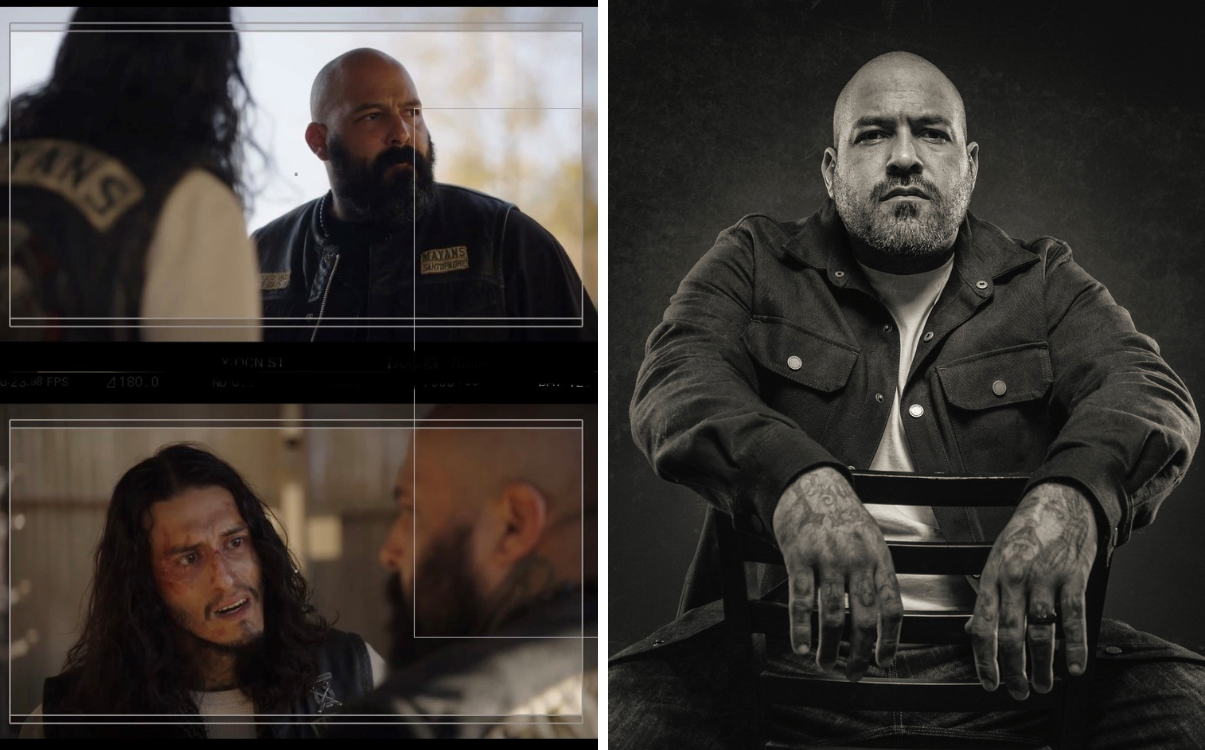 Left: Vince Vargas on set playing the role of Gilberto "Gilly" Lopez on the FX series "Mayans M.C.". Right: Vincent, showing a "softer" side to the character he portrays on TV, is determined to make a difference in the lives of veterans transitioning to civilian life.  
Finding a New Identity
After leaving the military, Vincent explored a career in firefighting, went through EMT training, and with a desire to use his military skillset, he eventually began a career with the U.S. Border Patrol. He also completed additional courses in criminal justice at a local college. 
Vincent's experiences coming out of the service align with what he says is one of the biggest struggles for military service members entering civilian life – the loss of identity and the challenge of finding a new path.
 
"I can say I've attempted multiple different paths until finding what I do now," he admits. 
Fortunately, during his first college experience, Vincent took theater classes, and the experience stuck with him. Now, he says he's found a career he feels content in. 
"I have walked away from many different opportunities to chase my dream of being a storyteller in Hollywood," he explains. 
While on a spring break vacation in California with his wife, Vincent heard that Mayans M.C. was still casting roles for a pilot. Having previous on-screen experience – some in his own productions – he was ready with his acting reel.
"I know what I look like," he laughs. "With all the tattoos, I thought it would probably fit really well with the character."
 
Through the power of networking, he got an audition with the casting director. Then, he got a second audition. A few days after his second audition, he found out he had landed what would become a recurring role on a network TV show.
Having found a career path he is proud of, it felt like the right time to complete his education. In 2020, he enrolled in the BA in Applied Behavioral Science** program. It was the flexible program that really drew him to the major. 
Working on the set of a TV show and traveling back and forth from his home in Utah to the set in California, he needed a solution that would work with his schedule, and UAGC was his choice. 
"I'm doing 12- to 16-hour days out there," he explains. "I have my hot spot and my laptop in my trailer, and in between scenes, I'm finishing up a discussion."
The course schedule took the fear out of the equation and made earning a degree feel more attainable.
 
"I can handle five weeks of anything," he said assuredly.
This is only the start of what he said will be a purpose-filled future. 
"Getting my degree is the first step to leading from the front and being a combat veteran focused on giving counseling to my community," he says.
Changing the Conversation
Vincent says he understands the power of having a platform, influence, and a talent for storytelling. He recalls the emotion he felt watching a one-man show by one of his biggest influences, John Leguizamo, a stand-up comedian and actor.
"I ran through the rolodex of emotions in one hour," he says. 
He said he hopes that he can use his platform and influence for the good of the veteran community. 
"We need mainstream media and social media to start changing the conversation," he argues. "We need someone with a big enough influence to start shifting that conversation." 
The narrative around transitioning out of the military is largely negative. Instead of excitement, veterans hear about mental health issues like Post Traumatic Stress Disorder (PTSD) and high suicide statistics, which can ultimately lead to fear and anxiety. 
"College graduates are excited because they know they have the opportunity to go out and land a really good job," he explains. "Veterans no longer get out of the military excited about the new opportunity and using the skillsets they learned in the military and adapting them to the civilian culture."
Vincent worries that the negativity – the stories service members tell themselves or hear perpetuated by the media – create a sort of self-fulfilling prophecy of struggle for life after the military. 
"There are so many successful veterans that don't get highlighted," he says. "Positivity doesn't get shares. Negatives get shares."
That said, he's happy to see a greater focus on mental health and sees the need for change within the military as well. He says the "be tough and suck it up" mentality that often exists has proven to be ineffective and to have adverse consequences. 
"There's not a lot of people telling the truth that all those years, it wasn't working, and that's why we have these issues we have today," he explains. "Counseling is cool; counseling is an oil change. It's service on the vehicle. Not enough people with big enough voices are saying that."
Through his organization, Beteran, Vincent has already started the work of shifting the sentiment from fear to hope, and from negative to positive. In short, he's helping to build better veterans. By sharing his experiences working through PTSD and alcoholism, he's gained perhaps the most important component to his area of work – trust. 
"I've done enough in this space that a majority of the veteran community would know who I am, and they also would know the pivot I've done in my life and that I am sober," he explains. "I am 100% dedicated to veterans' mental health and addiction, and I use my platform for the good and not evil."
Looking Forward
Using his bachelor's degree as a pivot point, Vincent hopes to someday be a full-time counselor**. 
"I already speak all over the nation to veterans in transition, and this just kind of validates what I'm doing and what I'm trying to do," he says. 
He says he knows more education is likely in his future, and he's ready to take it all the way to the doctoral degree level to accomplish his goals. 
"I think there's so much value in education, and I'm learning that now at an older age," he laughs. 
With education, he says he also aspires to achieve stability and financial security for his family. 
"COVID was a big, scary thing for us," he admits. "As an entertainer, there is no answer for how you're getting paid."
He says he understands his education gives him options. He can continue to pursue a career in entertainment knowing he can keep building upon his work with the veteran community. Ever the creative with a love for entertaining, Vincent is also working on adding his own one-man show to his extensive and impressive resume.
 
--
Whitney Bradford is a UAGC content specialist and former academic advisor for Ashford University.
*Ashford University is now the University of Arizona Global Campus.
** Successful completion of the Bachelor of Arts in Applied Behavioral Science degree by itself does not lead to licensure or certification in any state, regardless of concentration or specialization. Further, the University of Arizona Global Campus does not guarantee that any professional organization will accept a graduate's application to sit for any exam for the purpose of professional certification. Students seeking licensure or certification in a particular profession are strongly encouraged to carefully research the requirements prior to enrollment. Requirements may vary by state. Further, a criminal record may prevent an applicant from obtaining licensure, certification, or employment in this field of study. 
Certain degree programs may not be available in all states. 
The appearance of U.S. Department of Defense (DoD) visual information does not imply or constitute DoD endorsement.