The moment has finally arrived, and it's time to celebrate our Spring 2021 graduates. Despite all the challenges and obstacles, especially throughout 2020 and into 2021, they overcame to meet this moment. Their tenacious spirit, hard work, and determination pushed them to continue in the face of adversity to complete their goals. In honor of our spring 2021 graduating class, we're highlighting just a few of this year's 6,714* #TenacityMade graduates who prove that it is possible to earn a college degree, no matter what obstacles stand in the way. 
Check out what our spring 2021 graduates have shared in comments on social media as they reached this moment. Then keep powering through to achieve your own personal and educational goals so you, too, can complete your degree and celebrate your accomplishments at a future commencement.
We are #TenacityMade
For this graduation-inspired #TenacityMade roundup, we asked our UAGC Facebook followers who are graduating this spring how they stayed tenacious with their studies while balancing life and school to earn their degree. Here's a sampling of how they responded. 
1. "UAGC has helped me find my purpose, what I can do with an education, and mostly learn what it takes to achieve my goals. Thank you! You guys are so wonderful!" – Chumekka F.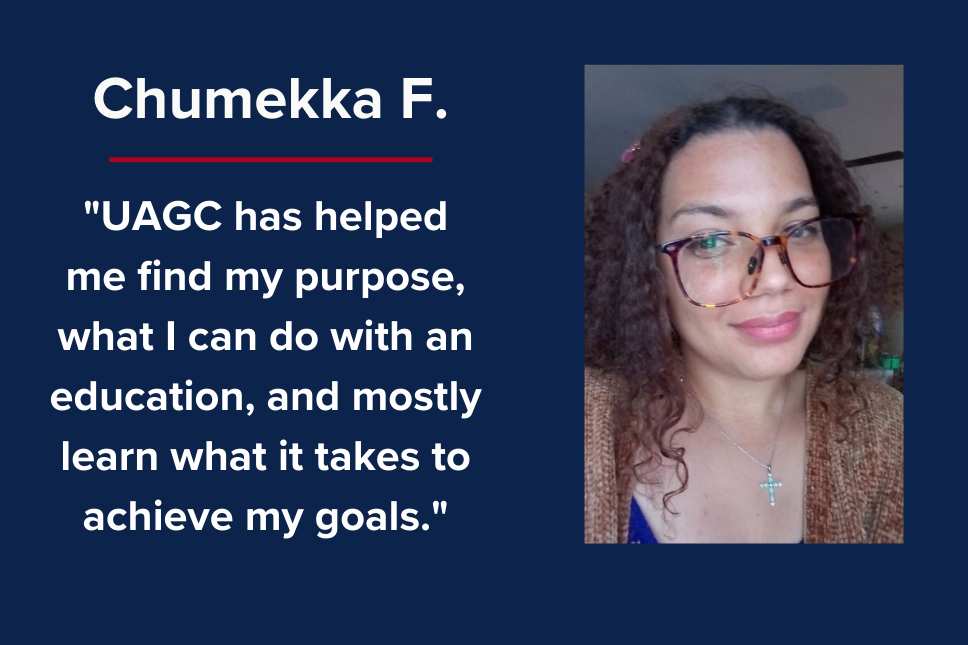 2. "Before coming to UAGC, I was told I should not go to college because I was not smart enough. UAGC has helped me with not just my bachelor's degree but also my master's that I am receiving this spring, making me the only one in my family with a master's degree. I am going to continue my educational journey this July to receive my Doctorate in Psychology. So, a big thank you to UAGC." – Dee D.
3. "I'm graduating by the grace of God! I will be receiving my BA in HR Management. Aside from the pandemic hitting us hard, I went through a period of illness and did not know if I'd be able to keep going. But here I am, still standing and so proud of my accomplishments! Enrolling in UAGC was the perfect push that I needed to reach all of my goals. I am ecstatic and thinking about pursuing my master's degree next." – Sparkle T.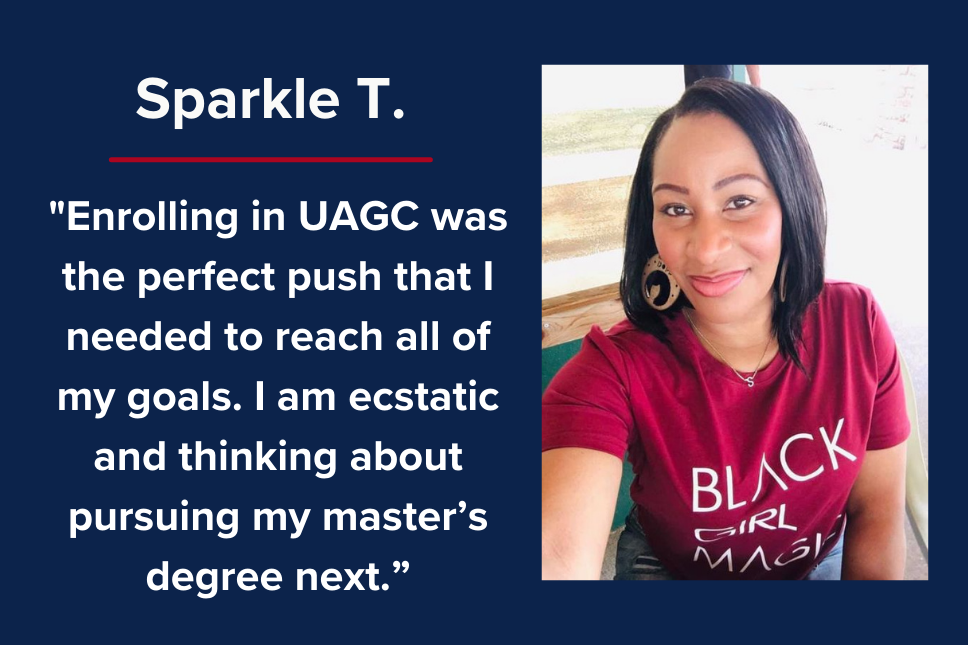 4. "I made a vision board at the end of 2019, and completing my master's degree was one of my top visions. Here I am 1.5 years later, and I'm a couple of weeks shy of completion. This journey hasn't been easy. I caught COVID at the end of last year, one of the scariest moments ever. I had many other personal issues that jumped in the way, but I had a goal to finish to show my son that the sky is the limit. I had to push through and stay prayed up to make it through. My time at UAGC has been awesome!" – Shuniecia M.
5. ."Going to school for my MA was major, and even during the pandemic and with the death of two grandparents, I made it. UAGC gave me a chance to prove to them and was there for me during the times of difficulties. I graduate in June 2021. I did it! Thank you, UAGC, for everything." – Lanica F.
6. "I completed my BA in January, and I enjoyed my experience and the people. I had a baby during this time. I didn't take maternity leave or any time off so I could graduate, worked a full-time job, and an extra side job, so if I can do it, anyone can! You have it within you!" – Rikki G.
7. "I am the personification of tenacity and resiliency. I'm one class away from completing my bachelor's degree while serving almost 22 years in the military. I'm a husband, father, supervisor, and mentor all in one. I never thought in my life that I would be a college graduate and it all seems like a dream to me. I have faced much adversity along the way. It was a tough road, but I'm close to seeing the light at the end of the tunnel." – Steven M.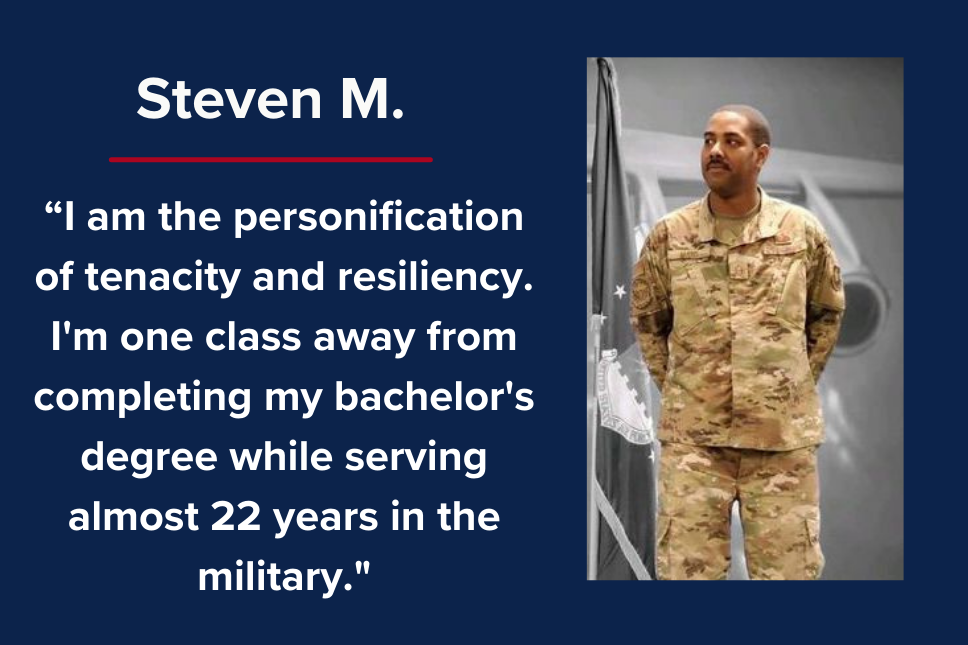 8. "I am a mother of two young children, and I started my degree in 2014. I am graduating in June with a bachelor's degree (it took some time). Watching my parents struggle, I wanted better for my children, and for me. The journey could not have happened if it was not for the support of my family! Determination of finishing and being part of the CHAMPS program, which helped connect me to other students, helped me through my long journey." – Anastasia W.
9. "I will be graduating June 6 with a BA in Communication Studies** with a minor in Business Administration. Eight years ago, I started my academic journey knowing that I would work toward this degree and do whatever I had to, to get the education I wanted. Back then, I was still living with my grandfather. We are both hard headed, and when I was a senior in high school about to graduate working part time at a grocery store, he told me that he didn't think I could handle working a job full time and go to college. I took that as a challenge because I needed to be able to support myself, but I also wanted the education to get me further in life. So, for the next 8 years, I worked as a full-time employee while attending school part time. I spent half of that time in community college before I discovered this program in 2019. During this time, there was a lot of loss, a lot of pain, a lot of stress, but there was just as many laughs and great moments. My tenacity has allowed me to fight through every rough patch to see the silver linings. My grandfather didn't have a chance to see me reach the finish line as he passed away in late 2017. Four years later, and I'm here, about to have that paper and with a great career ahead of me. I reflect on how he gave me the strength and motivation to achieve this milestone in my life. On June 6, 2021, I will be celebrating that moment of victory with him." – James D.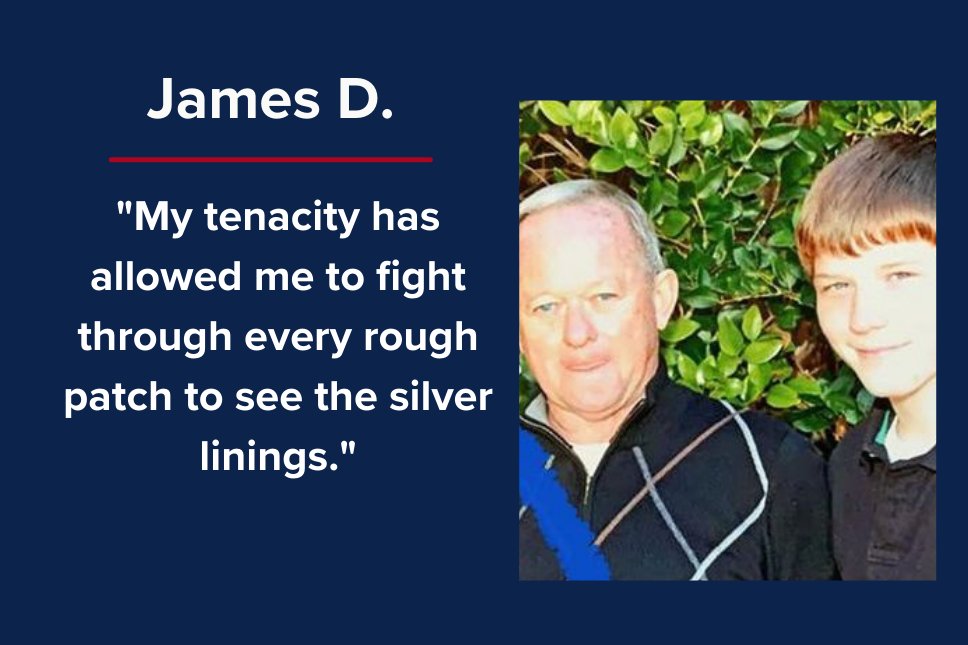 10. "I finished my last class on April 19th and will be graduating in June! I made it to the "finish line" by remembering why I started in the first place! I have a passion for health care and these last two years have proven that people like myself can really make a difference in the lives of others." – Alicia M.
Keep the Conversation Going
Be sure to join the conversation and tell us why you are #TenacityMade. Each week, head over to Facebook, Instagram, Twitter, or YouTube, and post a picture or video, along with a sentence about what motivates you to stick with your plan, and tell us how you represent #TenacityMade.
--
*As of publication.
**This program is not accepting new enrollments.
 
Certain degree programs may not be available in all states.