Commencement 2020 is finally here. The moment our students have worked so hard to achieve is upon us. Despite all the challenges and obstacles, they overcame to meet this moment, their tenacious spirit, hard work, and determination pushed them to continue in the face of adversity to complete their goals. In honor of our entire 2020 graduating class, we're highlighting just a few of this year's 13,204* #TenacityMade graduates who prove that it is possible to earn a college degree, no matter what obstacles stand in the way. 
Check out what our 2020 graduates have shared in videos and Facebook comments as they reached this moment, and then keep powering through to achieve your own personal and educational goals so you, too can complete your degree, and celebrate your accomplishments at a future commencement.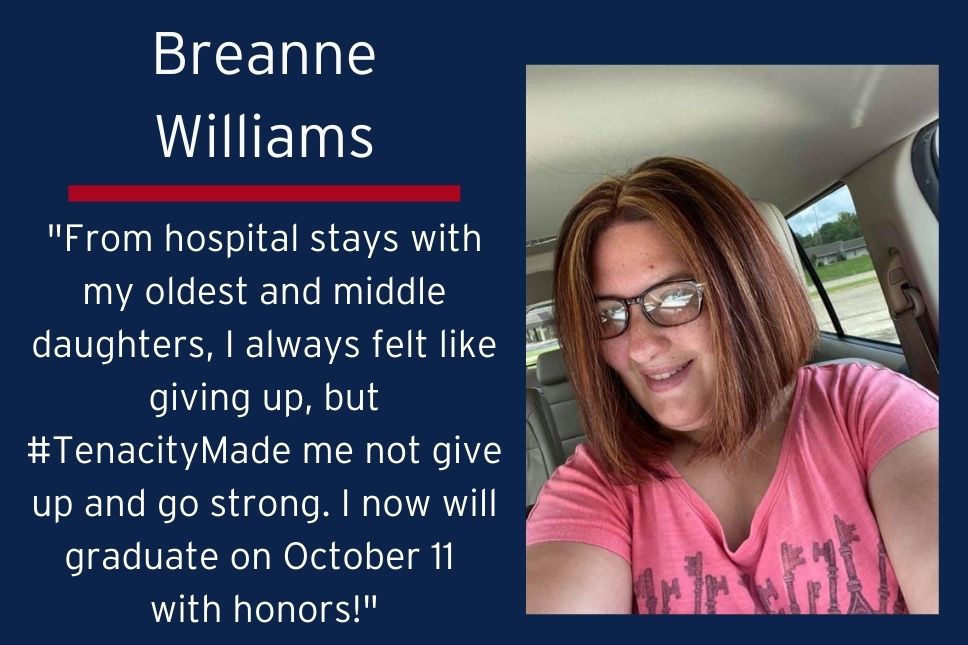 1. "#TenacityMade me who I am today. I started Ashford** in August 2016, after my youngest was born. I had a lot of struggles where I wanted to give up. From hospital stays with my oldest and middle daughters, I always felt like giving up, but #TenacityMade me not give up and go strong. I never gave up and kept making the Dean's List. I now will graduate on October 11 with honors! Something I never thought I would do, as I was never good in high school. As my 8-year-old told me, I will tell you all, 'Don't Give Up, Always Believe in Yourself!' And that's what I did!" – Breanne Williams
2. "As I sit here finishing my very last assignment, I take the time to reflect all that has happened over the last four years, where I started, and where I'm at now. My kids and I had just moved back to the states after having lived abroad for more than a decade. We had to start over with less than nothing, but we didn't mind. We had plenty of emotional support and motivation. I worked full-time and part-time while studying and doing my best to balance out all of our needs. I couldn't have done it without my wonderful boyfriend and all of our family and friends' support. I took life one assignment at a time so as not to get completely overwhelmed. Even when life was hard, there were no excuses good enough to convince me to stop studying. Getting my degree was not optional. I have to have it for my career, but it's more than that. I have learned so much more than I ever expected...even through the tears and stress. My kids have seen me spend hours working on a project or learning to make a PowerPoint presentation and overcoming my fear of math. They know that everything worth having requires grit, sweat, and determination. I found my 'why' and I am passionate about what I do for a living. It's been a great four years — much like a white-water river rafting trip." – Lara Marble
3. "I started college and then I joined the Army, and then things just went really fast. So I got married, I had a little boy, and I came back home to New Jersey. I became a police officer, but through all those years, I continued to take classes and to work towards my degree. One of the best things that happened to me was finding Ashford, because that gave me the opportunity to not only go to school while I was working, but also to live that dream that I wanted to accomplish, which was be a college graduate, and I managed to do that. And the biggest accomplishment was earning my master's degree, which I never set out to do, but I'm glad that I did it. I'm 49 years old. It's never too late to do things you want to do. It's never too late to live your dreams. You just have to go for it and just continue and never give up, so thank you Ashford. I am super honored to be a graduate of this university." – Sergeant Toni Gonzalez
4. "I'm a single mom of two boys and two girls. Working two jobs to provide for my children. All while earning my Bachelor of Arts in Early Childhood Development at Ashford University!!! I'm my mom's first child to graduate from college. God, I couldn't have made it without you. I would tell anyone, at the age of 37 I'm graduating from college!!! Thanks Ashford for all the help on this journey!!! Next up, master's degree." – Derhonda Johnson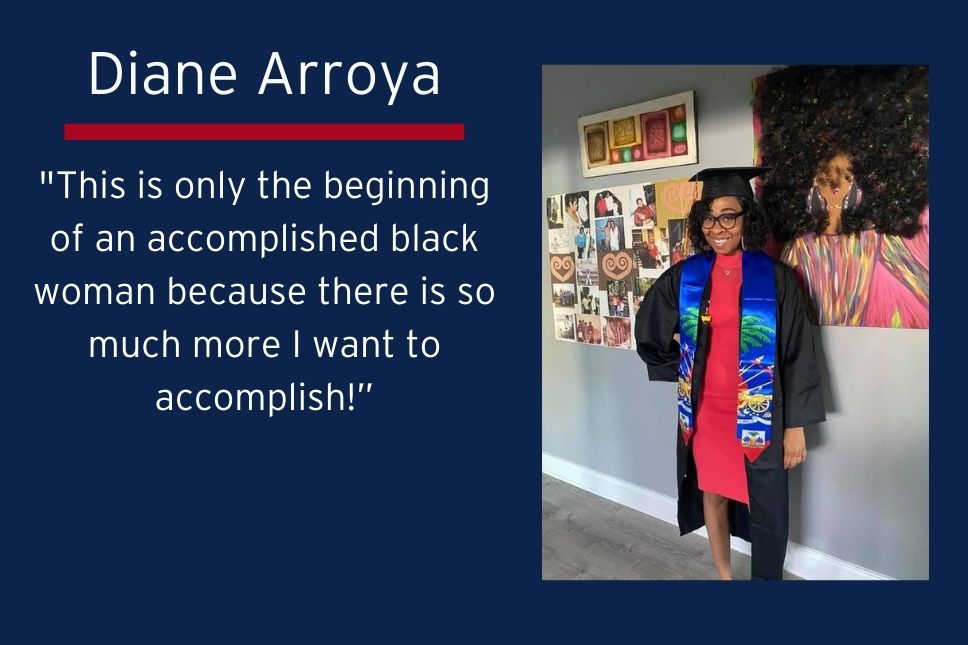 5. "I'm a mother of three girls, a wife to a firefighter; I work full time as a community liaison. I started this journey with some struggles, but the one thing I am most proud of is I didn't give up. Although it has taken me awhile to complete my BA in Public Relations/Marketing, to God be the Glory I made it! I pushed through all my obstacles and was determined to make sure that my daughters had someone to look up to and be proud of. This year I was ready to fly the family to my graduation but due to the pandemic, my family and I will be celebrating my accomplishment at home with friends and family. This is only the beginning of an accomplished Black woman because there is so much more I want to accomplish!" – Diane Arroya
6. "I am most thankful that I was able to be #TenacityMade by pushing through major challenges. Even with COVID and job changes, I was still able to finish my classes and accomplish other things in life that I know would not have been easy years ago. I am thankful I am able to graduate this year and I also congratulate others on this journey to come." – Deborah Bell
7. "I wanted just to take a quick second to share my story. I started this journey two years ago, after not being in school for over 20 years. I decided to go back and get my Master's in HR Management. So, after taking a couple breaks here and there, because, you know, life gets in the way, I have nothing but positive things to say about Ashford University. If you are in contact with your advisor, they will work with you. And to the fellow graduates out there, congratulations, you did it! We did it! Yeah! I am proud of every one of you." – Tara Farrell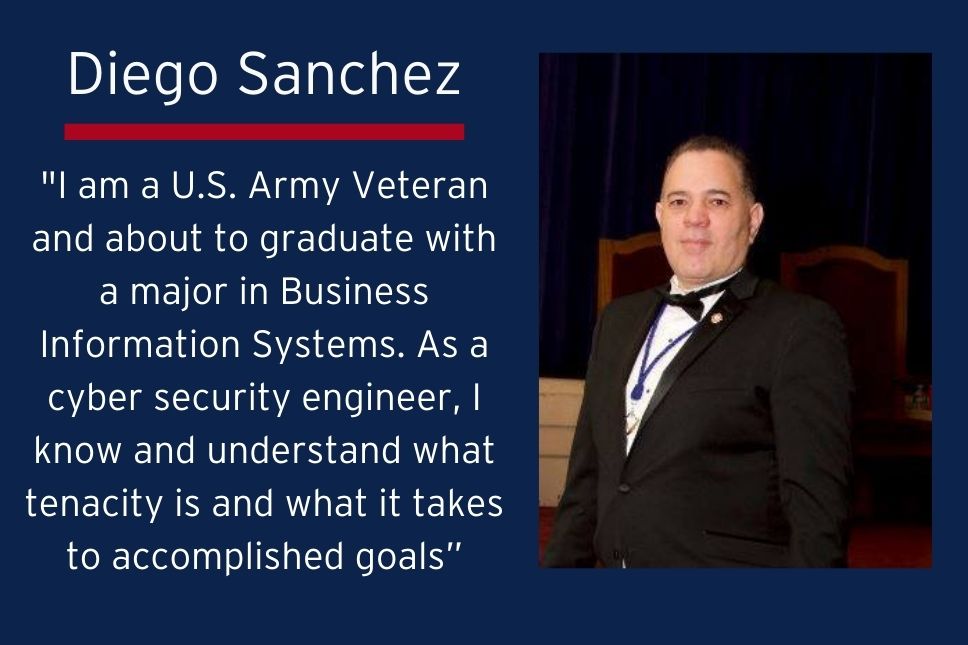 8. "I am a U.S. Army Veteran and about to graduate with a major in Business Information Systems. As a cyber security engineer, I know and understand what tenacity is and what it takes to accomplish goals. Over the years, I have experienced many negative experiences, like not getting a promotion or getting the desired position for not having a degree. School is hard; it takes motivation and dedication to be successful, but most important is the 'why' that can provide the passion for getting it done. My passion comes from family and my inner desires for education and knowledge that can help us overcome economic inequality and not worry about not being able to pay the rent or seeking those high-paying stable jobs that require a degree. In the last few years at Ashford University, I have obtained the proper tools for management and leadership skills that I already implemented in the field. Especially creativity and innovation theories from Honor Class (HON490), learning about creativity attributes and the methodological process has made me a better engineer and a team member. For me, graduating with honors was an important goal but is not the end of the journey; the more significant challenge now is to apply those new skills and become a better citizen and stay in motion and evolving." – Diego Sanchez
9. "Starting in 2014, I set forth to the unknown. My boyfriend at the time and now husband was currently enrolled in school at Ashford University and talked me into going back to school. I had no idea what I wanted to do or how to even raise two children on one income and attempt school... again. Ashford made it easy to do things and kept me structured. I cried many nights, laughed, learned, and did a bit of stress-eating, lol. I graduated with my bachelor's in 2018 and my master's just a month ago. I have applied for several jobs, including Ashford, but I know it will take time. I wish everyone the best of luck and remember to not give up. We all have our struggles, but the end is worth it! This is a picture of my father and I. I struggled in high school and almost didn't graduate. I am the first person in my family to graduate college!" – Vickie Everly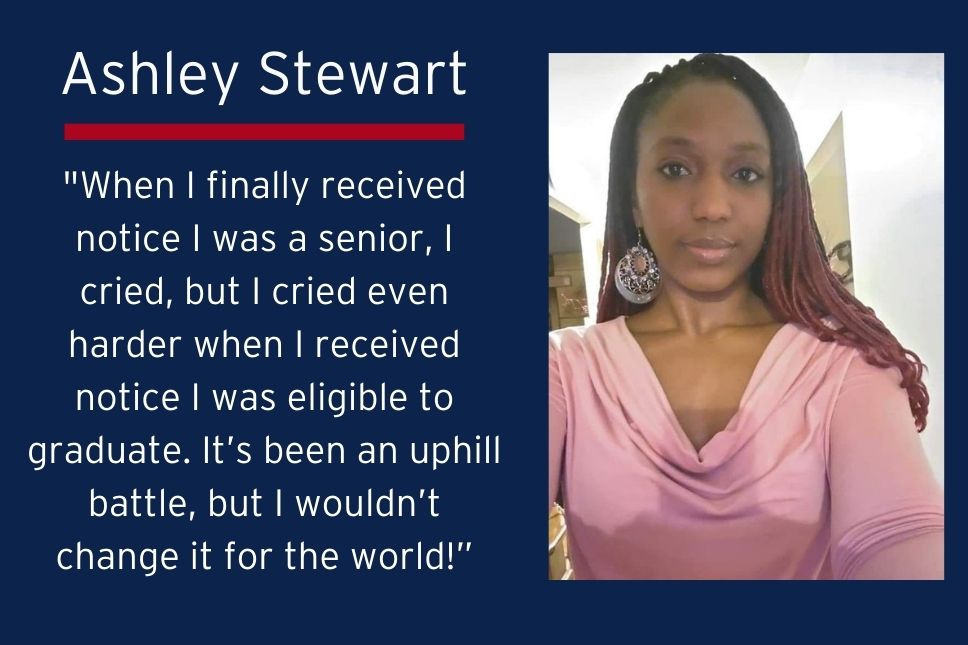 10. "I attempted to go back when my daughter was six months in 2009. I started but it was hard to afford the books, so I had to withdraw. Then, I tried again in 2015. I think I took four classes before I had to stop again because I had to have brain surgery. I stopped classes for a year and a half. I came back in January of 2017 and tried to go without breaks but it wasn't possible. I was determined to get to this point, all while working full time, being a full-time mother, running a mentoring program, and dealing with headaches and migraines. When I finally received notice I was a senior, I cried, but I cried even harder when I received notice I was eligible to graduate. It's been an uphill battle, but I wouldn't change it for the world!" – Ashley Stewart
Keep the Conversation Going
Be sure to join the conversation and tell us why you are #TenacityMade. Each week, head over to Facebook, Instagram, Twitter, or YouTube, and post a picture or video, along with a sentence about what motivates you to stick with your plan, and tell us how you represent #TenacityMade.
--
*As of the production date of this blog.
**Ashford University is now the University of Arizona Global Campus.
Certain degree programs may not be available in all states.