When you attend the University of Arizona Global Campus, you are never alone. Of course, the University strives to provide the support, tools, and resources you need to succeed as a student and alum. 
But sometimes, you may also crave a little extra encouragement, and you can always find words of advice and motivation in any of our Facebook groups. When you are feeling stressed or are struggling with an assignment, or even if you just feel a little uninspired to face the day, the Global Campus community will be there to help you through your challenges and fears.
Each week, our students and alum continue to prove they are #TenacityMade by tackling not only their assignments but also their family obligations, work, and promises they have made to themselves and others, and then they offer their own inspiring words to help you reach your goals, too.
That's why we continue to share all of your powerful statements about why you continue to push forward even in the face of life's many obstacles. 
So, before you work on that next paper or go take care of your many responsibilities outside of the online classroom, take a few minutes to reflect on why you keep fighting to achieve your goals. Then, read how you and your peers pushed forward to pursue your degrees this past month, despite life's many challenges so that you can keep making progress today and every day.
Find your drive with a little help from this month's #TenacityMade superstars:
1. "I continue to work hard because I want to have a purpose in life. I want to be that role model for my children and grandchildren. I also deserve this and want to inspire others that anything is possible as long as you put your mind to it and work hard." –  Nadine G. 
2. "I continue to work hard and push past life's hurdles for my family. I want to be able to show them that you're never too old to achieve your dreams." – Louise T.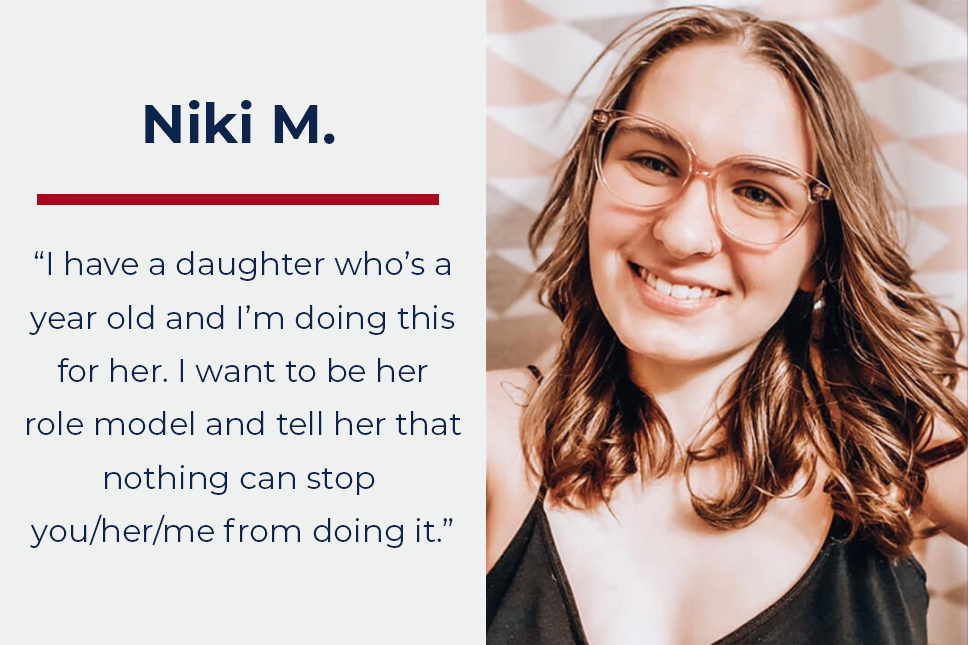 3. "I got pregnant at 17 years old and suffered anxiety and depression. I'm 19 now. I felt like I couldn't complete my degree. I graduated high school. I was struggling with completing education online with different colleges. I found the perfect one, which is Ashford*. I finally felt so inspired, and now I'm on my way to complete my BA in public relations. I have a daughter who's a year old, and I'm doing this for her. I want to be her role model and tell her that nothing can stop you/her/me from doing it." – Niki M. 
4. "Suffering with depression, anxiety, PTSD, ulcer colitis, and esophagitis, and the constant hospital visits**, I never let it stop me. It drives me to push harder because I can't give in. I have 3 beautiful children that are watching mommy. I want to show them that no matter what life throws at you that you can achieve anything and everything because you are strong. You can overcome everything, and nothing can break you ever. I will get my degree for healthcare administration because I want to be successful, and I can be successful." – Devon F. 
5. "I work hard every day and stay motivated. I want to make my kids and my husband proud. We lost our home to a fire a year ago, and I still pushed myself and stayed focused on my classes. Some days are tough but I always stay positive and push through. I'm so close to earning my degree, and I am determined to be the best I can be and also inspire others, so they know they can do it, too! – Robbie C.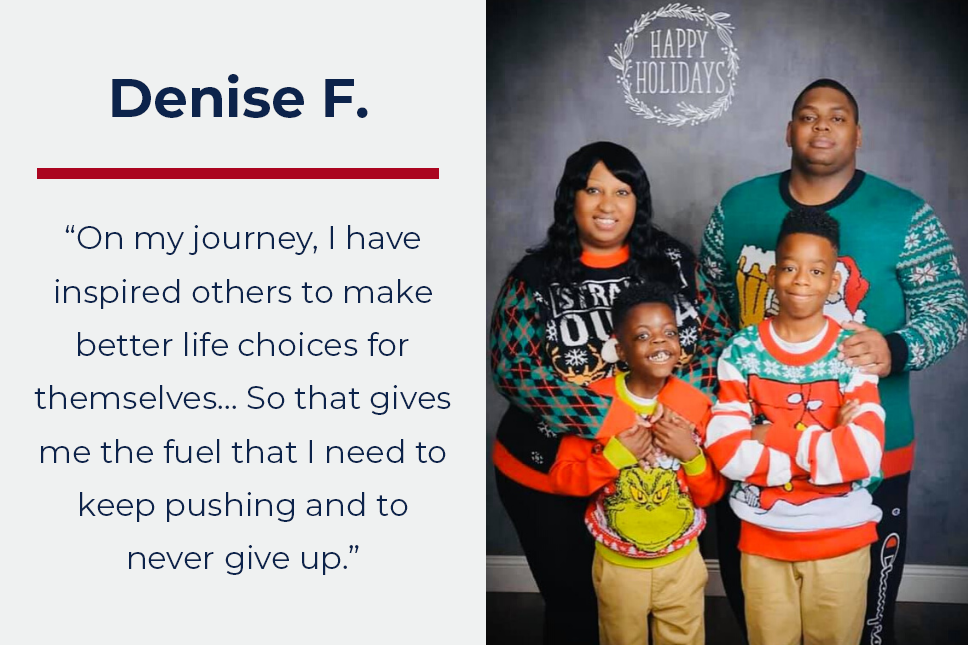 6. "I want to be the best for myself and my three boys. On my journey, I have inspired others to make better life choices for themselves. That's a plus, knowing I inspire others as well. So that gives me the fuel that I need to keep pushing and to never give up." – Denise F. 
7. "I push myself so that I don't lose focus. I don't just want to get by and pass my courses. I want to absorb everything that I can. I continue to work hard and push by life's hurdles so that I can be proud of myself. I continue to work hard as my undergraduate journey will be completed at the beginning of March, and I will start graduate school in April." – Amber D.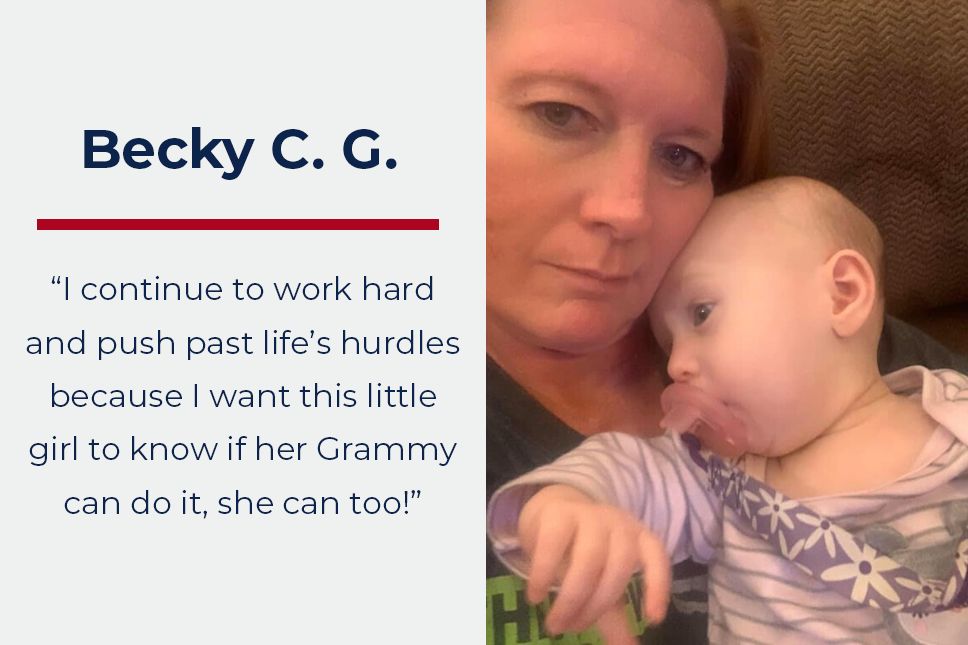 8. "I continue to work hard and push past life's hurdles because I want this little girl to know if her Grammy can do it, she can, too!" – Becky C. G. 
9. "I just finished all my classes for my double major a week ago after a long journey. It started in elementary school when I was always having trouble in school. High school was rough, and sometimes it felt like I'd never graduate high school, but I did. I took a chance on going to college, and I spend hours making sure my assignments were the best I could. I even worked through it when my sister took her own life. I decided to double major hoping I'd graduate, and now here I am YEARS later waiting on my diploma." – Serena V.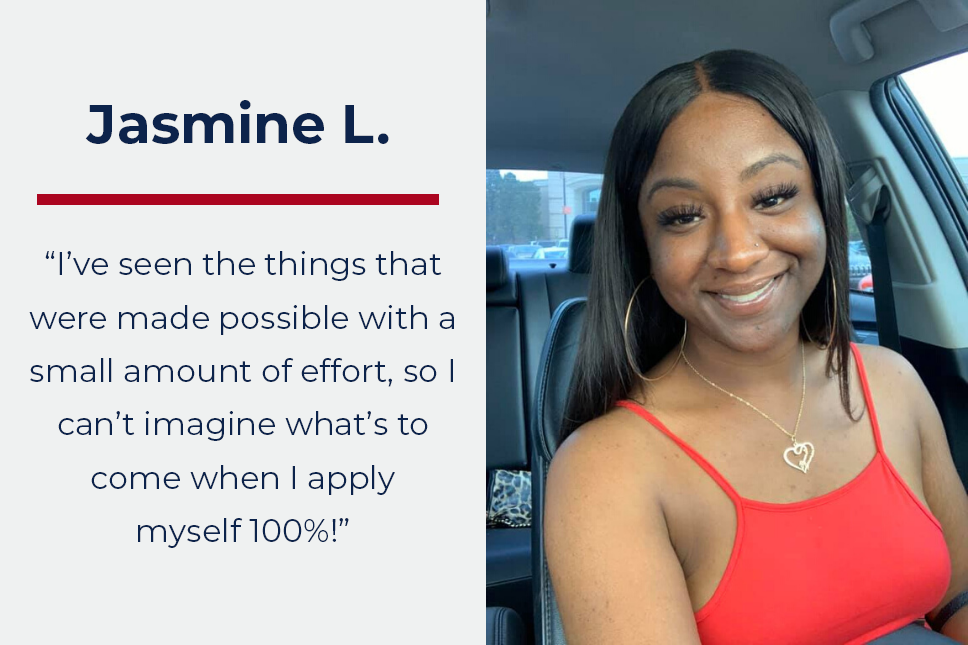 10. "I know that there is so much more to life than just this. I have huge aspirations that I know will only come to pass with hard, persistent, and diligent work! I've seen the things that were made possible with a small amount of effort, so I can't imagine what's to come when I apply myself 100%!" – Jasmine L.                                                  
Don't forget to share why you keep pushing forward to conquer your goals using #TenacityMade with your posts, images, and videos. Then, check back each month for another roundup of inspirational tales of triumph from you and your peers. 
* Ashford University is now the University of Arizona Global Campus
** The Office of Student Access and Wellness is available to support students seeking academic accommodations for chronic health conditions or diagnosed disabilities. Student Advocates work with students during times of extreme need in order to address concerns for immediate safety, identify community resources, and help create a plan to mitigate educational impacts from personal hardships. If you are navigating a medical hardship or personal crisis that is impacting your ability to complete coursework please connect with our Advocate team at [email protected].