If you have the opportunity to get to know Shanekia White, you will hear in her voice the strength, resolve, and confidence earned as the sum of the challenges she's faced and overcome. Starting in her early life and continuing through her career as a student at the University of Arizona Global Campus (UAGC), Shanekia has faced grief, financial struggles, and the daily trials that come with motherhood. It's been a tough road, but now, she's getting ready to graduate from college. 
Growing up on the rural outskirts of Gilmer, Texas, Shanekia was the middle of three siblings, and she says their mom was strict. She had high expectations for her children, making the relationship tenuous at times. When Shanekia and her mother did not see eye-to-eye, it was Shanekia's grandmother who stepped in to offer support, encouragement, and someone to talk to.
"She was like a mother to me," she says. 
While Shanekia was in-class shortly before she would graduate from high school, she received the news that her grandmother had passed away. Through her childhood and into her teenage years, they had maintained their close relationship, which made the news of her passing that much more devastating. Being on the cusp of a new and exciting part of her life, Shanekia was so heartbroken she couldn't share her pain with her closest ally. 
Despite her grief, she enrolled in community college right after high school knowing her grandmother would have wanted her to continue her education. A few months in, grappling with the loss of her confidant and main source of support, Shanekia felt stuck and unsure of herself. 
"I found myself going through a depression state after losing my grandmother, so, I took a break until I could get my mind right and figure out what it was I wanted to do," she explains.
While she decided to leave her community college and her education path altogether, her break included a major milestone: Shanekia became a mom to two children, now ages six and five, who she says are her pride and joy.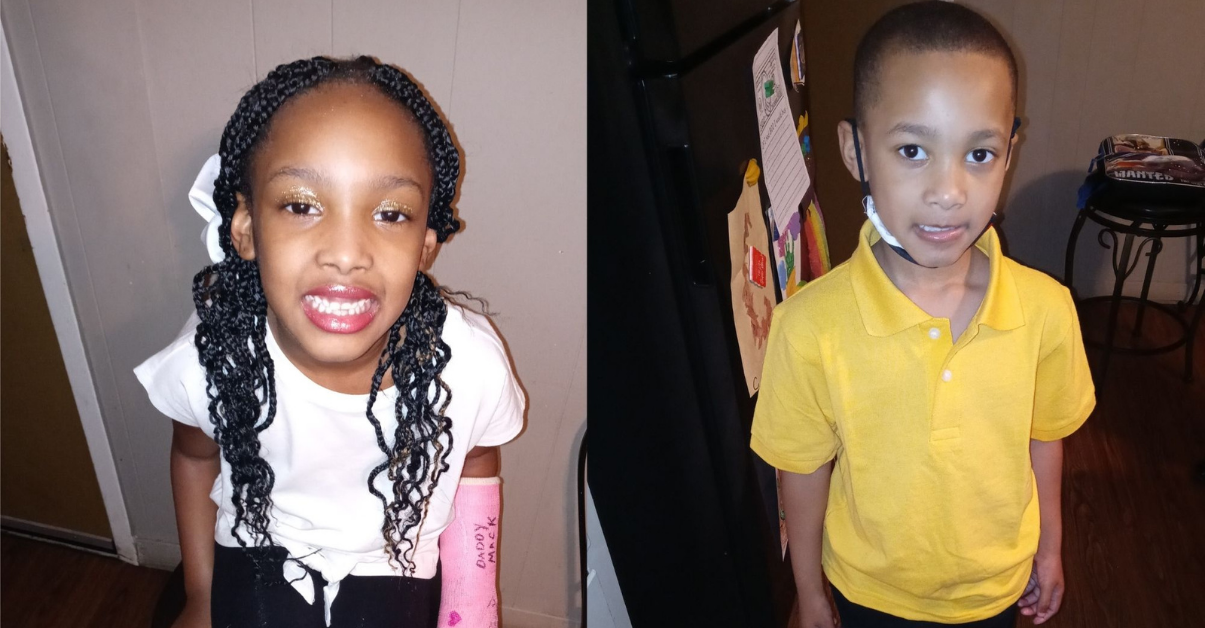 Shanekia is the proud mom of two kids, Aaliyah who is 6 and Gabriel whos is 5.
Motivation for Change
In 2017, after nearly a decade out of school, motivated by a desire to create a better life for her kids, she decided it was time to make a change. 
"I was tired of struggling," she explains. 
Shanekia remembers going to the store with her children and being unable to buy something they wanted because she had to save any extra money she had to cover bills. 
"It breaks your heart and makes you work that much harder to reach your goals and get a degree so your children want for nothing," she says.

So, thanks to a smooth enrollment process and supportive advisors, she started her journey with Ashford University* in September 2017 to earn her BA in Health Care Administration. 
Shanekia's college journey hasn't always been easy. Being a single mother of two and a full-time college student stretched her to her limits at times, and she's had to take a few breaks. 
"Other people that I know have family around to help with their kids, and I don't have that," she explains.
Like countless parents of school-age kids across the country, the COVID-19 pandemic created more strain on her time with her kids learning from home. Thanks to the flexibility UAGC's online platform provides, Shanekia says they were able to find a routine at home. She would help her kids with their schoolwork in the morning and have time for her own coursework in the afternoon or evening. 
I have gained so much knowledge, improved my communication, way of thinking, and prepared for my next steps after graduation.
As she has progressed through her courses, Shanekia has been able to find some of the support she lacked outside of school in her UAGC advising team. She tells us her Academic Advisor Alyssa has a special place in her heart. In addition to helping Shanekia navigate common questions that arise for students, Alyssa has helped her stay motivated when she felt like giving up, offering encouragement and even calling once a week to check on her.
One other important factor in Shanekia's ability to remain steadfast in her goal to earn her degree is her faith, something that her grandmother fostered in her from a young age. She goes to church every Sunday and says that keeping her faith has helped her to let go of negativity and push forward. She has even become a leader of women's groups in her church. She hopes that sharing her story will help those who may be struggling and see that it is possible to rise above their issues.
A Support for Others
Ultimately, Shanekia's path has not only led her to find strength within herself, it has also brought her to a place of compassion and empathy for others. When she isn't working on schoolwork or leading groups at her church, she works during the week as a Campus Support Instructional Assistant at an elementary school where she enjoys getting to know the students. 
"Building a bond with the students is important, but knowing you're a part of their progress and success means so much more," she explains. 
On the weekends, she is a home health worker for an elderly woman. Shanekia understands that even the elderly need someone to talk to, and she looks forward to their weekly conversations. 
She even takes time to bring pizza to homeless people in her community. She loves seeing the smiles on their faces. 
"One lady said to me, 'You must have read my mind. I was so hungry,'" she recalls.
Hard work, faith, compassion, and belief in herself have led to a level of success that Shanekia did not know was possible. In September 2020, she received an e-mail that stated she had been inducted into the UAGC Gamma Upsilon Chapter of the Delta Alpha Pi International Honor Society. And in September of this year, she is set to be the first of her three siblings to earn a college degree. 
As her children grow, she hopes to be able to inspire them to reach for their goals. She wants them to know they can do anything they put their minds to. 
"I have gained so much knowledge, improved my communication, way of thinking, and prepared for my next steps after graduation," Shanekia says about her experience at UAGC. 
Just as Shanekia's grandmother told her, "Never allow anyone to tell you that you can't do something." It's a message she would tell anyone who is struggling with self-doubt. 
"Do it. Don't give up. Stay Strong. Stay Positive. You can do it."
--
Whitney Bradford is a UAGC Content Specialist and former Ashford University Academic Advisor. She earned a Master of Arts in Organizational Management with a specialization in Public Administration from Ashford in 2013. 
*Ashford University is now the University of Arizona Global Campus.
Certain degree programs may not be available in all states.