The votes are in for the 2020 Major Matchup! Students, faculty, and alumni came together to express enthusiasm for the top 8 majors from the Forbes School of Business and Technology and the College of Arts and Sciences. Over the course of the past four weeks, these 16 degrees went head-to-head in the ultimate academic showdown between our two colleges. But only one degree emerges victorious. Read on to find out who won.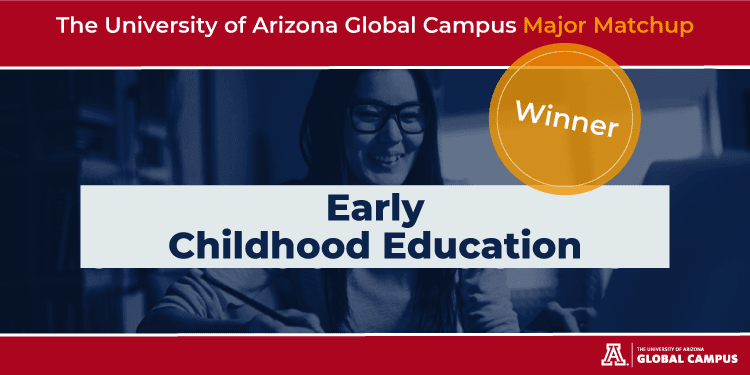 Announcing the Winner of the 2020 Major Matchup
Congratulations to the College of Arts and Sciences and the Early Childhood Education major! We're virtually and collectively throwing confetti and shakas (you know, the new high-five). You've earned your top-spot, and now it's time to revel in the glory.
Of course, Allison Rief, lead faculty for the Early Childhood Education (ECE) degree programs at the University of Arizona Global Campus, isn't surprised by this year's results. In fact, she says, ECE students and alumni are full of enthusiasm because it's practically a requirement in their fields, but also because they are passionate about "everything," she exclaims.
"ECE students choose to go into a field where they often have 30 or so little people needing them to be 'on' all the time," she explains. "They need energy, compassion, excitement, creativity, flexibility, and limitless love. These traits are in every single one of our students. What always amazes me is that they show up with these traits not just in their jobs, but in their schooling as well. That same passion that they show with their work is funneled into their education. If you ever feel like you need a pick-me-up, go hang out with an early childhood educator!"
What is a Degree in Early Childhood Education?
No matter where you are on the journey to success, the Global Campus offers programs that provide you with the skills, knowledge, and prowess to grow and thrive in your career. If you're beginning your trajectory, consider an AA in Early Childhood Early Education. If you're seeking more advanced skills to challenge and develop your abilities, dive into a BA in Early Childhood Education.
Both programs in early childhood education offer students a comprehensive learning experience. Earning an Associate of Arts in Early Childhood Education is your first step in building a foundation for success in the world of childcare and can prepare you to work in the field of childcare and help maintain a professional edge over the competition.
ECE associate-level degrees provide you with the basics of childhood learning and development and the instructional strategies needed to help young children grow. With this online associate degree, you will start a career path that will allow you to assist in the education and care of kids, typically under the age of eight.
The skills you gain from this degree program can help with high-level educational practices. That may include working with a single youth, versus groups of children; helping plan and carry out different educational curriculums; helping keep record of student progress, from an academic to an emotional level; and helping organize activities to help youth learn and grow.
ECE bachelor-level degrees focus on the education industry, emphasizing childhood development theories in order to provide the foundation to create learning atmospheres that are nourishing, supportive, and constructive for young children. (Note that the Bachelor of Arts in ECE is not CAEP, TEAC, or NCATE accredited, which is a requirement for certification in some states, and successful completion of the BA in ECE by itself does not lead to certification or licensure in any state.)
Ultimately, according to PreSchoolTeacher.org, those who practice early childhood education aim to produce environments that prepare a child's social and cognitive skills for elementary school. When you complete the required coursework, you will be highly trained in various theories of childhood development, and exhibit advanced instructional skills.
To earn the associate's degree, students must complete 67 credits. The Bachelor of Arts in ECE requires students to complete 120 credits, which will take about twice as long. (Students may be able to shorten either program by transferring in approved credits from previous education, work, and life experiences). This blog breaks down the main differences between the two degree options.
Regardless of your goal, Rief says the best candidates for an ECE degree, whether an AA or a BA, are people who are passionate about children and how they learn. 
"We focus on birth through age eight, which includes huge bands of growth for cognitive, physical, and social-emotional development, and we need people who understand the importance of this age so that we are providing young learners with the best possible experiences," she says. The results of this time will set people up on the road to success for their entire lives. Who wouldn't want to be a part of that miraculous journey?"
Careers in Early Childhood Education
There is a world of exciting careers for those with an AA or BA in Early Childhood Education. Certain career paths associated with the bachelor's program may require additional licensing requirements after graduation. Licensing procedures vary state-to-state, but they may include extra coursework, student teaching experience, testing, and more. When choosing a degree program, you should consider your ultimate career ambitions and proceed accordingly.
If you're looking for a challenging and rewarding path, the following opportunities should pique your interest, based on your degree level:
Associate of Arts:
Daycare Provider
Camp Counselor
Recreation Coordinator
Infant/Toddler Caregiver
Teacher's Aide or Assistant
Home Visitor
Bachelor of Arts:
Daycare Provider
Camp Counselor
Recreation Worker
Teacher Assistant
Getting Started with a Degree in Early Childhood Education
Whether you choose to pursue an associate's or bachelor's degree in early childhood education or both, the Global Campus has the flexibility you need to earn your online degree. 
But don't let fear or worry deter you from your education goals. Instead, Rief encourages you to "take the leap" if you feel this is your chosen path.
"Believe in yourself and think about the differences you will make not only in your life but the lives of all the future students you will work with," she says. "You can do it, and we are excited to help you along the way!"
If you're interested in learning more about these programs, contact an advisor today.
-- 
Written by University Staff