The votes are in for the 2019 Major Matchup! Students, faculty, and alumni came together to express enthusiasm for the top 16  majors. Over the course of a few weeks, these degrees went head-to-head in the ultimate academic showdown. But only one major emerges victorious. Congratulations to the business administration major! We're collectively throwing confetti and giving high-fives. You've earned your top-spot, and now it's time to revel in the glory.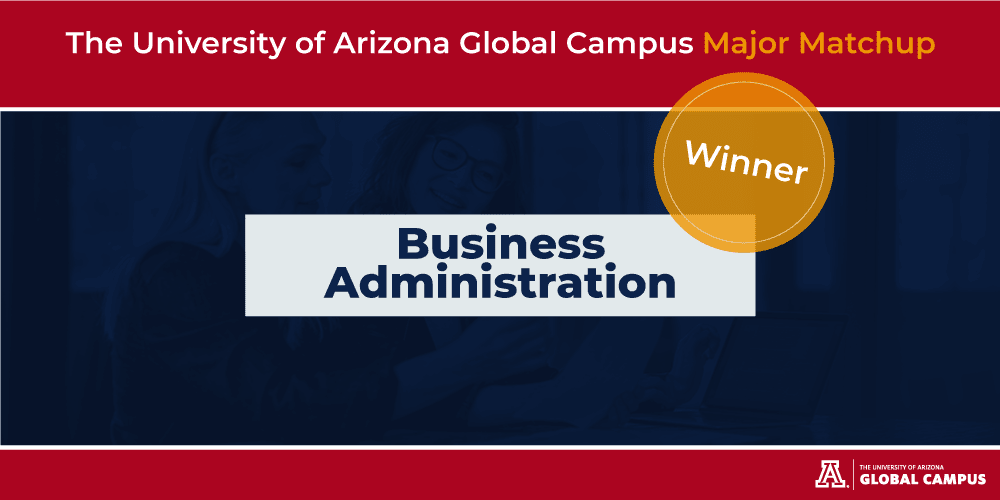 Get Started with a BA in Business Administration or Go Further with an MBA
No matter where you are on the journey to success, the University of Arizona Global Campus offers programs that provide you with the skills, knowledge, and prowess to grow and thrive in your career. If you're beginning your trajectory, consider a BA in Business Administration. If you're seeking advanced skills to challenge and develop your abilities, dive into a Master of Business Administration at the Global Campus! 
For an accelerated and rewarding program, you can also enroll in master's level courses as an undergrad through UAGC's Smart Track program, speeding up your path to a graduate degree! Smart Track allows students with 108+ credits earned toward a bachelor's degree at UAGC who have a GPA of 2.75 to enroll in up to 6 credits of graduate-level coursework (or nine applicable credits for the Master of Accountancy, MBA, MPA, or Master of Science in Criminal Justice programs). The Smart Track credits will apply to your bachelor's degree and can also accelerate completion of a master's degree with the Global Campus.* That could eliminate up to 18 weeks from your master's program.
The Benefits of a Business Administration Degree
The University of Arizona Global Campus IACBE accredited Business Administration degrees are ideal for students who prosper in collaborative environments and flourish through organization. You'll build your skills in areas like business data analyzation, business leadership, entrepreneurship, and business strategy management. This range of skills helps students to prepare for a variety of different career paths. The need for these skills in the work force is reflected in the Bureau of Labor Statistics prediction that demand for business administration talent will grow 7-23% between now and 2023. 
Careers in Business Administration
There is a world of exciting careers for those with a bachelor's and/or master's in business administration. If you're looking for a challenging and rewarding path, the following opportunities should pique your interest:
Investment Banking
Small Business Management
Government
General and Operations Management
Management Analysis
Whether you choose to pursue a BA in business administration, an MBA, or both, the Global Campus has the flexibility you need to earn your online degree. If you're interested in learning more about these programs, contact an advisor today.
*The University of Arizona Global Campus does not imply, promise, or guarantee transferability of its credits to any other institution.