"Family" isn't a word that Kenneth Ferguson takes lightly. 
Born and raised in Northern California, Kenneth spent his young life in the foster care system and group homes, and he can tell you exactly how much time it was. 
"I did 18 years and nine months," he states. "That's 6,974 days that I was in foster care. That's a long time to battle and to go through a lot of different emotions and feelings."
According to Kenneth, perseverance and preservation of self mean more when you grow up in environments like he did. 
As a person comes out of the weeds, just like a flower, you start to see those moments where it was worth it. It's almost like I'm just now coming out of the weeds.
"That means not just your body, your flesh," he explains. "But your mind, your thought process, and how you carry and conduct yourself."
He holds a rare kind of determination, the kind that carries a person through challenging circumstances into a life full of joy, gratitude, and love. Despite an upbringing that included plenty of challenges, he's always remained positive and remembers his past fondly.
 
"I'm just glad to be here," he laughs. 
His perseverance has carried him through a challenging childhood and into adulthood, marriage, and fatherhood. It helped him make a name for himself professionally and led to the achievement in 2020 of earning his Bachelor of Science in Information Technology from Ashford University*, now the University of Arizona Global Campus (UAGC). Today, he is working toward his Master of Business Administration (MBA) at UAGC. 
Finding Family
As a child, Kenneth showed a natural athletic ability. However, participating in sports isn't quite as easy for children in foster care as it is for other kids. 
"You have to have permission and approvals," he recalls. "You couldn't just go do it. You have to apply and ask a social worker to give you permission. It's so exhausting."
However, it was through his participation in team sports that Kenneth says he started to understand what it meant to be a part of a family. 
Kenneth is proud of the life he has built with his wife and sons. His family is his greatest joy.
"The first time I really got the sense of family was when I was playing Little League baseball, and football, and soccer," he says. "The one thing that stood out for me as a young boy was just how much love, kindness, thoughtfulness, and care my coaches extended to me."
Being a part of a team showed Kenneth how his individual contributions — when complemented by the talents of others — can lead to incredible accomplishments.
"When the team comes before yourself, you learn as a child, and even grown men now who are part of teams learn that true selflessness," he says he believes. "It teaches you that there are other things that are important, and when you not only fall in place but do your part, you can achieve great things."
Kenneth experienced how sports can provide a path to turn what some may call a "bad kid" into a thriving child when you have people to look up to. 
"They take the time to say, 'Hey man, I see something in you,'" he says. 
That "something" isn't simply being great at a sport. It's that underneath bad behavior, there's a kid full of promise.
Sports provided a sense of structure in Kenneth's young life and the understanding that there were some basic rules for life that established a framework for success. 
"There are dos, and there are don'ts. There's a right way and a wrong way," he says. "Once people have that particular thing – now you learn the sky is the limit."
As he got older, Kenneth's athletic ability grew. He earned varsity, all-state honors as part of a championship basketball team. Eventually, his athletic abilities led to a full-ride college basketball scholarship. 
However, his college playing career ended when he withdrew from school after two semesters. 

"It just wasn't my time," he admits.
Setting the Example
Kenneth met his wife of 16 years when he attended college as a young man. Today, they live in Raleigh, North Carolina, and have four boys ranging in age from three to 15 years old.
Having established himself professionally as an elite-level bodyguard, providing security detail to celebrities, foreign dignitaries, and prominent athletes and coaches, Kenneth took the next step to setting an even greater example for his four sons. In 2016 he enrolled in the Bachelor of Science in Information Technology program at Ashford University. "I felt that it embodied every area that I needed to take my education to the next level," he says.
As a father and husband with a busy career, it was important for Kenneth to have flexibility as he pursued his degree. 
"My family comes first, but my education is also important because I want to pass that on to my kids and show them that no matter how old you are, you can still do it, even while being busy," he says. 
Kenneth and his wife, Stephanie, have been married for 16 years.
For Kenneth, working in the technology field takes him back to playing sports with a team.
 
"I love data. I love problem-solving," he says of his degree choice. "In that particular career field, like many, you are a self-starter, but also you are a part of a group."
Kenneth became a successful and engaged student, joining the Association for Computing Machinery club and becoming a mentor in the CHAMPS Peer Mentoring program. 
"I still talk to all my mentees," he says. "What my mentees don't realize is that by being a part of their lives all that time, I was inspired to keep going."
After completing his bachelor's degree in 2020, he returned only a few months later to earn his MBA.
"Getting my MBA was important because as a leader, you want to be challenged," he says. "I wanted to harness everything business-wise to become a better leader but also more versed in business and my acumen with that. It was really a no-brainer for me."
Always a Team Player
In every area of his life, whether at home, in his professional life, as a member of the UAGC student community, or in his role as an advocate for children, Kenneth views himself to be just one part of a whole and always strives to lift others up. 
"I have the utmost responsibility of raising four men – four men who are going to be pivotal to our society and contribute to our community just like their father does," he says. "That's why I believe in leading by example."
Kenneth says he's thrilled to see his kids exploring all their unique talents that include music, sports, writing, and academics. The most important thing is that they know it's possible to get an education.
Kenneth is also the founder of two companies. The first, a debt collection company that he started with two close friends, where he is the director of operations and collection systems.
 
"It's a really awesome thing to be a part of and to get to work with people you love and who are your friends," he says.
In addition, he stretches his creative muscles as the founder of a media company. 
"I took a photography class in high school thinking it would be easy, but it really challenged me," he remembers. "I loved the technical aspects of it and learning what diffraction is and learning how the light hits a lens." 
He stuck with it, starting with weddings, family photos, product photography, and today, he uses his talents to create marketing materials for many large companies. 
If being a husband, father, and entrepreneur weren't enough to keep Kenneth on his toes, he is also an advocate and mentor for kids in his community through Big Brothers and Big Sisters of the Triangle and Path Changers, an organization that provides transitional housing for youth aging out of foster care.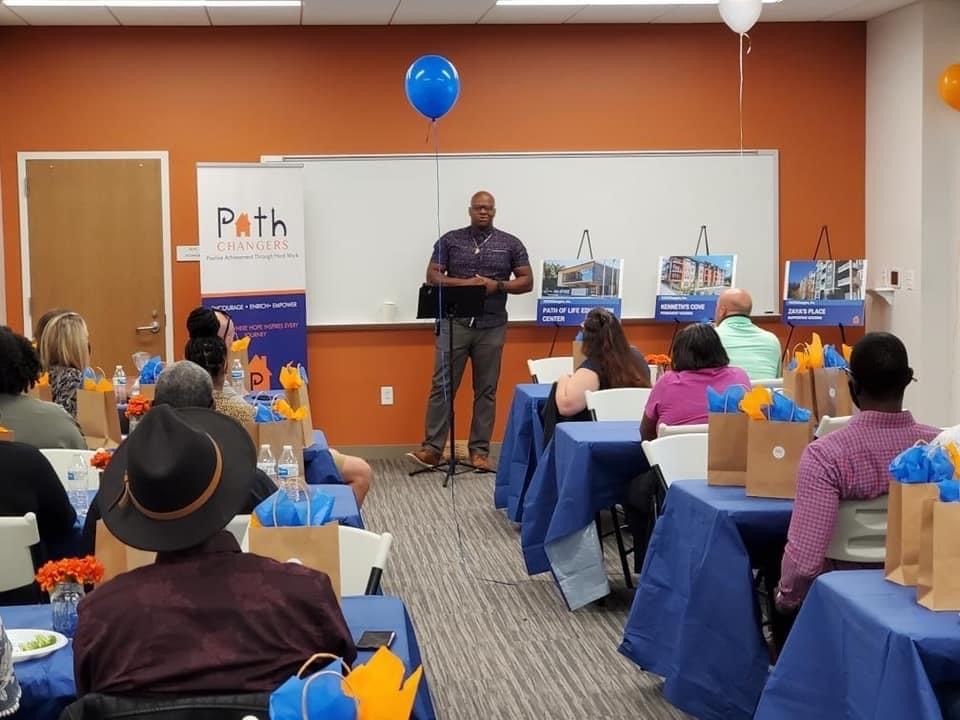 Kenneth shares his story with Path Changers. Over the years, he has helped raise awareness and money for organizations that support children in his community.
Now, he's able to give back. "I've spoken at several galas and fundraisers, sharing my experiences and what it means to have this organization and a mentor," he says. 
Through his advocacy, he has helped raise thousands of dollars for the organization and continues to be grateful to have the opportunity to offer his support.
"There are a lot of kids who went through what I went through," he says. "Very rarely are they able to extend that olive branch."
At the end of the day, he's thankful for where he's been and where he is today.
"I'm grateful for the opportunity to wake up every day next to my wife of 16 years, to be the father of four sons," he says. "I'm the equivalent of being fatherless, now being the father of four boys. It's almost like I've been given the ultimate responsibility and blessing."
As he continues to work toward earning his MBA, Kenneth hopes to take his family-centered mindset and capacity for mentorship into his professional career. 
I have the utmost responsibility of raising four men – four men who are going to be pivotal to our society and contribute to our community just like their father does.That's why I believe in leading by example.
"My dream job at this point in time is to be an executive of a company, their diversity and inclusion, basically a people officer," he says. "My life's mission is to make other people's lives better."
Good and bad, highs and lows, he knows all the struggles have put him where he is supposed to be and provided him a purpose that he intends to live fully.
"I've gone through so much stuff for so long," he says. "As a person comes out of the weeds, just like a flower, you start to see those moments where it was worth it. It's almost like I'm just now coming out of the weeds."
--
Whitney Bradford is a UAGC senior content specialist and former University academic advisor.
Certain degree programs may not be available in all states. 
*Ashford University is now known as the University of Arizona Global Campus.