More than 25 years ago, John Felger set out to earn his degree at a traditional brick and mortar college. He didn't finish but always vowed to someday complete his journey. Now in his 50s, John is back in school to earn his Bachelor of Science in Information Technology at the University of Arizona Global Campus, and for his effort, he is UAGC's January 2021 Student of the Month.
In the interim between starting and finishing his degree, this 100% disabled U.S. Navy veteran and avid outdoorsman has been busy. 
With three grown children, nine grandkids (including an eighth grader whom he and his wife, Becky, have raised since he was an infant), John has spent his time serving his country and traversing the world while in the military and through his adventures with family. John visited the Vatican and toured Europe, spent more than two years in Bosnia, served in the Gulf War, and bounced around several places, from Guam to Gitmo, as part of his deployment. However, he and his wife have settled down a bit now. They currently live in Las Vegas, where John works full time in cybersecurity for Southwest Gas Corporation– a job he intends on staying at until retirement. 
In fact, it's that very employer's tuition grant partnership with Ashford University* that led John to pursue his online degree. 
"After hearing about the program, I went online and conducted some research on this school and was amazed at the amount of positive reviews and success stories coming out of there," says John. "I knew then that this was the right fit for me to finally complete my educational goal."
Initially, John was worried that going to school online wouldn't be as effective as going to school in-person. However, after experiencing it firsthand, he has a fresh perspective. 
"I think it may be the greatest innovation in education in recent memory," he proclaims. "The ability to plot your courses, study time, and writing time around your schedule and be able to make the best use of your time is fantastic." 
He also commends his professors for being so hands-on and challenging students to think critically through their interactions both with instructors and their classmates. Now that Ashford University is the University of Arizona Global Campus, John is even more excited about pursuing his degree.
As his fellow students follow their own educational paths, John encourages them to utilize the many support services UAGC offers.
"The Writing Center is something that I use in every post and assignment," he notes. "Grammarly is another tool that I use nearly every day." He also credits the UAGC Library with being a useful research tool that's given him many usable references that would've taken much longer to find on his own.
A Degree for Personal Fulfillment
For John, going back to school wasn't simply something he decided to do because he wanted to enhance his career opportunities. As a professional who has been in the IT field for nearly 30 years, a big part of his "why" has been for his own personal fulfillment. 
"I also made the decision to resume my educational journey because I wanted to be able to show my grandson that it is never too late to continue learning," explains John, "And that if you want something, you can accomplish it through hard work and perseverance no matter what your age or status in life."
However, that's not to say he's not already reaping the benefits of going back to school. 
"I have rediscovered my love of education," he says. "This is different than a love of learning. Education works to broaden your entire mindscape and heighten your critical thinking skills and your application of these, along with creativity and innovation to allow you to excel in almost any arena of thought you can imagine."
Being in the field of cybersecurity, staying on top of the latest trends and technologies, and continuously learning is not new for John. 
"The biggest thing about cyber is it's not static – it changes weekly," he explains. "You have to adapt, think ahead. You're playing the ultimate three-dimensional chess game."
This passion for knowledge and giving his all has paid off. 
"If you're going to do something, do it right," has been John's motto. As an Honors College Fellow, he has a 4.0 and has been inducted into four honor societies – the Golden Key International Honour Society, SALUTE Veterans National Honor Society, Alpha Sigma Lambda Honor Society, and Sigma Beta Delta Honor Society.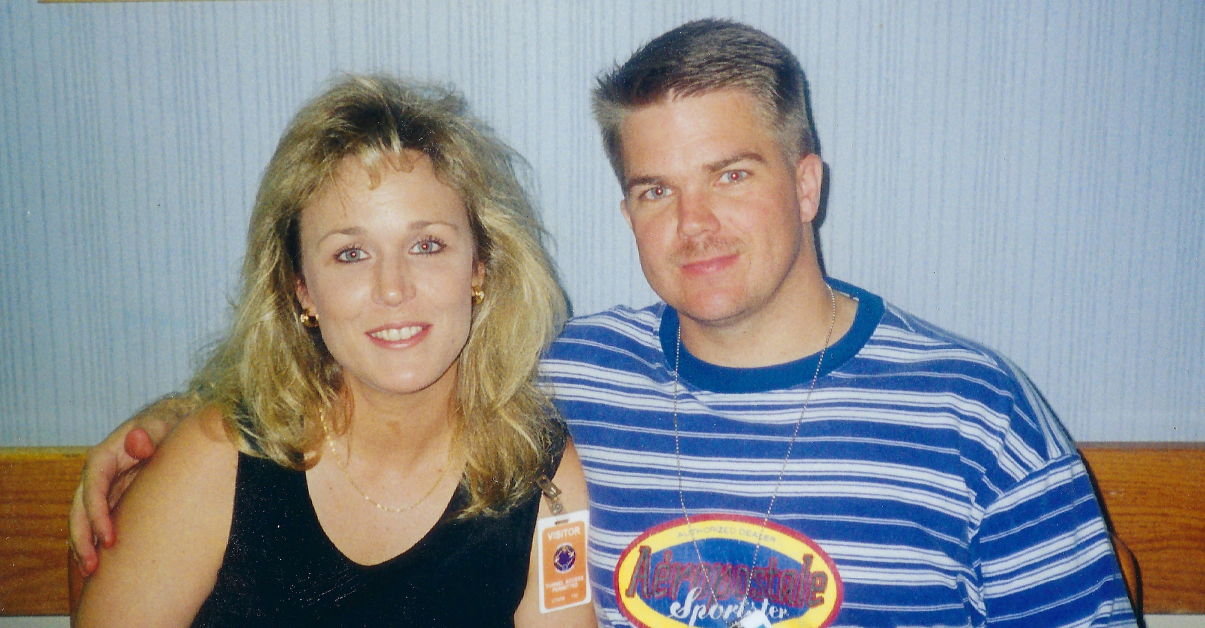 John Felger, shown here with his wife, Becky, whom he says is very proud of his achievements and has supported him during his journey.
Having excellent resources was essential to his success, but it was the added support from Becky and John's grandson Dominic that gave him the additional boon he needed to succeed. 
"She has taken over duties and tasks that I would normally do just so that I can spend more time studying and learning. I want her to be proud of what we have done, together." And his grandson loves to say, "I'm helping Poppa with college," as he's been a part of many of John's school projects over the last year. 
John is expected to complete his program in 2022 and is looking forward to achieving even more success as he puts his degree to use. In the meantime, he's focusing on how he has evolved as an individual and expresses gratitude to UAGC and his employer for giving him the opportunity to reach his goals. 
"Returning to school and continuing my education is leading me to be the best version of myself possible and encouraging me to reach new heights I had not previously imagined," he says. "The experiences, relationships, knowledge, and confidence gained from this journey are things I will be able to use and enjoy for the rest of my life."
--
*Ashford University is now the University of Arizona Global Campus.
Certain degree programs may not be available in all states.