What to Know About Earning a Supply Management Degree
You're getting ready to start the next exciting phase of your life, and there are multiple degree programs that you're considering. But how do you make your decision? If you have a natural knack for organization, and are excited by the process of planning and coordinating logistics, a degree in supply chain management is a good option to explore.
Let's dig deeper into what exactly this degree entails, and why it might be the right choice for you.
What is supply chain management, and why is it important?
Supply chain management refers to the supervision of the movement of products from the point they are extracted as raw materials to the point consumers receive them in their finished form. This process can be lengthy and complicated depending on the type of product and the distance it needs to travel. It's not uncommon for one to use products that have been made halfway across the world, and it's supply chain managers that get them from their country of origin to your home. To make this process flow smoothly, it takes a certain eye for detail. 
What does supply chain management involve?
Supply chain management involves various steps, including but not limited to:
• Planning
• Acquiring raw materials
• Manufacturing
• Storage 
• Transportation 
• Risk management 
Logistics, which forms a broad part of the supply chain, focuses on moving products in the most efficient and cost-effective way possible. A degree in supply chain management equips you with the skills needed to perform these tasks.
Is supply chain management a good career?
According to the Bureau of Labor Statistics, demand for logisticians is projected to increase by 7% from 2016 to 2026. No additional training is required in the field, so a degree equips you with all the skills needed to start working. As world trade continues to increase, demand for professionals with supply chain management expertise will also keep rising.
What is a supply chain management degree?
This degree program consists of a set of approaches, technology, and skills required to make an organization run effectively and efficiently. The degree focuses on transportation, logistics, quality assurance, and staffing. At the University of Arizona Global Campus, you will not only receive the academic foundation to thrive in this field, but added benefits include:
• Expanding your social and professional networks
• Growing your knowledge and skills in the practice area
• Learning through real-world experience enabled by strong faculty support 
• Increasing job growth opportunities 
What can I do with a supply chain management degree?
Because supply chain management is applicable to multiple industries, the number of possibilities a degree in the field provides are numerous. Some of the jobs you could get include:
•    Inventory Planning Analyst
•    Production Scheduler
•    Materials Planner
•    Production Planner
•    Operation Manager
•    Transportation Manager
•    Purchasing Manager
•    Materials Manager
•    Warehouse Operations Manager
•    Logistics Manager
•    Customer Service Manager
Interested in a degree in supply chain management?
At the University of Arizona Global Campus, you receive professional support at every step of your educational journey. Your online courses offer enough flexibility to manage your schedule with ease. This particular degree program will equip you with the ability to:
• Apply supply chain management principles to business situations
• Apply skills learned on a global scale
• Design efficient supply chains 
• Assess supply chain performance using information technology
Learn more about the supply chain management degree and the unique program courses available. Do you have questions about whether this path is right for you? Contact us today, and get your questions answered.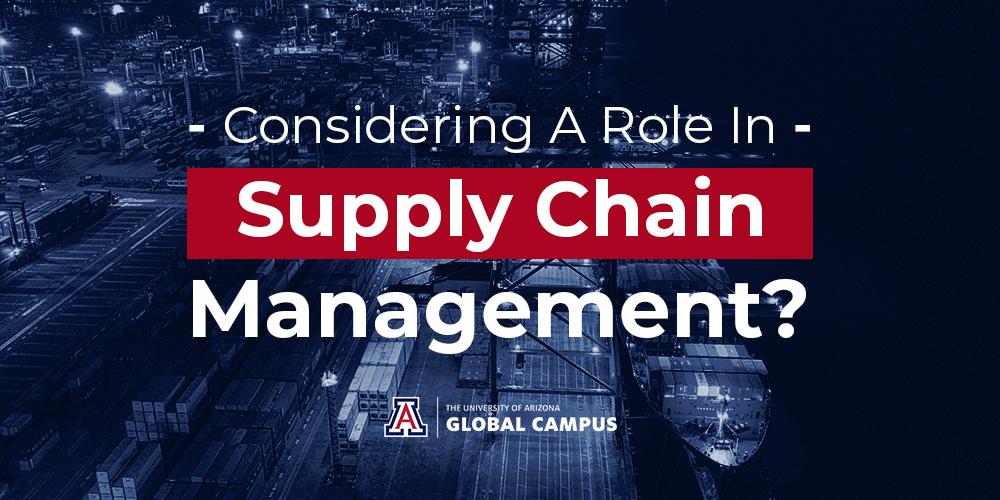 Or talk to a Global Campus advisor who can provide additional details on each program.