For those who witnessed history in 1969 and the generations that grew up hearing tales of Apollo 11 and its astronauts, the 50th anniversary of the moon landing has reignited a sense of curiosity about what lies beyond our planet. There's also a renewed interest in the careers that play an integral role in space exploration. 
Whether a person wants to be an astronaut, engineer, technician, or even an accountant, it all starts with STEM (Science, Technology, Engineering, and Mathematics) education, says Forbes School of Business and Technology Associate Dean Dr. Karen Ivy. 
It's a theme that was highlighted during the Space Careers Panel at Apollopalooza, a weeklong celebration of space exploration held in July at Denver's Wings Over the Rockies Air & Space Museum. It's also a topic that continues to be popular among students.
"STEM programs develop technical skills and competencies that can support any space initiative, but leadership qualities are equally important, as are they ability to budget and strategize," explains Dr. Ivy. 
The panel consisted of academics from various STEM fields, including Forbes School of Business and Technology faculty Dr. Ivy, Dr. Karmaveer Koonjbearry, and Dr. Pete Limon, as well as a mechanical engineer from Lockheed Martin. Apollo 17 astronaut Harrison Schmitt, NASA engineer and flight director Gene Kranz, and X-15 pilot and astronaut Joe Engle also were among thought leaders in attendance at the summit. During the event, attendees young and old were able to ask the panel questions about careers in NASA and what they need to do to achieve their dreams.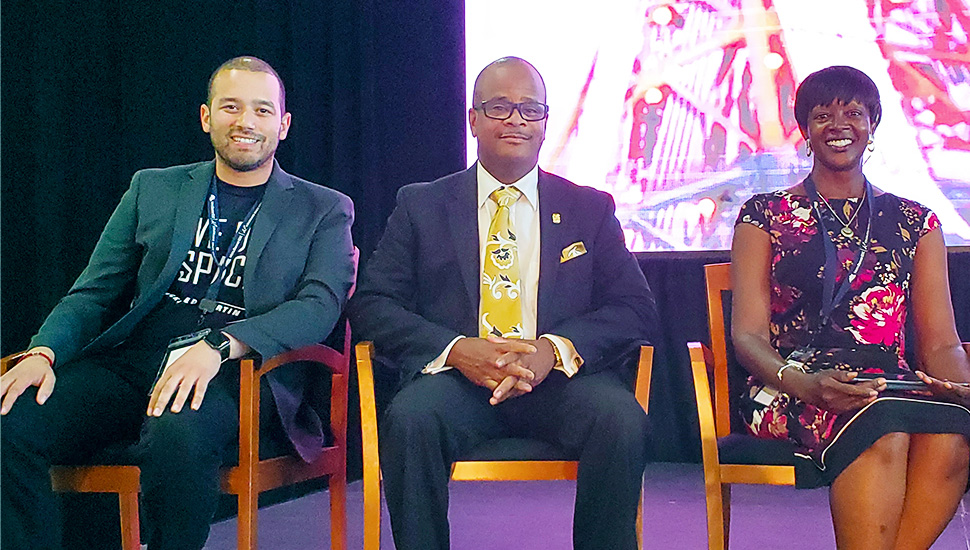 An Education in Line with NASA Qualifications
NASA broke a record in 2016 with more than 18,000 astronaut applications, eclipsing a record set in 1978. On its website, the agency lists the qualifications candidates must meet to become astronauts, and while the University of Arizona Global Campus can't fulfill every one of them (sorry, the University does not offer the astronaut physical), it does help students meet the educational requirements: a bachelor's degree in a STEM field noted earlier, as well "skills in leadership, teamwork, and communications." 
Those are just the requirements for astronauts. As Dr. Ivy points out, NASA relies on experts from a number of backgrounds to fulfill its mission. According to the agency, 60 percent of its positions are in professional, engineering, and scientific fields, while 24 percent are in administrative and management. The smaller percentage of positions includes those in clerical and administrative support, and technical and medical support. 
Watch the Panel Discussion
See the 2019 Apollopalooza Space Careers Panel in full below, as seen on the Wings Over the Rockies YouTube channel.
Degrees That Take You Higher
Much of the panel discussion focused on educational requirements for space and technology-related careers. Dr. Ivy identified eight Forbes School of Business and Technology programs that offer training and development in STEM industries. They are:
These degrees include courses such as Programming Concepts (Bachelor of Arts in Business Information Systems), Management for Organizations (Bachelor of Arts in Entrepreneurship), Strategic Management and Business Policy (Bachelor of Arts in Project Management), and Systems Analysis (Master of Information Systems Management) – all of which would be essential for any STEM-related career, Dr. Ivy explains. 
"In addition to understanding and applying technical acumen to build and deliver solutions for business needs, these six bachelor's degree programs and two master's degree programs prepare students to manage and provide innovative strategic leadership and direction," she says. 
The Global Campus flexible online format already puts students at an advantage because they are able to learn, engage, and collaborate with classmates from diverse backgrounds on their schedule. Adult learners, especially, often bring a wealth of knowledge and work experience to classroom discussions.
"This widens the learning field for students – of any age – who are going into STEM career fields," Dr. Ivy says. "Forbes School of Business & Technology students are ahead from the start." 
Getting a Head Start Outside of the Classroom
While the path to a space-related career starts with an education, Dr. Ivy stresses the importance of taking advantage of opportunities outside of the classroom in order to build a solid foundation for the future. 
She points out that the audience members who attended the Space Careers Panel were able to take something away from the experts on hand. 
"No matter what your background is, if you're interested in going to space, you should first identify the things that you like to do, and then connect with the organizations and events happening in and outside of your school," Dr. Ivy adds. 
--
Written by University staff