Dr. Dan Tinianow has an impressive resume. Professor, author, actor, magician, college course developer, trained hypnotherapist, and even TV game show winner. 
After acing a trivia contest hosted by a local talk show radio station in Los Angeles, our Faculty of the Month won a spot on the TV game show, "Who Wants to Be a Millionaire?"
"It's nerve-wracking being on a game show!" recalls Dr. Tinianow, Professor and Lead Faculty in the Academic Engagement Center at the University of Arizona Global Campus (UAGC).
"I spent a lot of time second-guessing myself and wondering … If I had guessed on the next question, I would have gotten it right as it turns out, and then I would have been at that safe $32,000, and I would have had one free guess to get $64,000, which is a one-in-four shot, so I spent a lot of time wondering what might have happened."
Dr. Tinianow went on to win $16,000 on the game show, plus the trip to New York to appear on the show.
Twenty years have passed since Dr. Tinianow made his appearance on the popular show, but it's an experience he fondly recalls.
If you're ever lucky enough to have Dr. Dan Tinianow as your speech communication professor, you may hear about his time on the game show, but there's a lot more you can learn from the trivia wizard. 
He's full of great tips for succeeding in college – including managing stress and anxiety, passing difficult classes, and overcoming the fear of public speaking. Glossophobia, also known as speech anxiety, or the fear of public speaking, is believed to affect up to 75% of the population.
One technique that Dr. Tinianow has developed over the years involves using his voice and speech in a very specific way to help others learn how to use imagery to overcome any number of life's moments that can evoke fear – including public speaking, job interviews, big tests, and more. 
To help reduce speech anxiety, he asks students to imagine every crazy thing that could go wrong when they give a speech, then he asks them to try to make a mental movie of all that crazy stuff happening while they're giving the speech, then he asks them to watch the audience react. 
"Like an old silent movie, you play it over and over again until you can just laugh about it," he explains.
When it comes to advising students how to write a speech, Dr. Tinianow offers the mnemonic "TARP" to help remember the important parts: topic, audience, research, and practice.
"I know that the speech class is challenging for students, so I just try to get them through, and if you submit every assignment, you're going to pass that class," he says.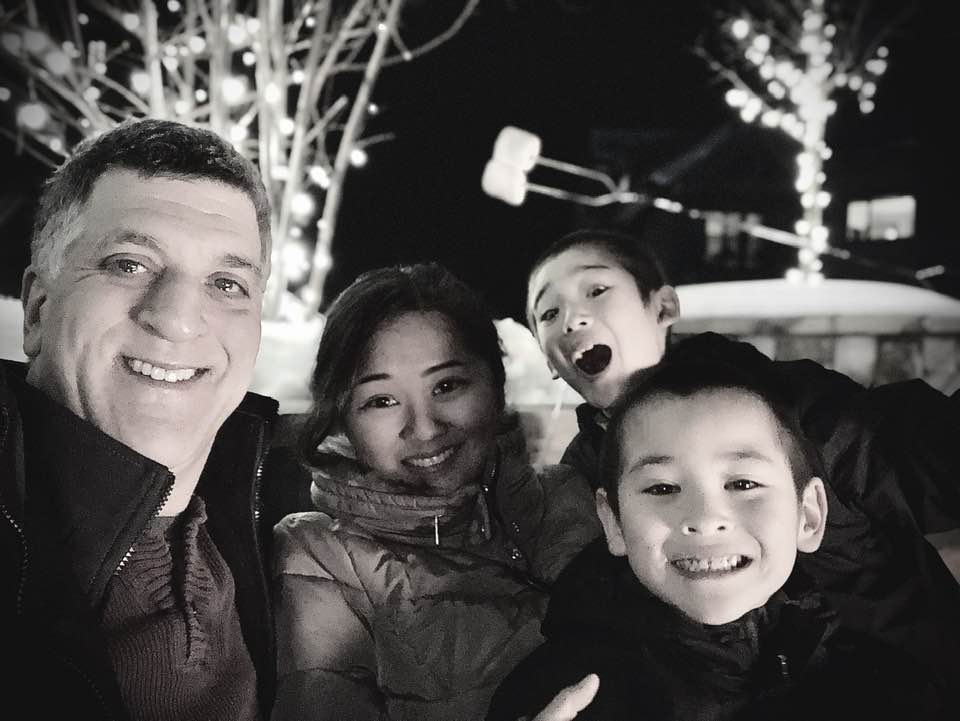 Dr. Tinianow takes time away from teaching to roast marshmallows with his family in Breckenridge, CO.
Knowledge Travels
Dr. Tinianow has plenty of experience to draw from. He has taught at many colleges over the past few decades, including Syracuse University in New York, Austin College in Texas, La Sierra University in California, Capital University in Ohio, and Donghua University in China.
"I've gotten to see a lot of different approaches to education," he acknowledges.
Dr. Tinianow's journey to UAGC communications professor has been a varied and atypical one. He grew up in Cleveland, the youngest of three brothers whose dad taught music at their public school. When young Dr. Tinianow was in elementary school, his dad was his band instructor, and he says seeing his dad teach is what led him to the field.
"I socialized with my teachers quite a bit," Dr. Tinianow recalls. "I'd see them at school district events, so I got a backstage peek at teaching. It was something I think I had an affinity for by proximity. In retrospect, it seems like I was destined to teach."
When he was a kid, his brothers nicknamed him "the electronic brain" because he loved technology and made "radio shows" on their tape recorder and movies on their Super 8 camera.
It was in fifth grade when it became apparent that Dr. Tinianow was a natural speaker. He was cast as the mayor in a school play called "Bartholemew and the Ooblek" by Dr. Seuss. His role was simply to present an award to Bartholemew, but because there was no script and they were allowed to improvise, he ended up giving a memorable two-and-a-half-minute speech.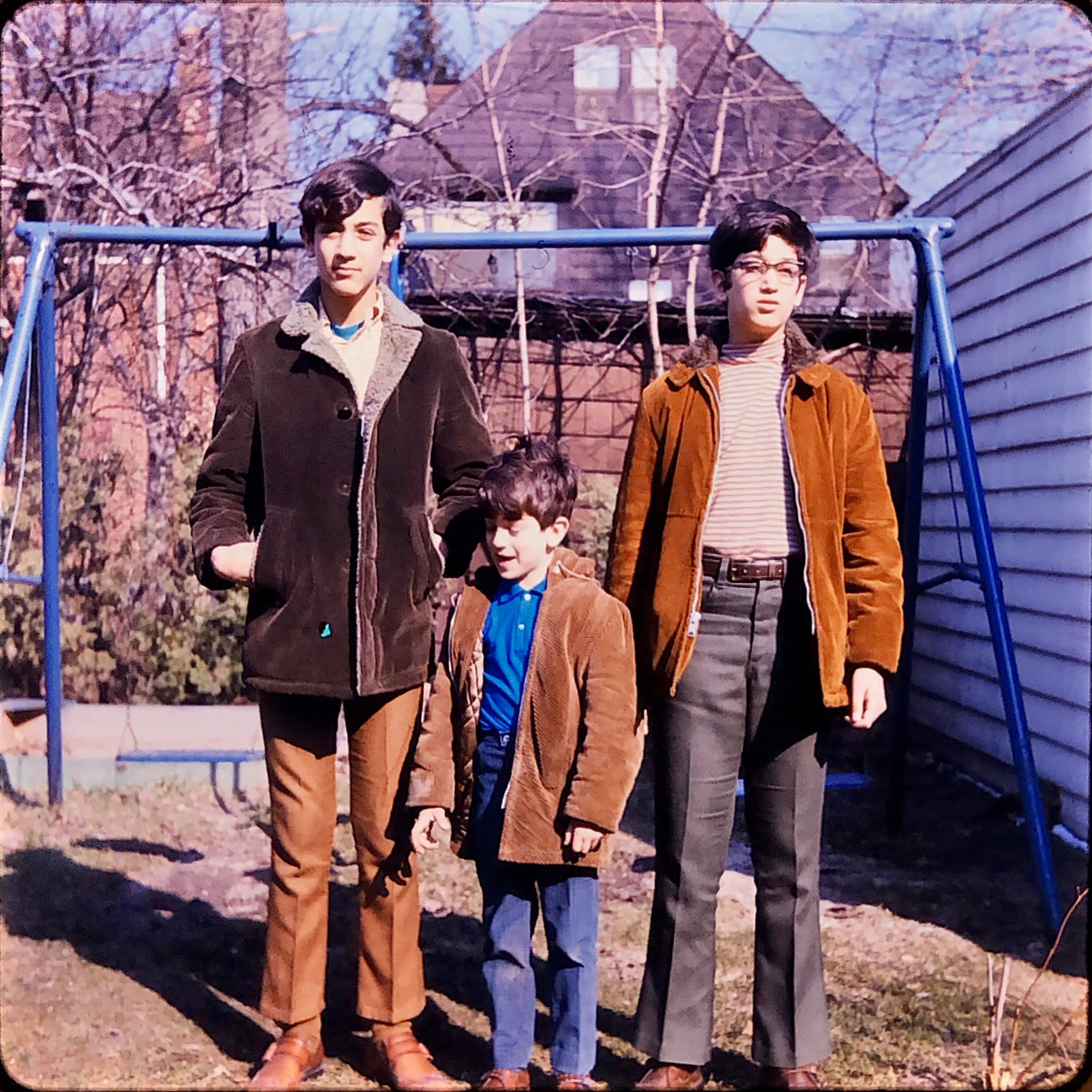 When Dr Tinianow was a kid, his brothers gave him the nickname "the electronic brain."
"I tended to be a pretty shy kid, but performing was a way for me to come out of my shell," Dr. Tinianow says. It was also around that time that he developed a passion for magic and going to magic shows and saying he wanted to be a magician when he grew up.
When his mom connected the dots and realized that performance was a way to get him out of his shell, she found a local youth theater summer camp in Cleveland, where he went for several summers. A few of his early castmates went on to be quite successful. He was in an adaptation of Sleeping Beauty with SNL star Molly Shannon.
"I was in awe of Molly Shannon. She was the real deal. She is one of the reasons I didn't pursue acting as a career! That was the first time I was ever on stage with someone who was acting. It was play-acting and she was doing the real thing. She was head and shoulders above the rest," Dr. Tinianow recalls with a few laughs. 
After high school, Dr. Tinianow decided to try working in the film production industry locally but work was spotty. 
He worked freelance in Cleveland for a year and at an advertising specialty company.
"Film production in Cleveland is pretty spotty," Dr. Tinianow says. "You get a call on Tuesday saying, 'Hey, can you be on set Thursday?'" He recalls that his elbow was in a Goodyear commercial, and the back of his head was in a McDonald's commercial.
However, the profession simply wasn't reliable. 
"There was no consistency or structure to the work. It was fun, but it didn't seem to be a good basis for a career," Dr. Tinianow admits.
Luckily, he was introduced to the Japan Exchange and Teaching (JET) program, a teaching exchange managed by the government of Japan.
"Without expecting anything, I was invited for an interview," Dr. Tinianow recalls. Because of his experience, he was hired immediately.
Dr. Tinianow says traveling to Japan was an adventure. 
"I was going into places where they didn't see any foreigners," he says. He recalls humorously one school where he realized about halfway through the day that the principal was introducing him to all the single ladies.
After spending a while in Japan, Dr. Tinianow found himself in China, albeit through a bit of a mix-up. "In China, I had met some academics. I was invited to apply to edit a series of English college textbooks, and I did an interview with someone in Southern California, but I didn't understand they wanted someone to move to China to do the editing!" Dr. Tinianow recalls. He was teaching at La Sierra University at the time, but he was granted a one-year leave.
Instead of editing textbooks when he got to China, he says he ended up teaching eight hours a day, three days a week. He was working long hours but also took time to enjoy the local culture. 
"I learned a lot of Chinese remedies for when you lose your voice," he said. He even learned the language and how to bargain for prices when shopping.
"Living in Japan and China taught me to be flexible and adaptive. I had friends in both countries who had real difficulty dealing with the cultural differences, but my mindset let me really enjoy those differences."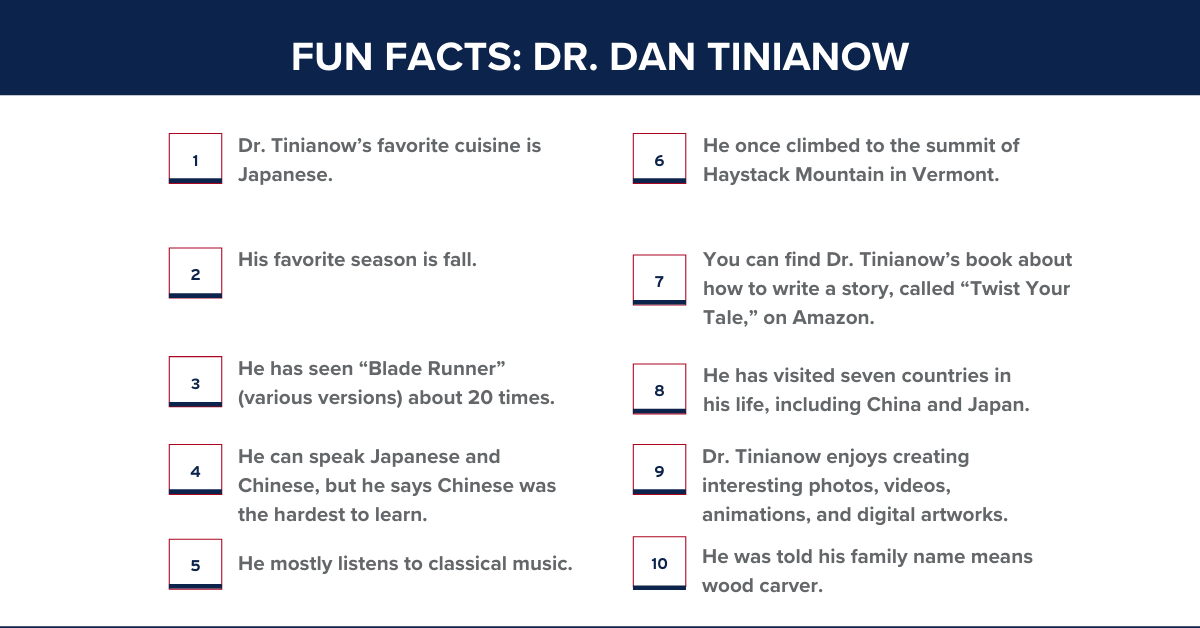 Time to Learn Hypnosis
Dr. Tinianow was working as a writer and when 9/11 happened, he was head researcher for a TV show on the History Channel called "Secret Passages," which explored mysterious hidden rooms, concealed stairways, and underground labyrinths worldwide. Because of all the restrictions and the heightened security with air travel at that time, production for the show was eventually scaled back and almost everyone was laid off.
"There were good incentives for going back to school," Dr. Tinianow recalls. That's when he decided to get certified at the Hypnosis Motivation Institute in Tarzana, California — at the time, one of the only programs of its kind. 
"I had an uncle who was a hypnotist," Dr. Tinianow said. "So I knew about it from a young age.  But the idea that you could have such a powerful effect on someone just by speaking in a very intentional way is one of the most dramatic examples of the power of communication," he said.
 
Rather than learning traditional hypnosis techniques, where the hypnotizer has a stopwatch swinging back and forth and says, "You are getting sleepy," he was more interested in learning conversational hypnosis and applied communication and using techniques like "Ericksonian scripts," which are language patterns that you memorize and utilize to help others.
"It's all about how you emphasize words," Dr. Tinianow explains. "You're having a conversation with someone, but you are doing it in a deliberate way to implant suggestions with them. It's very hard to do. You use their first name a lot. There's a lot of repetition. You use words like, 'You can, you know,' followed by the person's first name. It's very intentional use of language."
He has also studied neuro-linguistic programming, which is similar to conversational hypnosis but also involves a lot of touch communication. 
"You might anchor some positive words and then touch the person on the shoulder with the positive words," he says.
While earning his certification as a hypnotherapist, Dr. Tinianow got to practice hypnosis on fellow students, as well as a few friends. After becoming certified he led corporate talks and corporate workshops, where he helped employees learn relaxation methods.
Anytime someone asks him if hypnosis works, Dr. Tinianow tells them it does. 
"But remember, one of the most powerful things in medicine is the placebo effect," he cautions. "Hypnosis is just a super-directed placebo effect."
When it comes to learning, however, hypnosis isn't the solution. To achieve success in college and life, Dr. Tinianow says it all comes down to motivation and positive self-talk. 
"When you're in a particularly motivated mindset and have a clear view of your motivation, write yourself a letter that you can read when motivation is low," he suggests. "If you don't try, nothing will happen at all. If you don't try your hardest, someone else will try harder. Pay attention to what's happening around you and try to develop an eye for opportunity."
--
Charlene Melson is a contributor to the Forward Thinking blog.