If you're like many other students and professionals who find themselves wanting to serve others and help people in their day-to-day career needs, a master's degree in human resources might be worth considering. 
However, knowing exactly what your options are post-graduation is crucial in helping you make an informed decision. How many jobs are available? What are the benefits? Will I have to move to get a job? Answers to these and other questions will help inform your choice. 
So let's get into it: Is a master's degree in human resources worth it? Can I find a quality job with this degree? And, what are the best cities for human resources jobs? 
Why You Should Consider a Career in Human Resources
A bachelor's degree in HR is a great starting platform, but obtaining your master's degree will open up roles in leadership, planning, management, and a variety of other positions that can fulfill your goals.
The human resources industry grows steadily in conjunction with the economy and the job market. As employers hire more people and expand their businesses, the need for human resources professionals increases. 
That fact is supported by the numbers, with HR positions growing at about 5% a year, in step with the broad economy as reported by tuition.io. It is anticipated that another 22,000 jobs will be added in the next ten years, building on the current 482,000 professionals already in the field. 
While some cities like Washington D.C., San Francisco, and Boulder, Colorado, have blossoming HR specialist positions, the rest of the country is full of opportunities for anyone looking to fill the various positions in the HR industry. 
Gone are the days of just handling insurance policies and hiring/firing. Today, HR professionals with a master's degree fill a variety of roles such as: 
Benefits manager
Compensation and benefits manager
Compensation director
Human resources manager
Human resources director
Training and development manager
Labor relations specialist
Clearly a master's degree in human resources is worth it, but where do you look for one of these positions?
The Best Cities to Find a Job in Human Resources
HR is a unique field that bridges the gap across industries and is needed by every company large and small. We did a little research and found 12 of the best cities to find a job in the HR field. The list is quite diverse, so let's dive in!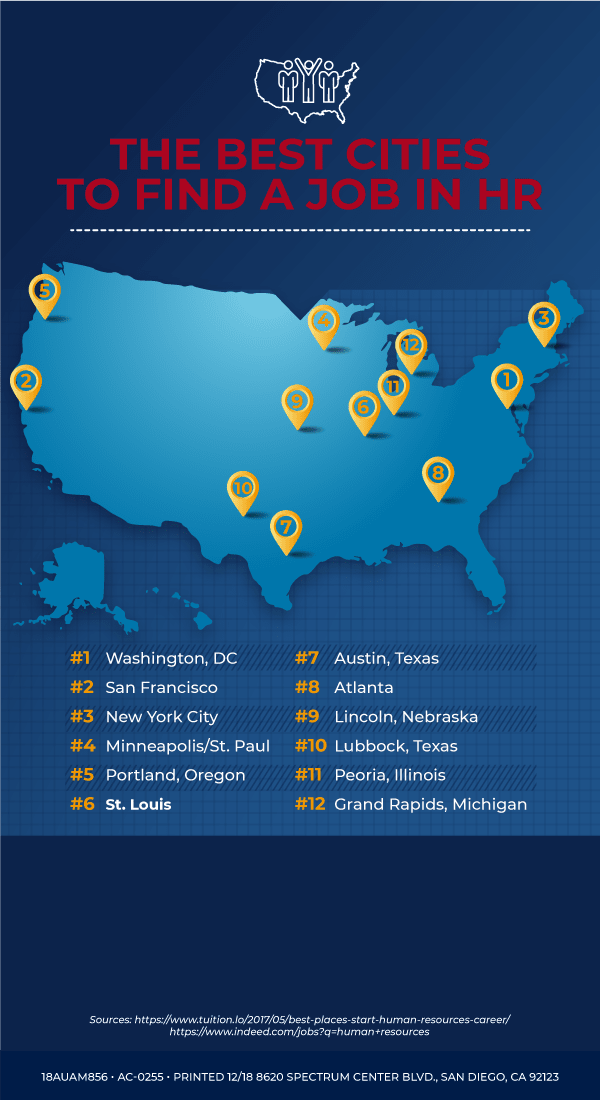 Major Metros
1. Washington, DC
Highest density of HR workers at 10 per 1000 employees
Prominent employers: Lockheed Martin, General Dynamics, Marriott International, Capital One, Hilton, IBM, and federal government
Lifestyle: Easy commute from suburbs. Bustling nightlife. Historical landmarks at every turn. Cold winters and balmy summers. 
2. San Francisco 
Density rating of 5.5 per 1000 workers
Prominent employers: Facebook, Oracle, Kaiser Permanente, Visa, Wells Fargo
Lifestyle: Ideal year-round weather for romantics and nature lovers. Close to beaches. Extensive nightlife and dining. Tech-oriented population. 
3. New York City 
6,000 positions available 
Prominent employers: Deloitte, IBM, Pepsi, JPMorgan, Citi, Verizon, City of New York
Lifestyle: City that never sleeps. Extensive nightlife, dining, entertainment. Can be commuted to/from suburbs in NJ/PA. 
Growing Cities
4. Minneapolis/St. Paul 
2,100 positions available
Prominent employers: Bremer Financial, Ecolab, Patterson, Securian Financial
Lifestyle: Big city with small-town feel. Affordable downtown housing as well as commuter-friendly suburbs. Cold winters, mild summers, close to Great Lakes. 
5. Portland, Oregon
1,100 positions available
Prominent employers: Intel, Nike, Daimler Trucks, Boeing, Columbia Sportswear
Lifestyle: Hip and tech-oriented population. Cold winters, mild summers. Center for arts. New-age dining and nightlife. Easy access to dense nature. 
6. St. Louis
1,200 positions available
Prominent employers: Express Scripts, Peabody Energy, Monsanto, Emerson
Lifestyle: Welcoming midwest feel. Home to the Arch. Cold winters, hot summers. Affordable housing and family oriented. 
7. Austin, Texas
1,200 positions available
Prominent employers: 3M, Apple, Google, Cirrus Logic, Hewlett-Packard
Lifestyle: Warm year round. Bustling nightlife and diverse dining. Family-friendly suburbs. Known as the "live music capital of the world." 
8. Atlanta
2,200 positions available
Prominent employers: The Home Depot Corporate, Coca-Cola, Delta Airlines, UPS
Lifestyle: Balmy summers and mild winters. Close to various beaches east and mountain ranges west. Hip downtown with quiet suburbs. Easy travel to Florida southward and the Carolina's north. 
Small Town Charm
9. Lincoln, Nebraska
150 positions available
Prominent employers: State of Nebraska, University of Nebraska, Cabelas, Union Pacific
Lifestyle: Midwest small town. Perfect for those seeking simple life. Traffic is low and quality of life is high. 
10. Lubbock, Texas
205 positions available
Prominent employers: Texas Tech, United Supermarkets, Best Buy, Covenant Health
Lifestyle: Mixing the small towns of west Texas with a booming downtown scene. Horseback riding through canyons or microbrewery tours can be done in a weekend. Warm year round. Low cost of living. 
11. Peoria, Illinois 
300 positions available
Prominent employees: Caterpillar Inc., Pekin Insurance, OSF Healthcare
Lifestyle: Riverfront city, safe streets, and neighborhoods. County fairs and weekend farmers markets are a staple of summer and fall. 
12. Grand Rapids, Michigan
480 positions available
Prominent employers: Spectrum Health, Amway, Meijer, Perrigo, Herman Miller
Lifestyle: Craft brewery, public art, street musicians and frequent festivals and concerts. Friendly midwest population, safe streets and affordable downtown and suburban housing. 
Why You Should Consider a Master's Degree in Human Resources
At the University of Arizona Global Campus, your success in the classroom is a top priority but so is helping you understand your career options. The education you receive is a way forward along a career path that could set you up for success for years to come. 
A master's degree in HR is one of those ways forward, and it's never too late to pursue your MA in human resources. HR professionals are in demand around the country, from huge metropolitans to small towns. A master's degree from UArizona Global Campus online degree programs can set you on the right path in a city right for you, whether that's your hometown, or 1,000 miles away. 
When you're ready to take the next step toward securing your professional and financial future, check out our admissions process and contact an enrollment services advisor today.