Dr. Karen Ivy, associate dean of Innovation & Enterprise in the Forbes School of Business and Technology™ at the University of Arizona Global Campus, was among the Forbes School of Business & Technology faculty members who traveled to Denver in July 2019 for the Wings Over the Rockies Air & Space Museum's "Apollopalooza" celebration to mark the 50th anniversary of the moon landing.
The event, which featured appearances by veteran astronauts, engineers, entrepreneurs, and academics allowed Dr. Ivy, along with her colleagues Dr. Karmaveer Koonjbearry and Dr. Pete Limon, to share their combined knowledge and perspective with NASA hopefuls and prospective students pursuing careers in STEM (Science, Technology, Engineering, and Math) fields. Approximately 237 K-12 and university students participated in the NASA History Lab alongside faculty, teachers, and industry professionals.
Here's a recap of Apollopalooza and a closer look at how UAGC instructors are engaging with the community outside of the online classroom.
Exploring the NASA History Lab
For the Apollopalooza celebration, attendees had the opportunity to explore the NASA History Lab workshop, a three-stage interactive exhibit that highlighted the agency's accomplishments as well as the science behind the history. 
"Stage One examined NASA launch history, the technology used, and the impact it still has on products we use today, as well as the importance of information security," explains Dr. Ivy.
The second stage, NASA Jeopardy! Live, mirrored the iconic game show and challenged attendees to share their knowledge of NASA. 
"To my amazement, the participants, from young kids to adults, knew an awful lot," says Dr. Ivy. "It was such an amazing learning environment."
The final stage of the NASA History Lab involved an online quiz created by Dr. Koonjbearry, in which participants would answer questions for the chance to win a prize. 
The event is one of many ways UAGC faculty continue to network with and provide education to the greater community.
"In addition to what we deliver in the classroom, instructors have a lot of industry expertise," Dr. Ivy says. "We like to develop and teach people, and we can also do that outside of the classroom."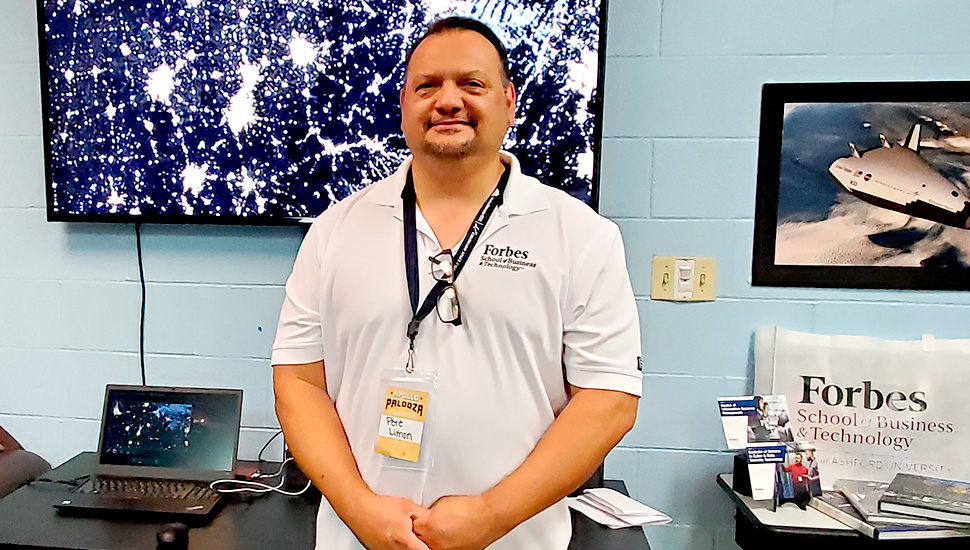 Face Time with Faculty
Beyond the educational and historical perspective, events such as Apollopalooza offer Forbes School of Business and Technology faculty invaluable opportunities to interact face-to-face with current and prospective students. At a post-History Lab panel on space careers, Dr. Ivy says she was pleasantly surprised to see so many younger attendees, especially those who were still several years away from college age.
"There was a young student in middle school – this young man was brilliant," she says. "He was sharing a suggestion for a propulsion idea for NASA, and he asked us, 'For someone like me, can you tell how I can get into a space career?'
"Not only was he benefiting, but so were the adults in the audience," she adds. "We had adults asking, 'I would like to make a career change into STEM. Can you give me advice?'"
Taking Advantage of Every Opportunity
The takeaway from the experience, Dr. Ivy emphasizes, is that college students and prospective students should take advantage of every opportunity available to interact and network with experts in the fields they want to join. 
Forbes School of Business & Technology students can start by exploring any of our online clubs and organizations. STEM-related clubs include the Anyone Can Code Club and the Association for Computing Machinery (ACM), among others. 
Prospective students can reach out to their local museums and planetariums to inquire about events similar to "Apollopalooza." LinkedIn can also be an excellent resource for joining professional organizations and connecting with industry leaders and academics in your field. 
Taking those first steps can start you down the path to the future you want, just like the middle school student eyeing a career at NASA. 
"He was doing it right and placing himself in the midst of where he wanted to be," she explains. "He was present, surrounded by astronauts, teachers, and professionals in the industry, and he was taking it all in." 
--
Written by University Staff