Travel can broaden the mind. It can even change your brain. For many students, it's an essential element of a well-rounded education. There are many ways to mix travel with schooling. Some students study abroad, some participate in student exchange programs, and others take gap years, pausing their educations to roam the globe.
With the rise of online learning and enormous advances in communications technology, online universities provide some of the most effective means of getting an education on tour.
Take alum Ghassan Nono. He traveled the world, pursuing his dream on a tight budget while also taking classes at the University of Arizona Global Campus. He did it without wealthy parents or a lot of disposable cash - just determination, some improvisational skills, and a thirst for new experience.
How to Travel as a College Student
Here are five ideas that can help you save money on travel as a student, so you'll have some left over for flights, festivities, and fun.
1. Volunteer abroad
If your lifestyle permits, The Peace Corps is a popular option, although it's hardly the only one. Many websites aggregate global volunteer opportunities. Be sure to research carefully, however. Some programs are expensive and many are short-term, which may not offer the level of immersive cultural experiences you crave. Fortunately, there are many free and affordable volunteering options available, if you're willing to look for them.
Some innovative options, such as WWOOF, provide lodging and cultural immersion for those willing to work on organic farms, which can be a life-changing adventure in itself. Volunteer experiences such as these, combined with a degree, will set you apart from your peers when you apply for your dream job.
2. Teach English
Teaching* English abroad is a generous and rewarding way to share your knowledge and culture with those in other parts of the world. Teaching positions are available for students with bachelor's degrees, TEFL certifications, and open minds. If you're earning your master's degree and want to travel while doing so, this can be a great option - it may even advance your own progress. You can invoke the Protege Effect, whereby you increase your own understanding and mastery of a subject by teaching it to others.
3. Get a traveler-friendly part-time job
As a wandering student, you'll find many part-time jobs available that will help you balance your education and travel goals. If you're a long-term traveler, consider working as an au pair; if you're good with kids and can handle some housework, you can take care of your room, food, and board while collecting a modest paycheck. If you love the business of tourism, you can work as a customer service agent and lead English-speaking tours or taking tickets at seasonal attractions. You'll be able to gain work experience, subsidize your adventures, and schedule your studies around your shifts.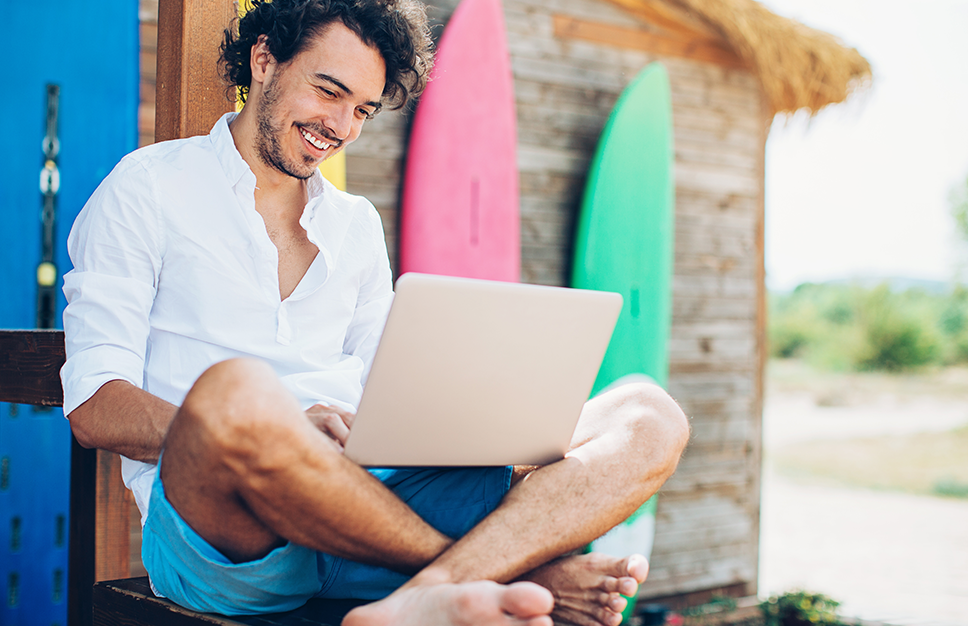 4. Work stay
Sites such as WorkAway.info offer a new model for traveling students, with a mix of volunteering, couch-surfing, and part-time employment. This way, you can get more long-term and stable accommodations, along with a host who can provide tips and guidance and help you negotiate language barriers and other cultural challenges. A robust search can help you find a host who can help you with your particular needs and interests. For example, if you're studying international business, you can search for "entrepreneur," "executive," or "business consultant," and find a WorkAway host who can add unique value to your experience.
5. House or pet sit
New digital services connect pet owners with enthusiastic sitters who will look after their animal companions in their absence. Homeowners who plan to travel for long periods can feature their dwellings on sites such as trustedhousesitters.com, providing travelers with potential places to stay in exchange for feeding or walking a pet or maintaining a garden, or simply occupying the house for added security. While earning an online degree, you can move between house-sitting engagements and extend your travels, perhaps in more comfort and luxury than you could otherwise afford.
Benefits of Traveling for Students
Traveling while studying provides you with exposure to the bigger world and lets you see things from a broader perspective. It opens your mind to new ideas, makes you appreciate nature, and helps to lower stress and anxiety, which can improve your mental and physical health.
Spending time in a different place allows you to not only immerse yourself in a different environment but a different culture as well — and you don't even have to leave the country to do so.
An additional benefit to traveling as a student is the wide range of apprenticeships that could become available to you while you study. So, rather than only being taught theories in a classroom, learn through experience. Get your hands dirty and figure out how to solve problems – and create and execute cohesive action plans around those solutions. A professional apprenticeship that helps you travel the world could be a much-needed option for entrepreneurial and action-driven folks who are lucky enough to take on the challenge.
Traveling While Studying Full Time is Possible
With some planning, ambition, and self-discipline, you can travel, study full time, and experience your own version of Ghassan Nono's odyssey. If you've got tenacity and a nose for strong internet connections, you can work toward an online degree whenever and wherever you want.
How the University of Arizona Global Campus makes it easy to travel while in college
At the University of Arizona Global Campus, we know how important it is to not only gain education through academic study but out in the real world as well. That's why you get flexibility in the University of Arizona Global Campus' online courses, so you can learn, however, and from wherever, you want to.
Want some more inspiration for your traveling studies? Check out this video featuring Ghassan Nono, who has brought the virtual classroom with him to more than 100 countries while traveling the world.
Contact UAGC today to explore new study options that enable a lifestyle you love.

*Certification and Licensure Terms and Conditions
An online degree from the University of Arizona Global Campus does not lead to immediate teacher licensure in any state. If you want to become a classroom teacher, contact your state's education authorities prior to enrolling at the University of Arizona Global Campus to determine what state-specific requirements you must complete before obtaining your teacher's license. University of Arizona Global Campus graduates will be subject to additional requirements on a state-by-state basis that will include one or more of the following: student teaching or practicum experience, additional coursework, additional testing, or, if the state requires a specific type of degree to seek alternative certification, earning an additional degree. None of the University of Arizona Global Campus' online education programs are accredited by the Council for the Accreditation of Educator Preparation (CAEP), which is a requirement for certification in some states. Other factors, such as a student's criminal history, may prevent an applicant from obtaining licensure or employment in this field of study. All prospective students are advised to visit the Education Resource Organizations Directory (EROD) and to contact the licensing body of the state where they are licensed or intend to obtain licensure to verify that these courses qualify for teacher certification, endorsement, and/or salary benefits in that state prior to enrolling. Prospective students are also advised to regularly review the state's policies and procedures relating to licensure as those policies are subject to change.
Written by University Staff