Fit College Into Your Life
UAGC Flexibility
Finding balance in your life is possible with the University of Arizona Global Campus and the flexibility provided by online learning. Access your online classroom and virtual support any time of day from any device, so you stay engaged and work toward your degree even while on-the-go.
Start Dates
Take advantage of flexible program start dates and choose from up to 50 options per year.
24/7 Access
Wherever you are in the world and no matter what device you choose, stay engaged with your online classroom.
5-6 Week Classes*
Take one class at a time.
Accelerated Courses and Weekly Start Dates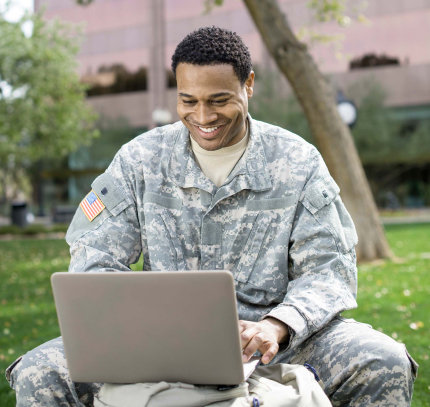 Experience Global Campus flexibility starting with your online course schedule. From selecting a start date** to your course schedule, experience the convenience of:
50 start dates per year
1 course at a time
5-week undergraduate courses
6-week graduate courses
Certain Degree Programs may not be available in all states.
* Bachelor's degree classes are 5 weeks, graduate degree classes are 6 weeks, and Doctoral capstone, planning, and project classes are 9 weeks in length.
** Availability of start dates is based on program selection.
Constellation
Your digital textbooks
At Global Campus, 94% of our courses include digital textbooks. You can take your reading with you and enjoy a customized experience with:
A downloadable app for your phone or tablet
Highlighting and notetaking features
Audio download options for many textbooks
Transfer With Ease
Make the most of your experience
Not only will Global Campus request your transcripts from previous schools on your behalf when you enroll, you may be eligible to transfer both traditional and non-traditional credits to move closer to graduation.
Transfer up to 90 approved credits toward a bachelor's degree
Earn credits through transfer partnerships, nationally evaluated courses, and national testing programs
Put your work experience to use with Prior Learning Assessment (PLA)
Online Portal and Classroom
Anytime, anywhere
Your student portal and Canvas classroom give you 24/7 access to everything you need on any device, so you can stay connected with features including:
Access to financial information
Customizable notifications
Discussion boards to reply to classmates on your phone, tablet, or desktop
Live classroom support 24/7
Mobile applications available for Android and iPhone
Transfer Your Credits
Your experience matters
Previous college courses, military service, and other educational experience may be evaluated for college credit at UAGC. If you've completed courses at an accredited university, those traditional credits may transfer.
Up to 90 approved credits toward your bachelor's degree
9 approved credits may be applied toward your master's degree
30 approved credits may be applied toward your doctoral degree
Request Information About Our Degrees